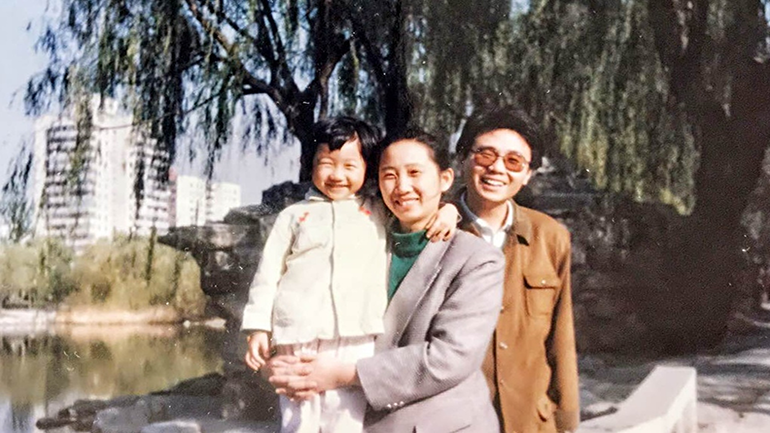 'As their only child, I'm precious, my parents love me too much,' says Bonnie, who was born
in Beijing in 1990, 11 years after China implemented its one-child policy. Photograph: Bonnie
In 1979, in the grip of a population crisis, China took extreme measures to halt its rapidly expanding society. It began limiting births to one child per couple and administered severe, sometimes barbaric, penalties for deviation from the rule. In October, after 35 years, the policy was scrapped.

1979年,处于人口危机之下的中国采取措施阻止社会的快速膨胀。它开始限制生育,一对夫妇只能生一个孩子,并对违反这一规定的行为进行惩罚。35年后,这项政策在2015年10月被取消了。
Many people who have grown up as an only child recall loneliness, isolation and, occasionally, imaginary friends. According to a 2013 study by Australian researchers, only children exhibit traits such as selfishness, pessimism and risk aversion that are not as prevalent in children with siblings. These findings click with commonly held views that only children, more often than not, are seen as having been dealt a bad hand.
许多人是以独生子女的身份长大的。他们有着寂寞孤独的回忆,偶尔还有幻想的朋友。澳大利亚研究人员2013年的一项研究结果说,独生子女表现出自私、悲观和风险规避等特征,而这些特征在有兄弟姐妹的孩子中不常见。这一发现符合普遍持有的看法,即独生子女通常不好。
"It is true that when both of my parents went to work, I ended up spending a lot of time alone at home and that might be one of the reasons that I am more of an introvert. But I am extremely lucky to have been born in an era of economic boom in China, so that my parents could let me try out different extracurricular activities, and ultimately send me to the US to study."
生于威海、现在美国密歇根大学上学的23岁女孩杰茜卡说:"的确,父母都去上班的时候,我有很多时间是独自在家的,这可能是我比较内向的原因之一。但是我非常幸运地生在中国经济腾飞的时代,所以父母可以让我尝试各种课外活动,最终把我送到美国读书。"
"You could argue that I am being a typically selfish only child, or that I just don't understand how having siblings really works, but I loved being the centre of attention," Jessica said.
她说:"你可以说,我是一个典型自私的独生子女,我也的确不知道有兄弟姐妹的好处,但我喜欢成为大家关注的焦点。"
According to the Communist party ruling, 400m births were prevented, which they say has contributed to the country's dramatic economic takeoff. China has an unusually well-educated population: more than 85% of children born in the 1990s have attended high school. According to Unesco, the average for east Asia is 61% .
按照这项规定,中国少生了4亿人,这为中国引人注目的经济腾飞做出了贡献。中国拥有受过异常良好教育的人口:在上世纪90年代出生的孩子中有超过85%接受过中学教育。据联合国教科文组织说,东亚的平均水平是61%。
When the news broke that China was scrapping its policy last month, people took to social media to celebrate and ask why the change had taken so long.
当中国取消独生子女政策的消息传来时,人们在社交媒体上庆祝,问为什么改变花了这么长时间。
"I was a pretty lonely child, and I always had an imaginary sisters or brothers. I waited for a real brother or sister when I was young and it never happened and I didn't know why. I guess we really are the loneliest generation", said Bonnie, a 24-year-old journalist living in Beijing.
住在北京的24岁女孩邦妮说:"我曾经是个相当孤独的孩子,一直幻想有兄弟姐妹。小时候,我盼望着有一个真实的兄弟或者姐妹,但从而没有实现,我不知道为什么。我猜我们的确是最孤独的一代。"
Experts predict that the relaxation of family planning rules is unlikely to have a lasting demographic impact, particularly in urban areas. Demographers in and outside China have long warned that its low fertility rate – which experts say lies somewhere between 1.2 and 1.5 children per woman – was driving the country towards a demographic crisis and catastrophic gender imbalance. China now has more men than women, meaning that millions will never find female partners.
专家预测,放松计划生育规定不大可能产生持久的人口影响,尤其是在城市地区。国内外的人口统计学家早就警告说,中国的低生育率——专家说每名妇女生育1.2至1.5个孩子——正在把中国推向一场人口危机和灾难性的性别失衡。中国目前男性人口多于女性人口,这意味着数以百万计男性得一辈子打光棍。
Twenty-one-year-old Peter, from the mountain city of Shiyan in Hubei province, thinks the change is positive for China's economy and people's personal freedom and fulfilment, but can't see any impact on his own life.
21岁的彼得来自湖北的山城十堰。他认为,这项改变对中国经济和人们的个人自由和成就有积极的影响,但看不出对他自己的生活有什么影响。
"I'm not married and I don't see it coming soon either, but I would like to in the future and hopefully I can afford to have two children. I've lived with two different host families in the past, and it was a nice experience to have brothers and to be someone's brother. It also brings more fun to the family."
他说:"我还没结婚,也不会很快结婚,但我以后会结婚,希望我能养得起两个孩子。我曾经在两个寄宿家庭中生活过,有兄弟和是别人的兄弟是很美好的经历。它还能给家庭带来更多乐趣。"
The lack of interaction with siblings, and an understanding of what it means to be part of a larger family unit, is a worry for some of China's lonely generation. Haiyue, 25, believes the attention and money lavished on some only children has created a generation lacking in life skills.
缺乏与兄弟姐妹的互动和不了解作为一个更大家庭单元的一部分意味着什么,这对中国孤独一代中的一些人来说是个烦恼。25岁的海悦(音)认为,大量倾注到一些独生子女身上的关注和金钱创造了缺乏生活技能的一代。
"There is a very small proportion of our generation that turn out terribly as they have huge amounts of money and very little discipline. It's no different to how some of the trust-fund kids behave in the UK, but with more inequality in the country it feels more obscene. Obviously this is a huge oversimplification and most of them turn out totally fine," she said.
她说:"我们这一代中有很小一部分人很有钱,但很少有规矩。这和英国那些从信托基金领钱的人的行为没有不同,但在中国的不平等加剧的时候,这给人更可憎的感觉。显然这是非常过分的简单化,他们大多数最后都很不错。"
By about the middle of this century, one person in every three in China is forecast to be over 60, with a dwindling proportion of working adults to support them. Smaller close family units means less available support but more pressure on the only child to care for family members in old age. Bonnie worries about how she and her husband will cope looking after four elderly people and two children.
预计大约到本世纪中期,中国每3个人中有1人超过60岁,而供养他们的有工作成年人比例逐渐减小。规模较小的亲密家庭单元意味着可得到的支持更少,而独生子女照顾老年家庭成员的压力更大。邦妮对自己和丈夫将要应对照顾4位老人和2个孩子的情况感到忧虑。
The number of people who are sent to nursing homes is increasing. Traditionally, the great majority of old people live on their own or with their spouse, children, siblings, or other relatives. But we are young and always busy with study or work, with no time or energy left to look after our parents.
她说:"送去养老院的人越来越多。传统上,绝大多数老人自己住,或者和配偶、子女、兄弟姐妹和其他亲属住在一起。但我们还年轻,总是忙着学习和工作,没有多余的时间和精力照顾我们的父母。"
With less certainty of creating their own families due to financial pressures, China's lonely generation may be destined to be the loneliest generation after all.
中国孤独的一代因为经济压力而对建立自己的家庭较为犹豫,他们可能终究注定是最孤独的一代。