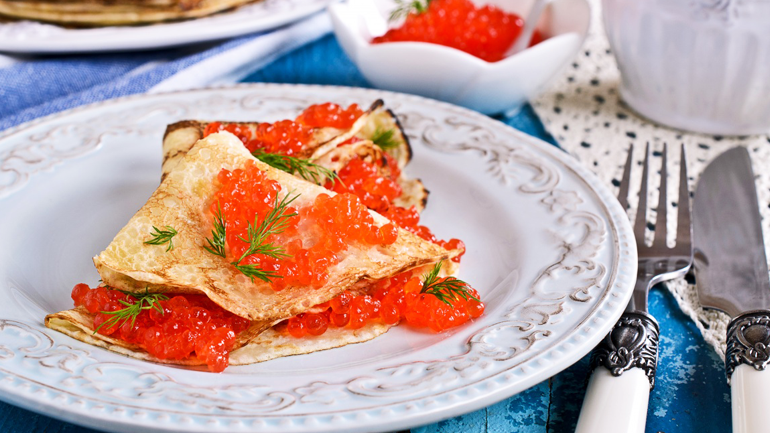 Mao Xinping rakes through the undergrowth in a pine forest on a hillside in China's Yunnan province. After only a few minutes, he finds what he is looking for—a handful of golf-ball-size black truffles. "I get paid 1,000 renminbi a kilo for them, which is a large part of my income." Mao says.
在云南的一个松树林里,毛新平正在树丛下面不停翻找。几分钟后,他找到了想要的东西:一块高尔夫球大小的松露。"这东西一公斤能卖一千块钱,对我来说可是一大笔收入。"
A growing number of wealthy Chinese diners have also been seduced by the musty, morel-ish allure of these earthbound fungi. With me as I visit the local producers of several high-end ingredients during a recent trip to China is Terrence Crandall, executive chef of the Peninsula Hotel in Shanghai, who wants to encourage more awareness of the quality produce available in China. Many affluent Chinese consumers have embraced foods that are not traditionally Chinese, and chefs like Crandall are increasingly incorporating them into high-end menus. Chinese entrepreneurs and established companies are also taking advantage of the increasing demand for luxury foods, both imported and Chinese-grown.
越来越多的中国有钱人开始青睐这种有霉味的地生菌类。在最近去中国走访一些高端原材料生产商时,上海半岛酒店的行政总厨特伦斯·克兰德尔说,他希望能推动中国高质量产品的生产。很多中国有钱人都喜欢非中国传统的食物,克兰德尔这样的主厨也越来越多地在菜品中加入这些原料。中国的企业家和知名公司也在充分利用对高端食物的日益增长的需求。
Crandall explains that truffles are far from the only delicious fungi to be found in Yunnan. The province is home to nearly 30 types of edible mushrooms. China is already the world's largest producer of fungi and the third-biggest exporter after Poland and the Netherlands.
克兰德尔说,松露并非云南唯一的珍贵食用菌品种,这里有近30种可食用的菌类。中国已经是世界最大的食用菌生产国,也是排在波兰和荷兰之后的第三大食用菌出口国。
Chinese truffles, along with the country's nascent but rapidly growing wine industry, may never rival the very best foreign alternatives, but there is one luxury food product the Chinese are definitely in line to dominate—caviar.
与该国迅速增长的红酒业一样,中国的蘑菇在品质上可能无法与外国最好的产品相比,不过在一种高级食物方面中国人却有望统治市场,那就是鱼子酱。
The heartland for caviar production in China is in one of the most exquisite and unspoiled destinations in the country—the vast Thousand Island Lake. The Kaluga Queen caviar company, based at the lake, produced its first caviar in 2006. Five main species of sturgeon are being reared in the Thousand Island Lake. Last year, Kaluga Queen produced 45 tons of caviar, making it the largest producer of farmed caviar in the world.
中国的鱼子酱生产中心位于该国最优美和无污染的地方之一——千岛湖。位于该地区的杭州千岛湖鲟龙科技股份有限公司从2006年开始生产鱼子酱,目前在千岛湖饲养着5种主要的鲟鱼。该公司去年生产了45吨鱼子酱,成为世界最大的养殖鱼子酱生产商之一。