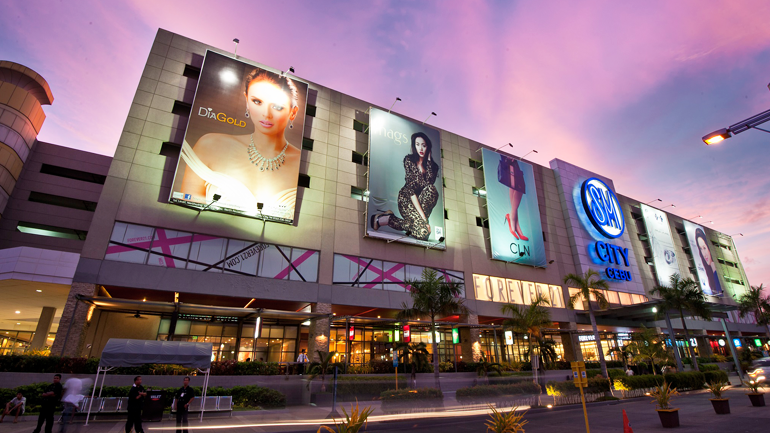 China's sputtering economy has spooked some foreign investors into fleeing, but not the Philippines' richest man, Henry Sy: He's ramping up plans to build more malls in China.
尽管中国动荡的经济吓跑了一些外国投资者,但菲律宾首富施至成并不在其中:他正加紧计划,打算在中国修建更多商城。
Mr. Sy, a retail-to-banking tycoon who made his fortune in the Philippines after leaving China almost 80 years ago, is doubling down on his bet on China's consumer class. His conglomerate, SM Investments Corp., plans to open three malls in China by 2017, to add to the six it already has. One of the new projects, in the northeastern city of Tianjin, will be the world's largest free-standing mall when it opens next year.
施至成出生于中国,这位从零售业到银行业的商业大亨大约80年前离开中国,在菲律宾发家致富。如今,他正把赌注加倍放在中国消费阶层身上。他名下的企业SM集团计划到2017年在中国新开三家商场,目前该集团在中国已经拥有6家商场。新项目之一——位于中国华北的城市天津——将在明年开张,届时将成为世界上最大的独立式商场。
SM has decided to target China as its only foreign investment destination even as domestic rivals Ayala Corp. and San Miguel Corp. focus more on opportunities within Southeast Asia. Mr. Sy's family-run company believes it knows how to tap into China's burgeoning middle class, and is chasing higher returns offered by its malls there compared with the Philippines, where SM dominates the retail landscape.
SM集团决定把中国作为其唯一的外国投资目的地,即便它在国内的竞争对手阿亚拉公司和生力集团更专注于东南亚地区内部的机遇。施至成的家族企业认为自己知道该如何充分利用中国新兴的中产阶级。和菲律宾的商场相比,它正在追逐中国商场所提供的更高的回报率。在菲律宾国内,SM集团在零售业中占据主导地位。
SM is a minnow compared with some of its Chinese competitors. Its 2014 group sales were $7.7 billion, a fraction of the $39.1 billion posted by China's property and retail giant, Dalian Wanda Co. Yet, while billionaire Wang Jianlin's Wanda is shuttering stores amid weak consumer confidence, SM will spend about $450 million a year to build new malls in second-tier Chinese cities.
和一些中国竞争对手相比,SM集团只是条小鱼。2014年该集团的销售收入为77亿美元,和中国房地产及零售业巨头大连万达集团的391亿美元相比,只占后者的一个零头。在消费者信心疲软之际,亿万富翁王健林的万达集团正在关闭门店。SM集团却反其道而行之,计划每年花费4.5亿美元在中国二线城市修建新商城。
The expansion is a homecoming of sorts for the SM patriarch, who in the 1930s left Fujian for Manila to join his father, who already had a business in the city. He later set up a shoe store that he parlayed into a nationwide chain of Shoe Marts before also moving into banking and real estate.
对施至成来说,这种扩张有点类似于衣锦还乡。他在上世纪30年代离开福建前往马尼拉和他的父亲汇合,后者当时已经开始在这个城市做生意。他后来开了一家鞋店,并将其扩张成全国连锁店,之后进军银行业和房地产行业。
Teresita Sy-Coson, the daughter of Mr. Sy, says sentiment isn't driving the China strategy.
施至成的女儿施蒂丝表示,对中国有感情不是其对华投资战略的驱动力。
"We're in China more for business reasons than for emotional reasons," she said. "But we do have a Chinese background, and we understand the culture. In China, like the Philippines, we see this emerging middle class enjoying the same things—dining out, buying things their new income can buy them."
她说:"我们来中国投资更多的是出于商业考量,而不是感情因素。但我们确实有华裔背景,我们理解中国文化。在中国,就像在菲律宾一样,我们看到新兴的中产阶级正在享用同样的东西——出去吃饭,购买自己的收入能够负担得起的东西。"
In emerging markets such as China, middle-class spending remains resilient, while the luxury segment is more susceptible to boom and bust, said Ms. Sy-Coson, who started out as a 12-year-old cashier in what was then her father's lone shoe store. Now 65 years old, she runs SM's retail and banking operations.
施蒂丝表示,在中国之类的新兴市场,中产阶级的支出仍然具有很大弹性,与此同时,经济的好坏对奢侈品行业影响更大。施蒂丝12岁时开始在她父亲的鞋店里当出纳员,现年65岁的施蒂丝主管SM集团的零售和银行业务。
"We're not selling luxury—if we were, we'd have been badly affected," by the slowing economy, Ms. Sy-Coson said.
施蒂丝表示:"我们不卖奢侈品——如果是卖奢侈品的话,中国经济减速会让我们的生意受到严重影响。"
SM adopts a different strategy in China than it does in the Philippines, where SM acts as both retailer and landlord. In China, it serves only as the landlord, leasing out all available floor space, lowering the margin for error when operating overseas. The numbers back up this approach: SM's Chinese malls deliver a 15% annual rate of return versus 12% in the Philippines, according to company figures.
在中国,SM集团采取了和它在菲律宾不一样的策略。在菲律宾,SM集团同时扮演零售商和房东的角色。但在中国,它只充当房东,把所有可用的空间都租出去,以减少在海外经营的出错率。相关数据证明这种办法是正确的:据公司统计数据显示,SM集团在中国的商场实现了15%的年回报率,而菲律宾商场的年回报率为12%。
There is still room for expansion in the Philippines, but with a population of about 100 million it is a far smaller market than China's 1.3 billion people. And a less affluent one, too: Chinese GDP per capita was $7,594 last year, according to the World Bank, compared with $2,871 in the Philippines.
在国内,SM集团仍有扩张的空间。但拥有约1亿人口的菲律宾相对于拥有13亿人口的中国来说仍然是个小得多的市场。菲律宾人也不像中国人那么富有:据世界银行统计,去年中国的人均国内生产总值为7594美元,相比之下,菲律宾的人均国内生产总值仅为2871美元。
SM is already an established high-street powerhouse at home: its armory of 54 Philippine malls is expected to almost double to more than 100 by 2020.
在国内,SM集团已经是零售业的一大霸主:随着菲律宾经济的发展,到2020年它旗下的54家商城预计将翻一番,增加到超过100家。
SM initially adopted a cautious approach to China after Beijing in the 1990s encouraged successful Chinese expatriates to invest there. The company opened five malls between 2001 and 2012 in second-tier cities.
上世纪90年代北京鼓励海外侨民来华投资后,SM集团最初采取了小心谨慎的态度。2001年到2012年期间,公司在中国二线城市开办了5家购物中心。
They opened a sixth this year, in the inland city of Zibo, with the three in the pipeline targeting the eastern cities of Tianjin, Changzhou and Yangzhou. Each will stick to the middle-class, second-tier city formula, Ms. Sy-Coson said.
今年他们在内陆城市淄博开了第六家。计划中的三家商城将目标锁定天津、常州和扬州这几个城市。施蒂丝表示,这些商城将坚持针对中产阶级、在二线城市发展的策略。
That approach should insulate SM from China's broader economic slowdown, hitting the most mature markets such as Beijing and Shanghai, according to Bruno Lannes, a Shanghai-based partner for consultancy Bain & Co. A recent survey of about 1,200 Chinese by consulting firm McKinsey found Chinese consumers are largely optimistic about the economy and its future direction.
贝恩公司驻上海合伙人布鲁诺·拉纳表示,这一策略能让SM集团不受中国经济增长减缓的影响,后者主要影响到北京、上海之类最为成熟的市场。近期麦肯锡咨询公司对大约1200名中国人进行的调查发现,中国消费者大多对中国经济及其未来的发展方向表示乐观。
China is experiencing "a correction," said Ms. Sy-Coson. "But it isn't bad—in our market, anyway. People are still buying."
施蒂丝表示,中国经济正在经历"一波调整","但这并不坏——不管怎么说,在我们的市场上,人们还在继续消费"。