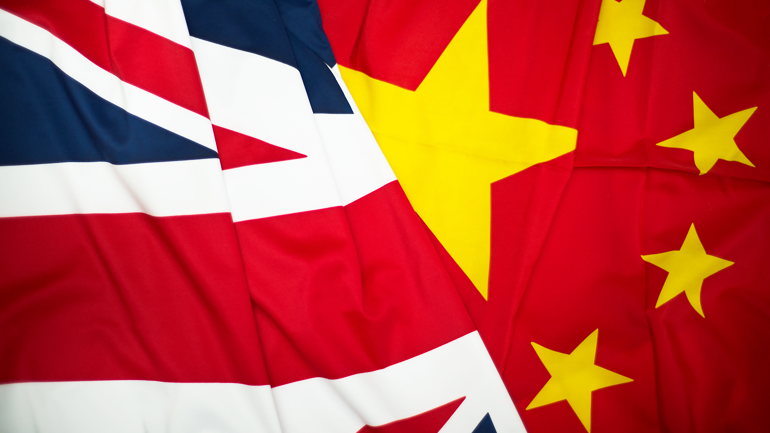 The UK is now the third biggest online exporter worldwide, with British goods increasingly in demand among foreign shoppers, new research from PayPal revealed recently.
贝宝公司的新研究数据显示,英国现在是世界第三大在线出口国,外国消费者对英国商品的需求日益增长。
Some 86.4m online shoppers bought from the UK in the last 12 months, pushing the UK into the third spot after the US and China.
2014年共有8640万在线消费者从英国购买商品,从而使英国跃居第三位,排在美国和中国之后。
The research revealed a new wave of markets eager for our products, with Nigeria and India leading the way with an estimated 5.8m and 4.9m online shoppers respectively buying British in the last year, placing them 5th and 6th in the list of online buyers of British goods.
这份研究数据显示,现在出现了一股对英国商品的市场需求热潮,其中尼日利亚和印度增长最快,2014年这两国分别有580万和490万的在线消费者购买英国商品,在英国商品在线购买的排行榜上位列第五和第六位。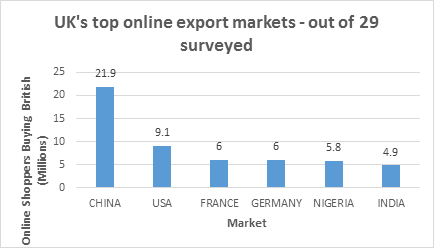 According to the PayPal/Ipsos survey of 23,354 adults across 29 countries, shoppers in China formed the largest part of the boost, with 21.9m Chinese shoppers heading to British websites to buy their goods. Americans are the next largest cross-border consumers, with 9.1m buying products from the UK.
根据贝宝公司/益普索集团对29个国家的23354名成年人的调查,中国的消费者是推动在线购买增长的主力军,有2190万中国消费者在英国网站购买商品。美国人是第二大跨境消费者,有910万人从英国购买产品。
In light of the news that Chinese shoppers make up a quarter of UK online exports, analysts have called on British businesses to heed international consumer behaviour patterns in order to expand their international sales.
鉴于中国消费者占据了英国在线出口的四分之一,分析人士提醒英国企业注意分析国际消费者的行为模式,以增加国际销量。
Some 59pc of Chinese consumers have bought British clothing, footwear and accessories in the last year, while 57pc said they had bought cosmetics and other beauty products. UK groceries, food, drink and alcohol were bought by 42pc of Chinese shoppers, with researchers suggesting they were attracted by the products' authenticity and higher payment security. More than half of Chinese shoppers returned to a website they have used before – stressing the importance of businesses making a good first impression on consumers.
2014年,约59%的中国消费者购买了英国的服装、鞋子和配饰,有57%购买化妆品和其它美容产品。还有42%的中国消费者购买英国的食品杂货、饮料和酒类,研究人员说,他们看中的是产品的保真性和支付安全性。一半以上的中国消费者会到去过的网站二次购买,这说明,给消费者留下好的第一印象很重要。
France and Germany also made it into the UK's top four export markets, with 6m shoppers from both countries buying British.
法国和德国都排在英国在线出口市场的前四位,两国各有600万人购买英国商品。
Foreign shoppers are also tuned into seasonal promotions, with Chinese shoppers 43pc more likely to buy from foreign websites around Christmas sales, Black Friday and Singles' day.
外国消费者也喜欢赶季节性促销的热潮,而中国消费者在圣诞节、黑色星期五和光棍节到外国网站购物的比例更是高出了43%。
PayPal's managing director in the UK, Cameron McLean, said there were "clear lessons for British businesses" from the latest figures. "Your customers expect to shop on websites in their own language and want to pay in their own currencies – and may buy from your rivals if you don't offer that experience," he said.
贝宝公司英国总裁卡梅伦·麦克莱恩说,最新的数据"能传递给英国明确的信息"。"你的顾客希望能在有中文的网站上购物,也希望能用自己的货币支付。如果你不能给他们这种体验的话,他们可能就会去你的对手那里买。"
The Government anticipates UK online retail exports will reach £60bn by 2018, but analysts at Paypal warned foreign buyers are less likely to purchase products if the delivery is too costly, lengthy or the charge for returning items is too high.
政府估计,到2018年英国在线零售出口额将达到600亿英镑,但贝宝公司的分析师警告说,假如物流费用太高,时间太长或者退货成本太高的话,外国的消费者可能就不愿意购买。
Mr McLean added: "Britain is punching well above its weight when it comes to global e-commerce. Yet there are still a wealth of opportunities out there for any company willing to look beyond traditional markets and sales channels. The most successful businesses will be the ones that target less established, high-growth markets whilst also setting themselves up to capitalise on the vast, borderless potential of mobile. And if you want to crack the Chinese market, you really need to engage with your customers through hugely popular Chinese social media and messaging channels such as WeChat."
麦克莱恩说:"在全球电子商务领域,英国其实要和很多强劲的对手竞争。不过对于那些愿意在传统市场和销售渠道之外开辟市场的公司来说,还是有很多机会的。最成功的公司将是那些愿意开拓新兴的高增长市场同时善于利用移动设备的巨大无边界潜力的公司。假如你想打入中国市场,你真的需要借助微信等中国热门的社交媒体和信息传播渠道来接触顾客。"