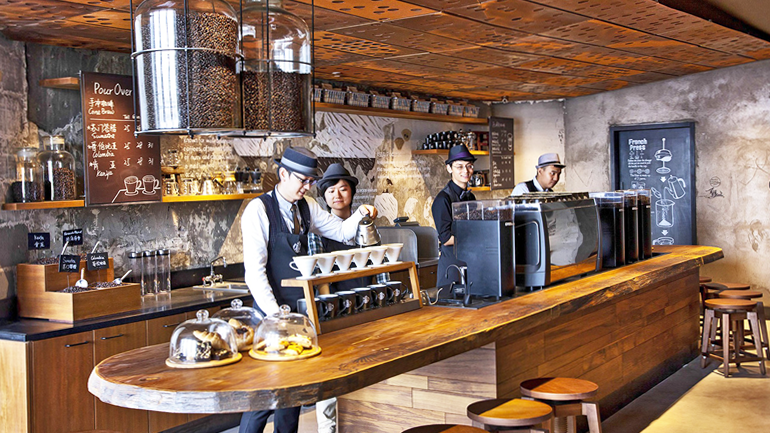 When Starbucks opened its first shop in his hometown, Haining, two years ago, Cui Yun was among its first regular customers.
两年前,崔云的家乡浙江海宁有了第一家星巴克,他成了那里的第一批常客。
Now he is busy preparing to open his own cafe in this small city in Zhejiang province, which has seen the number of coffee shops soar from just three in 2012 to more than 20 this year.
现在崔云正忙着在这个小城开设自己的咖啡馆。这里的咖啡馆正迅速增加,2012年只有3家,今年有了20多家。
"From megacities such as Beijing to fourth-tier cities like Haining, one of the biggest changes on the streets in recent years has been flourishing coffee shops as young Chinese embrace Western lifestyles," said Cui.
崔云说:"从北京这样的大都市到海宁这样的四线城市,最近几年街头的最大变化就是咖啡店生意兴隆,因为中国年轻人开始接受西方的生活方式。"
With an annual growth of 15 per cent in consumption, compared with the global average of two per cent, China is the fastest-growing coffee market in the world, industry insiders said.
业内人士说,中国的咖啡消费每年增长15%,而全球的平均速度是2%,所以中国是全世界增长最快的咖啡市场。
Alejandra Quan, global CEO of Our Coffee, a grower from Guatemala, has tried to expand his business in China as he saw a promising future for coffee in the tea-drinking nation.
危地马拉的咖啡种植商亚力杭德拉·夸恩一直努力扩大在中国的业务,他认为在这个喝茶的国家,咖啡有着很好的前景。
"Coffee is the most-drunk liquid after water in the world. When Chinese start drinking coffee in earnest, they too will probably drink more coffee than water," he joked.
他开玩笑说:"在世界上,人们喝得最多的除了水就是咖啡。中国人认真喝咖啡以后,他们喝的咖啡也可能比水还多。"
However, mainland coffee drinkers care more about the atmosphere of a coffee shop than the beverage itself, and the most popular coffee drinks are sweet milky ones such as mocha and latte.
不过,内地喝咖啡的人更喜欢的是咖啡馆的气氛而不是咖啡本身,最受欢迎的是加糖的牛奶咖啡,比如摩卡和拿铁。
But Guan believes this will soon change. "There has been a lot of education about coffee and I think in two or three years people will know what's really good and what's bad," he said earlier this month.
但是夸恩相信这种情况会很快改变。他本月早些时候说:"围绕咖啡的培训很多,我想两三年以后人们就会知道什么是好的,什么是不好的。"
Jian Xueya, finance director of the China agent for Brazilian coffee firm Unique Cafes, which targets high-end restaurants and hotels, said mainlanders were merely curious about coffee a few years ago, but now more people have developed a habit.
巴西由你咖啡公司负责中国业务的高管说,几年前内地人只是对咖啡感到好奇,现在更多人有了喝咖啡的习惯。该公司的目标客户是高档餐馆和酒店。
"It's a little difficult for us to sell prime coffee here because few people know how to appreciate it. They like a milky, sweet taste," she said.
她说:"在这里销售最优质的咖啡有点困难,因为懂得欣赏的人很少。人们喜欢加糖的牛奶口味。"
Things have been proven quite different for international outlets which are better adapted for the Chinese tastes. Starbucks, which opened its first mainland store in 1999, has planned to double its store count in China to more than 3,000 stores by 2019, while British chain Costa plans to expand from 344 shops to 900 by 2020. In Shanghai, where half of the mainland's coffee consumption takes place, the nation's biggest coffee trading centre has been established in the port city's free-trade zone.
更适应中国人口味的国际连锁店的情况截然不同。1999年在中国开了第一家店的星巴克,计划在2019年之前将中国的门店数增加一倍,达到3000多家。英国咖啡连锁店咖世家则计划在2020年之前从344家增加到900家。中国最大的咖啡交易中心已经在上海自贸区建成。上海的咖啡消费位居内地第一。