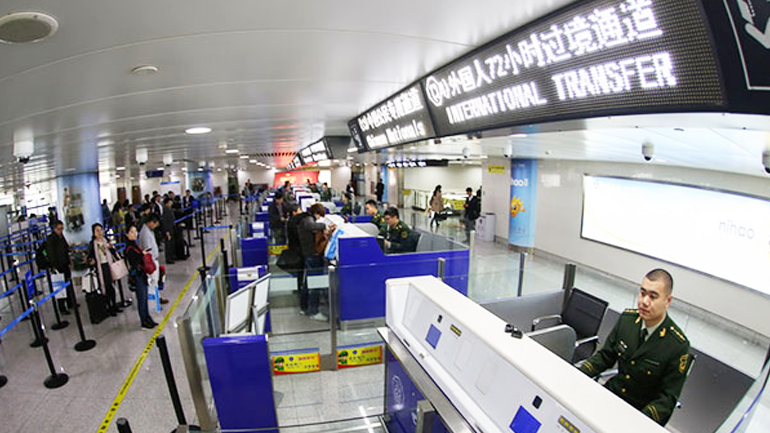 Qingdao, an eastern coastal city of Shandong province, started to offer 72-hour visa-free entry for international transit passengers on Monday as a move to boost tourism and business.
山东省东部海岸城市青岛,在本周一开始实施72小时的国际游客免签政策,市政府想以此政策来促进旅游业和商业的发展。
Travelers from 51 countries including France, the United States, Italy, Brazil, Australia, South Korea, Japan and Singapore may enter without visas under the policy.
包括法国,美国,意大利,巴西,澳大利亚,韩国,日本和新加坡51个国家前来的游客都可以在这个政策下享受免签。
They can stay 72-hours within the Shandong province after they have entered China via the Qingdao International Airport with third-country visas and confirmed plane tickets to leave for another country within the time limit.
那些通过青岛国际机场入境并持有第三国家签证,且已被证实拥有返程机票的国际游客,可以于限定时间内在山东省逗留72小时。
Han Shouxin, an official with Qingdao municipal government, said on Monday that the policy boosts the city's inbound tourism, commercial activity and international cultural exchanges. "The move is essential to the further economic and social development of Shandong province. It pushes forward its inbound tourism as well as various sorts of international business cooperation," he said.
青岛市政府内工作人员韩守信在周一表示,这个政策激发了城市内部的旅游,商业活动和国际文化交流。他说:"这个举动是加快未来山东省的经济和社会发展重要举措,这一举措也会推动省内旅游以及国际商业合作。"
Three days is ample time for traveling around Qingdao and conducting business talks, Han added.
韩守信补充道:"在青岛旅游或者安排商务洽谈三天时间是足够的。"
The same visa-free policy is already in place in Beijing, Shanghai, Guangzhou, Kunming, Chengdu, Chongqing, Shenyang, Dalian and Guilin.
同样的免签政策已经在北京,上海,广州,昆明,成都,重庆,沈阳,大连和桂林等城市实行。