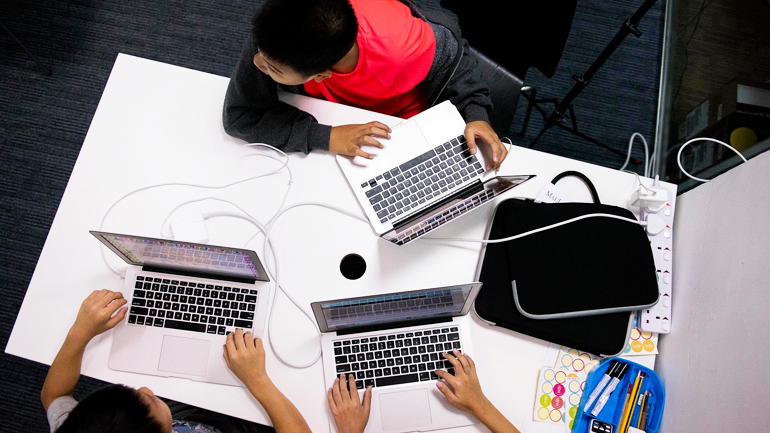 Wu Pei began teaching her 6-year-old son to code this year, thinking he'd enjoy learning a skill that might boost his future job prospects in an increasingly digitized world. Now, she runs classes in Nanjing, China, and is helping more than 100 parents introduce their children to coding.
吴佩今年开始教6岁的儿子编程,她希望在一个日益数字化的世界里,儿子能喜欢这项可能对今后的职业前景有帮助的技能。如今她在南京开设这项课程,帮助100多名父母让孩子接触编程。
The 35-year-old former computer programmer with Foxconn Technology Group is tapping growing demand from parents intent on preparing their preschoolers for a world in which Oxford University researchers predict half the jobs in some countries may be eliminated by robots and computers.
这名35岁的前富士康公司计算机程序员迎合了年轻父母日益增长的需求,父母们希望学龄前的孩子能为今后生活的世界做好准备。牛津大学的研究人员预测,今后一些国家一半的工作岗位可能都会被机器人和计算机替代。
Similar classes are taking off across China. Reynold Ren has taught about 150 primary school-age children in Beijing to use Scratch, a project developed by the MIT Media Lab and Arduino, which enables users to create interactive objects such as robots. In Hong Kong, about 2,500 students have taken courses that Michelle Sun runs at her First Code Academy.
中国各地都出现了类似课程。雷诺·任正在北京教大约150名小学生使用Scratch,这个由麻省理工学院开发的项目能帮助使用者创造出类似机器人的交互对象。在香港,有大约2500名学生在米歇尔·孙开设的学院学习这一编程工具。
"Teaching the next generation coding is something that should be elevated to a strategical national importance," said Wang Jiulin, the creator of Kidscode.cn. "Even today, the majority of programmers in China can only perform very basic-level tasks and there's huge demand for top notch coders."
"教下一代人编程应该被提升到具有国家战略重要性的地位,"中国少儿编程网创始人王九林说,"即便是现在,中国的大部分程序员也只能完成非常初级水平的任务,对顶尖程序员的需求量非常大。"
Wu thought over weeks about how she could introduce the fundamentals of coding to preschoolers in a way they could understand. She settled on showing them a 3-by-3 unit grid on a board and invited them to play a game in which the students were asked to identify locations using simple directions, such as up, down, right and left. She then switched to a number system and asked the children to pinpoint locations using coordinates. When students are familiar with the concept of an X and Y axis, she teaches them to play simple games involving airplanes on Scratch. Once they are hooked, she encourages them to learn how to create similar games themselves.
为了将编程基本原理用通俗易懂的方式讲给学龄前儿童,吴佩花了很长时间想办法。她先给孩子展示一个3乘3的单元格,并请他们玩一个游戏,用上下左右的简单方向来确定位置。然后她再转换到一个数字系统,让孩子用坐标来确定位置。等学生熟悉了X轴和Y轴的概念,她就教他们玩Scratch上有关飞机的简单游戏。孩子们着迷之后,她再鼓励他们学习如何设计类似游戏。
Nanjing mother Zhang Minyan began encouraging her 5-year-old daughter to learn coding from Wu after watching a video of an American child who wrote an app for friends so they could share their views on Canadian singer Justin Bieber, she said. Before that, Zhang hadn't thought it was necessary for children to learn.
南京的妈妈张敏燕之所以让自己5岁的女儿学习编程,是因为她看了一段视频,视频中的一个美国孩子给朋友写了一个应用程序,让他们可以分享对流行歌手贾斯汀·比伯的看法。之前她从没想到过让孩子学编程。
"That made a big impression on me," Zhang, 32, recalls. "I thought, since my child is playing games on an iPad everyday already, why not give her some guidance and let her learn something in the process?" Also children are learning to code in other countries and Zhang doesn't want her daughter to be left behind, she says.
"那个视频给我留下很深的印象,"32岁的张敏燕说,"我想,既然孩子每天都在iPad上玩游戏,那为什么不给她点指导,让她在这个过程中学点东西呢?"她还说,既然别国的孩子也都在学编程,她也不想让女儿落在后面。
Encouraging children to learn how to write the instructions for computer programs may help China move up the technology value chain, making it more of an innovator of software and digital tools, rather than a mass manufacturer and a component supplier. As it is now, the world's second-largest economy lags behind at least 16 countries in Europe and the U.S. in putting coding on the national school curriculum.
鼓励儿童学习编写计算机指令也许能帮助中国在技术价值链上向上攀登,使中国成为软件和数据工具的创新者,而不只是批量生产者和元件供应商。目前,这个世界第二大经济体在学校编程课程设置上落后于美国和很多欧洲国家。
Not everyone agrees that coding promises to secure a child's future. Automation may even make it possible for machines to take over the majority of coding tasks in a decade, said Tom Davenport, a professor of IT and Management at Babson College in Wellesley, Massachusetts. "It's not really necessary for millions of 3-year-olds to be trained in programming," he said.
不过并非所有人都认为学习编程就能确保孩子的未来。马萨诸塞州巴布森学院教授汤姆·达文波特说,自动化的发展可能会使机器在十年内就承担大部分编程任务,"大批训练三四岁的孩子学习编程真的没必要"。
Predicting which professions will be needed most in the future can be a crapshoot. Nine of the 10 most in-demand jobs in 2012 didn't exist in 2003, the World Economic Forum said in September.
预测今后最需要哪些职业是件有风险的事。根据世界经济论坛的数据,2012年十大需求量最大的职业中有九项在2003年还不存在。
Wu says she's not counting on coding to make her child successful. Rather, she sees it as "another tool to express himself" and part of the mandatory digital skills people worldwide are likely to need in decades to come.
吴佩说自己并不指望靠编程让孩子成功,她只是认为这是"另一种表达自我的工具",同时也是今后几十年世界各地的人们可能必须掌握的数字技能。