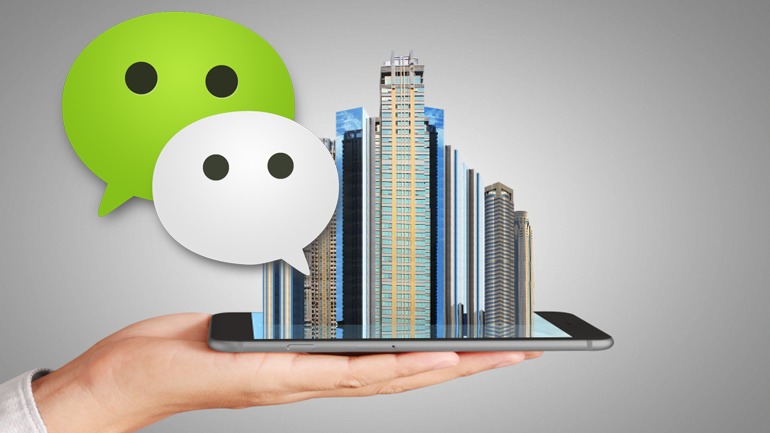 Imagine selling a $14 million New York City apartment entirely through Twitter or SnapChat. Emma Hao, an agent for luxury-home broker Douglas Elliman has done it.
设想一下,完全通过推特或SnapChat卖出1400万美元的纽约市公寓。豪华房产中介公司Douglas Elliman的经纪人艾玛·郝就做到了。
Hao brokered the sale through WeChat, China's most popular instant messaging app. She does this a lot, and she's not alone.
郝是通过中国眼下最流行的即时通讯APP微信做成的买卖。她经常这样做,且不只她一人这样做。
"I'll put up a floor plan and say that a new property is good and the location is great. Then people will say 'I'm interested' and buy," she said.
"我会把房子的平面图放上去,然后说新房不错,地段也很好。然后,人家会说有意购买。"
WeChat in China has grown into a seamless one-stop shop for common apps: users can watch movies, call cabs, share photos, buy clothes, play games, and even offer personal loans. Lately, it's turned into something of a real-estate sales platform – specifically connecting Chinese buyers with agents in the US. Chinese nationals are the largest group of foreign buyers of US. real estate, and they're willing to pay more than all other nationalities.
中国的微信如今已发展成为常见app的无缝衔接一站式服务:用户可看电影、叫出租车、分享照片、买衣服、玩游戏,甚至提供个人贷款。最近,它又变成一种房地产销售平台——确切地说,让中国买家与美国中介建立联系。中国人是购买美国房产的最大外国人群体,而且愿意比别人出更高的价钱。
And there are 650 million — largely Chinese – users on WeChat. That's more than double the US population.
目前微信用户多达6.5亿,大多数是中国人,这是美国人口的两倍多。
"I would pay $100 a month to use WeChat," said Jing Wang, a real estate agent for Lin Pan Realty Group in New York. "It would be much harder to be introduced and reach Chinese clients because many of the social websites are blocked in China." All of his Chinese clients communicate with him via the app. He says he's sold properties of up to $5 million in value, with the buyer staying in China through the entire process.
"我每月要花100美元使用微信",纽约安居地产的经纪人王京说,"否则,向中国客户推介要困难得多,因为许多社交网站在华被屏蔽。"他的所有中国客户都通过微信与他联系。王说已卖掉高达500万美元的房子,全程都是通过微信与在中国的买家联络。
WeChat has become essential to consumers' daily lives. WeChat has become so ubiquitous that it has changed Chinese consumers' mobile behaviors in profound ways. For the buyers seeking investment properties, the prospect of a 15-hour flight from the east coast of China to New York is reason enough to rely on WeChat.
微信在中国消费者日常生活中已不可缺少。它已无所不在,正深刻改变中国消费者的移动行为。从中国东部沿海坐飞机到纽约需15小时,对想投资房产的中国买家来说,这足以成为他们使用微信买房的理由。
But there's also the issue of trust. Buying a multi-million dollar investment from someone you've never met before seems reckless. But users such as Hao use their apps as a personal blog: she posts photos and writes about her food, clothes, makeup and lifestyle. "They know exactly who I am. You show you have a personality — that's what makes a sale," she said. Maurice Owen-Michanne is another New York City based agent who who has sold a property worth $4 million over WeChat.
但也存在信任问题。从某个素未谋面的人那里购买几百万美元房产似乎显得鲁莽。但像郝这样的用户,把微信当成个人博客:上传照片,写美食、服装、化妆和生活, "他们知道我是谁。你呈现的是一个活生生的人,这样才能做成生意。"毛里斯·欧文也是纽约的一名地产经纪人,他通过微信已卖出价值400万美元的房产。