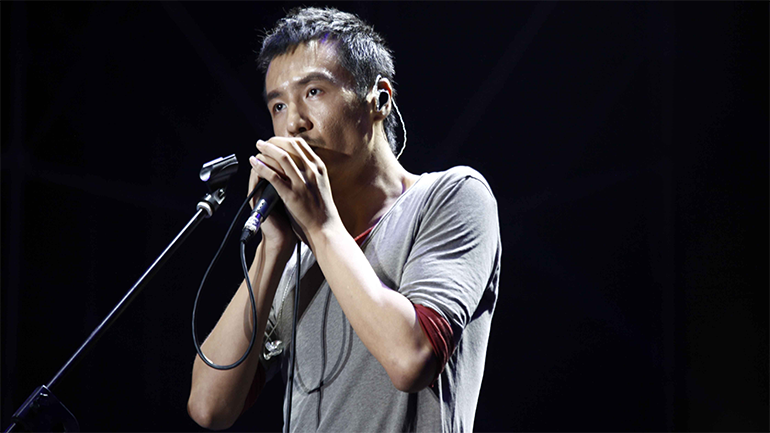 It is almost impossible for a singer to stay out of the spotlight and away from the tabloids, while still remaining popular. Pu Shu, 41, managed to, though. Twelve years since his last album, he is back with an EP, a national tour and more applause.
对于一位远离聚光灯及八卦新闻的歌手来说,想持续走红基本不可能。然而,41岁的朴树却做到了。上张唱片发布十二年后,他终于回来了,带着最新专辑和全国巡演,收获了(无数歌迷的)掌声。
The new EP Be Good (《好好地》) was released "independently" earlier this month. In other words, Pu and his studio made and promoted the EP by themselves, without working with a big record company. Since 2009, he has been working to regain control over his music and break away from "industry rules".
10月初,他的最新专辑《好好地》"独立"发行。这也就是说,朴树和他的工作室在没有与大唱片公司合作的情况下,独立制作并推出了这张专辑。2009年后,他一直努力重新主导自己的音乐,希望能摆脱"行业规则"。
"Making music independently is a cool thing… [but] only the people who are involved know the hardship… Most of the time, I felt lonely and helpless, not having a clue about what to do next," he wrote on Weibo recently.
在最近的一篇长微博上,他写道:"独立做音乐说来是很酷的……但那艰难只有自己知道……很多时候,我感到孤立无援,不知该怎么办。"
He admitted that, to produce ideal work, he sometimes "went insane, with all his senses distorted and judgment lost".
他承认,制作出完美作品的念头有时会令他"疯狂到知觉扭曲,判断全失"。
Pu's stardom was established with his 1999 album I Go to 2000 (《我去2000年》) and his 2003 album Born Like a Summer Flower (《生如夏花》). His nostalgic lyrics, distinct voice and cool appearance made him a spokesman for folk music at that time.
1999年的专辑《我去2000年》和2003年的《生如夏花》奠定了朴树在乐坛的地位。怀旧的歌词,独特的声线和酷炫的外形,让朴树一度成为民谣音乐的代言人。
He didn't release any new work until last year–an EP entitled The Road to Ordinary (《平凡之路》), which doubled as the theme song for Han Han's first film The Continent (《后会无期》). Since then, however, Pu's songs have failed to match his former glory. The new EP Be Good scored only 6.2 out of 10 on Douban.
然而之后朴树却一直没有新作品问世,直到去年发布了迷你专辑《平凡之路》。其中的同名主打歌《平凡之路》也是韩寒导演的第一部电影《后会无期》的主题曲。此后,朴树的歌都未能重现他往日的辉煌。新专辑《好好地》的豆瓣评分仅为6.2分(10分满分)。
But the tepid critical response hasn't dulled Pu's popularity.
尽管新专辑的反响平平,却丝毫没有影响朴树的人气。
He made the first two stops on his national tour on Oct 17 and Oct 24, in Beijing and Shanghai respectively. The shows were a huge success. Tickets were sold out. Wearing a T-shirt and holding a guitar, Pu sang throughout the entire show, without stopping to change clothes or stage designs. It is this sense of authenticity that earns Pu his die-hard fans. In a music industry where commercial value trumps all, he stands apart.
10月17日和10月24日,朴树分别在北京和上海举行了他的前两场全国巡演。演出获得了巨大的成功,演唱会门票一售而空。穿着T恤,抱着吉他,朴树全程都在唱歌,中途没有换装,也没有华丽的舞台布景。就是这股真实劲儿为朴树赢得了不少死忠粉。现在的音乐行业,商业价值高于一切,而朴树特立独行。
Pu isn't content with the publicity side of music industry, either. "I saw the cover of my single On Jupiter (《在木星》) and the public release, and I was told it is the industry standard, otherwise no one would listen to it. I was furious," he wrote on Weibo. "I understand that people should be able to do what they think is right. But I just want to follow my heart."
朴树对音乐界的宣传方式也不满意。他曾在微博上写道:"看到了《在木星》的单曲封面,看到了这个行业标准模式的宣传通稿,我被告知,这是这个行业的规律,不如此就没有人看没有人听。我怒不可遏。""我知道人们有权做他们认为正确的事儿,但我只想听从我的内心。"
That's a cliché many people have repeated, but few have truly lived by. Maybe that's why fans choose to support Pu. They hope Pu can succeed at forging his own path.
这已是陈词滥调,却鲜少有人能真正做到。这大概就是粉丝选择支持他的原因。他们希望朴树走出自己的路,并收获成功。