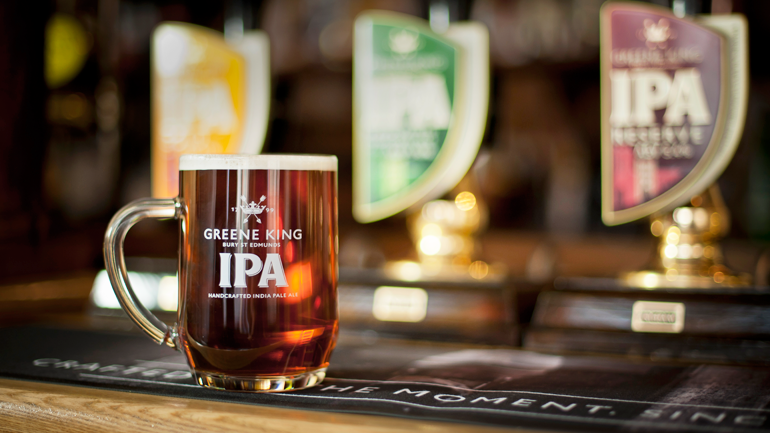 When David Cameron invited China's president Xi Jinping for a swift pint last month, he was hoping to seal a "golden era" of relations between London and Beijing.
英国首相卡梅伦10月邀请中国主席习近平小酌一杯,他希望将伦敦和北京之间关系锁定在"黄金时代"。
But Xi Jinping's trip to the prime minister's local pub had another unexpected consequence: it transformed China's red emperor into an unlikely poster boy for British brewery Greene King.
习近平和卡梅伦到访当地酒吧还带来了一个预料之外的结果:中国领导人意外给英国格林王啤酒担当了推广人。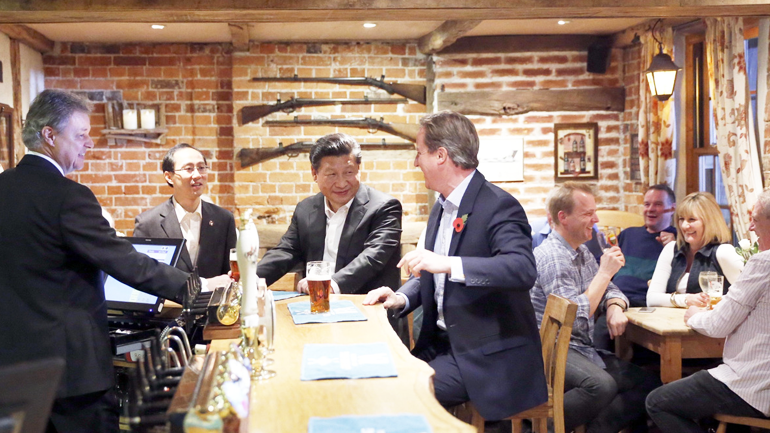 Sales of Greene King IPA, a pint of which Xi was pictured sipping during his recent visit to The Plough at Cadsden pub in Buckinghamshire, have reportedly soared in China following last month's state visit to Britain.
习近平10月对英国进行国事访问时到"卡兹顿之犁"酒吧饮用格林王印度麦啤后,据称这款啤酒在中国的销量剧增。
"It has just gone berserk. It's unbelievable," said Peter Bloxham, a British businessman who imports Greene King beers into China. "Within two days of the great bar scene … people from all over China were ringing: agents, restaurants, bars, hotels. They wanted this beer."
将格林王啤酒出口到中国的英国商人彼得·布洛克瑟姆说:"都卖疯了,不可思议。著名的酒吧场景出现两天之内,全中国的人都打电话过来:代理商、餐馆、酒吧、宾馆。他们都想要这种啤酒。"
"You couldn't pay for the promotion. It would cost you a fortune," added Bloxham, who said orders were now coming in "from north, south, east and west." "We are now completely out of stock in our warehouse in Beijing of everything to do with Greene King," he said.
布洛克瑟姆又说:"这种推广是买不来的。"他说,"现在订单从四面八方涌来,我们北京仓库的所有格林王产品全部脱销"。
But it has also proved a boon for Chinese bars. In recent weeks at least one Beijing watering hole has started using images of the Xi-Cameron drinking session to draw in customers. "Come and drink beer here. We have the same Greene King beer that Xi Dada drank," reads its sign.
此举还给中国的酒吧带来了好处。最近几周,至少一家北京酒吧开始用习近平和卡梅伦喝酒的图片吸引顾客。上面写着:"来我们这儿喝酒吧!我们有习大大同款格林王啤酒。"
Nor is the boom limited to China's political capital. Newspapers from as far afield as Xinjiang have reported a spike in the beer's consumption.
繁荣不仅限于中国的首都。在西部地区新疆,都有媒体报道称啤酒销量增加。
Xi's pint immediately ignited the "passion and curiosity" of drinkers in Xinjiang, according to Tianshan Net. "Before, we were selling about 100 litres each day. Now we can sell as much as 200 or 300 litres," the landlord of one pub in Urumqi said.
官方的天山网报道称,这种啤酒迅速引发了新疆酒民的"热情和好奇心"。乌鲁木齐一家酒吧的老板说:"之前每天大约卖100升左右,现在每天可以卖出200到300升。"
"Bring me another glass of IPA beer – the one that Big Daddy Xi drank!" a customer was heard demanding, according to the website's correspondent.
该网站记者写道,一位顾客高喊:"再来一杯印度麦啤,就是习大大喝的那种!"
Xinjiang beer aficionados said the IPA's "floral aftertaste" meant it compared favourably with the local lager, Dawusu. "The first bite is a little bitter but it gets better and tastes a bit like the smell of flower," Tianshan Net reported.
新疆酒迷说,印度麦啤的"花香回味"意味着它比当地啤酒更受欢迎。天山网报道称:"第一口有点苦,但越喝越有味,细品起来会感到一股淡淡的花香。"