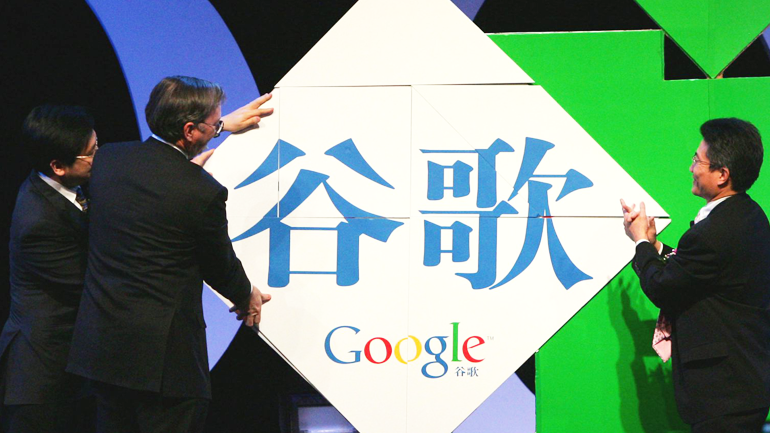 China's Great Firewall is still blocking the services of Facebook, Google and Twitter, but that hasn't stopped top brass from all three Silicon Valley firms from visiting Beijing in a span of less than 10 days, perhaps hoping to boost their business prospects on the mainland.
中国的国家防火墙仍然封锁脸书、谷歌和推特网站的服务,但这并没有阻止上述三大硅谷公司的高管们在不到10天的时间里纷纷访问北京,或许是希望推动他们在中国内地的业务前景。
Following in the footsteps of Facebook CEO Mark Zuckerberg – who gave a much-discussed speech in Chinese late last month at Tsinghua University – senior executives from Google and Twitter made appearances in Beijing on Monday, attending a technology conference hosted by San Francisco-based TechCrunch.
在脸书首席执行官马克·扎克伯格上月底访华之后,谷歌和推特的高管11月2日在北京现身,出席由总部在旧金山的TechCrunch网站举办的一个科技会议。
"In fact, we do hope to provide service in China, and we continue to communicate with the Chinese government. This is also why I'm here this week," said Eric Schmidt, executive chairman of Alphabet/Google.
字母表/谷歌公司执行董事长埃里克·施密特表示:"事实上,我们确实希望继续为中国提供服务。我们还在继续跟中国政府进行沟通,这也是我此行的目的之一。"
When Google decided to abandon the Chinese search market because of censorship and hacking concerns and move its servers to Hong Kong in 2010.
出于对审查制度和黑客入侵的担忧,谷歌2010年决定放弃中国搜索市场,把服务器迁到香港。
Google recently revealed its first direct investment into a Chinese start-up since its 2010 exit, putting an undisclosed amount into Mobvoi, an Android voice search software. And it has partnered with Chinese hardware maker Huawei on a new phone.
谷歌最近公布了该公司自2010年退出中国市场以来对中国创业企业的首笔直接投资。它向安卓语音识别软件"出门问问"投入了一笔数额未公开的资金。谷歌还跟中国硬件制造商华为合作生产一款新手机。
Helping Chinese companies to "go out," echoing the Chinese government's campaign of promoting Chinese businesses globally, has been the business strategy for Facebook and Twitter as well. Numerous Chinese firms, including smartphone makers, airlines, the Communist Party mouthpiece People's Daily and the official New China News Agency, have set up official accounts on both Facebook and Twitter to reach out to audiences abroad.
响应中国政府在全球宣传中国企业的活动,帮中国公司"走出去"一直是脸书和推特的商业策略。包括智能手机制造商、航空公司、中共喉舌《人民日报》和官方的新华通讯社在内,众多中国企业和单位在脸书和推特网站上建立了官方账号,以便接触到国外受众。
"One of our clients is the New China News Agency," said Alan Lan, head of online sales, greater China, at Twitter, during a panel meeting at Nov. 2. "During the National Day holiday in October, we helped them with a lot of their global communications." So far, though, that seems to have earned Twitter little goodwill.
"新华通讯社是我们的客户之一",推特大中华区网上销售负责人艾伦·兰在11月2日的一个小组会议上表示,"10月份的国庆长假期间,他们的许多全球通讯是由我们提供帮助的。"
Facebook has also tried a kill-with-kindness approach. When Chinese President Xi Jinping visited the U.S. in September, Facebook set up a special page dedicated to document Xi's every move stateside.
脸书也采取了一种热情的方法。今年9月中国国家主席习近平访美时,脸书建立了一个特别网页,专门用于报道习近平在美国的一举一动。
Apple's massive sales growth in China has underscored how valuable the Chinese market can be to U.S. tech firms. Apple posted an 84% increase in Greater China sales in the last fiscal year, generating $23 billion in operating income in the region, the company said last week. And Apple said that 96% of Greater China sales are derived from the mainland alone.
苹果公司在中国的大规模销售增长凸显了中国市场对美国科技企业来说有多大价值。苹果公司上周表示,过去的一个财年,苹果在大中华区的销售增长84%,该地区的营运利润达到230亿美元。苹果还称,大中华区96%的销售额来自中国内地。
Twitter has recently struggled to demonstrate user growth and is unable to tap the Chinese market. CEO Jack Dorsey announced last month that the company planned to lay off approximately 8% of its work force, or more than 330 employees. Experts say lack of access to the Chinese market is costing California tech firms billions a year.
推特最近在努力证明其用户增长,但它却无法利用中国市场。推特首席执行官杰克·多尔西上月宣布该公司计划裁员8%左右,相当于裁掉超过330名员工。专家表示,无法进入中国市场使这家科技公司每年损失数十亿美元。