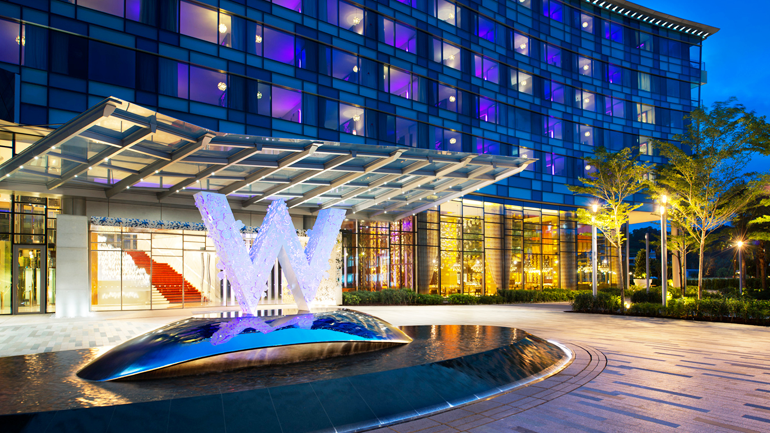 Some of the most iconic American hotel brands like Sheraton, Westin and St. Regis may soon get a new owner from the Middle Kingdom.
一些最具标志性的美国酒店品牌,如喜来登、威斯汀和瑞吉等,也许很快就能迎来来自中国的新东家。
At least three Chinese companies, including the country's sovereign wealth fund, are hoping to bid for Starwood Hotels and Resorts Worldwide, according to multiple reports. The hotel operator, which manages Sheratons and Westins around the globe and currently has a market cap of $12.6 billion, could be the largest-ever Chinese acquisition in the U.S.
根据多方报道,包括中国主权财富基金在内的三家中国公司希望竞购喜达屋酒店及度假酒店国际集团。这家酒店运营商管理着全球各地的喜来登和威斯汀酒店,目前市值126亿美元。这也许能成为中国迄今为止在美国实施的最大规模公司收购。
If the deal goes through, this would mark the second mega hotel deal by Chinese investors in a year, after Anbang Insurance made headlines with its $1.95 billion purchase of New York City's Waldorf Astoria in October 2014.
如果这宗交易坐实,那便是中国投资者最近一年内在酒店行业敲定的第二宗超巨型收购。2014年10月,安邦保险斥资19.5亿美元收购纽约市的华尔道夫酒店,一度成为媒体报道的焦点。
But the eye-popping deal size is only part of a larger trend of rising Chinese investments in the U.S. real estate market. The potential bidding for hotel operators like Starwood signals an interesting shift of strategy for Chinese investors, according to Philip Feder, chair of the Global Real Estate practice of Paul Hastings LLP. "Rather than buying trophy assets with limited upside potential, this is completely different since it's a cash-flow play," Feder said in an interview with FORBES.
但这一令人咋舌的交易规模只是中国投资美国房地产市场这一上升趋势的一部分而已。针对喜达屋这样的酒店运营商的潜在竞购,标志着中国投资者战略的一个有趣转变,普衡律师事务所全球房地产业务部总监菲利普·菲德说。"这跟购买升值潜力有限的地位象征型资产完全不同,因为它玩的是现金流。"费德在接受福布斯采访时表示。
One key difference from the past, according to Feder, is Chinese companies' search for good returns for cash, like the steady stream of income from fees generated by hotel operators. In the last few years, Chinese investors have gained a reputation for acquiring trophy commercial real estate assets, including the Waldorf Astoria and Chinese billionaire Zhang Xin's $1.4 billion deal for a 40% stake in the General Motors Building in 2013. "A Starwood bid shows that Chinese investors are looking at deals in a more complex way – something that the Japanese investors failed to do in the 1980s," Feder says, noting that long-term prospect of a potential deal.
据菲德称,跟过去的一个关键区别是,中国企业寻求的是对现金投入的丰厚回报,就比如酒店经营产生的源源不断的收益。过去的几年中,中国投资者是出了名地喜欢收购那些具有象征意义的商业地产类资产,比如华尔道夫酒店,以及2013年,中国亿万富豪张欣以14亿美元收购通用汽车大厦40%股权。"竞购喜达屋表明中国投资者开始以更加综合的眼光看待收购——80年代的一些日本投资者就没有做到这一点。"费德说,指的是一项潜在交易的长期前景。
While trophy assets may no longer be the priority, Chinese investors do still care a lot about brands, which makes Starwood a good fit given its collection of well-known names such as St. Regis, Sheraton, and W. Given these brands' strong reputation in Asia, a buyer could potentially expand the existing network and add more hotels in China. The company currently has 150 hotels (both managed and franchised locations) in Greater China alone – that's nearly as many as that in Europe.
虽然地位象征型资产可能不再是重点,但中国投资者依然十分关心品牌,这也使喜达屋成为一个合适的选项——它拥有一系列知名品牌,如瑞吉酒店、喜来登酒店和W酒店。考虑到这些品牌在亚洲的高知名度,买家很有可能扩大现有网络,并在中国开设更多酒店。目前,该公司光是在大中华区就设有150家酒店(包括负责管理的和特许经营的)——跟整个欧洲的数量几乎相当。
In the first half of 2015, the real estate and hospitality sector has continued to be the biggest drivers for Chinese investment in the U.S., accounting for 65% of the $6.4 billion foreign-direct investment transaction in the U.S., according to the Rhodium Group. Unlike other sectors such as the semiconductor industry, investments in real estate and hospitality attract less regulatory scrutiny over concerns of national security. Thus, a Chinese acquisition of Starwood is unlikely to face significant hurdles from U.S. policymakers, according to Feder.
据荣鼎集团的数据显示,2015年上半年,房地产和酒店业继续成为中国在美投资的最大驱动力,占到美国64亿美元外国直接投资交易的65%。不像半导体等其他行业,房地产投资不会引来那么多出于国家安全考量的监管审查。因此,据费德称,中国收购喜达屋不太可能在美国决策者那里遇到大的障碍。
Whether or not Chinese investors succeed in buying Starwood Hotels, their deep pockets and a strong desire to diversify their global portfolio keep them hunting.
不管中国投资者最终能否成功竞购喜达屋酒店,雄厚的财力,以及对建立多元化全球投资组合的强大愿望,将驱使中国投资者继续物色交易对象。
"It's a healthy time for the market that the Chinese are in it for the long haul and they're looking at it from a very complex way," Feder says.
"目前市场比较稳健,而且中国人有意放长线钓大鱼,他们正用综合的眼光看待投资。"费德说。