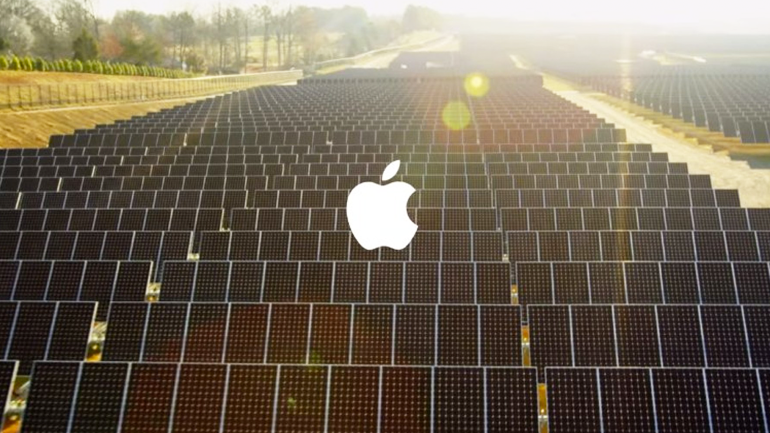 Apple Inc. will build an additional 200 megawatts of solar power in China and push suppliers to make similar commitments, as the maker seeks to offset its global-warming emissions in the world's most polluting country.
苹果将在中国再建一座发电能力达200兆瓦的太阳能电站,并将推动供应商作出相似承诺,以抵消其在中国的温室气体排放。
The solar investment comes atop two previously announced solar farms in southern China that have now been completed, producing a combined 40 megawatts of power, Apple said in a statement. The company will also partner with suppliers, including iPhone maker Foxconn Technology Group, on an additional 2 gigawatts of solar, wind and hydropower projects.
苹果发布声明称,这是继前两个中国太阳能电站项目建成之后推出的最新投资计划。前两个建于中国南部省份的电站合计发电能力达40兆瓦。苹果还将与包括富士康在内的供应商合作,投资合计发电能力为20亿瓦的太阳能、风电和水电项目。
"Climate change is one of the great challenges of our time, and the time for action is now," Apple Chief Executive Officer Tim Cook said. "We believe passionately in leaving the world better than we found it and hope that many other suppliers, partners and other companies join us in this important effort."
"气候变化是我们这个时代面临的重大挑战之一,该是采取行动的时候了,"苹果执行长库克表示。"我们由衷相信我们可以使这个世界变得更加美好,也希望其他供应商、合作伙伴与其他公司与我们一道完成这项重要的任务。"
The promises are part of Apple's efforts to cut greenhouse-gas emissions and come ahead of a United Nations summit in Paris later this year where world leaders will try to reach a global deal on reining in climate-change pollution. China, the world's biggest source of greenhouse gases, has promised to almost double the amount of energy it gets from renewable and nuclear power by 2030.
这是苹果为降低温室气体排放而做出的努力之一,联合国将于今年晚些时候在巴黎召开峰会,目标是达成一项控制环境污染的全球协议。作为全球温室气体排放数量最高的国家,中国承诺到2030年将可再生能源发电与核电电力提高近一倍。
Apple said in April that it would partner with U.S.-based SunPower Corp. to build the two generating stations in Sichuan province. The new solar farms produce more power than Apple's operations consume in China, making the company "carbon neutral," according to the statement. The 200 megawatts of new investments will involve construction in northern, eastern and southern China and "will begin to offset the energy used in Apple's supply chain."
苹果4月份表示将与美国太阳能公司合作在中国四川省建立两座太阳能电站。声明称,这两座太阳能电站的发电量将超过苹果工厂在中国的耗电量,达到"碳排放中和"的效果。200兆瓦新投资选址将包括中国北部、东部与南部省份,"将开始抵消苹果供应链使用的能源数量"。
Foxconn will construct 400 megawatts of solar by 2018 as part of the initiative with suppliers, starting in Henan province. Foxconn has committed to generate as much renewable energy as its Zhengzhou factory uses, Apple said.
苹果对供应商的倡议得到富士康响应,后者到2018年将建造合计发电400兆瓦的太阳能电站,初步选址在河南省。苹果称,富士康承诺可再生能源发电将完全满足郑州工厂的用电需求。