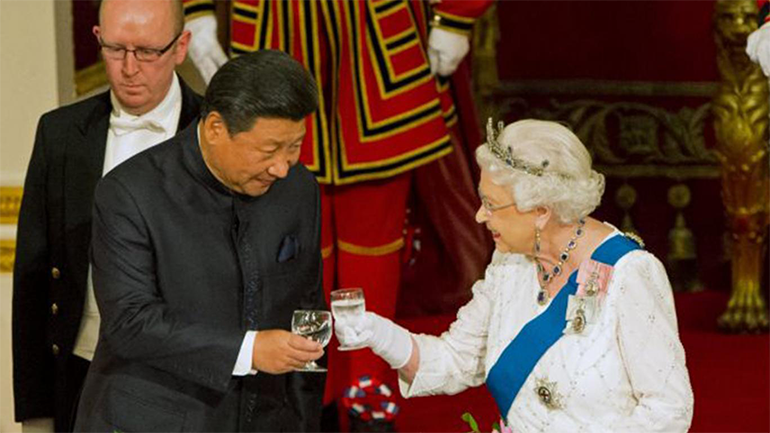 During president Xi's state visit to London, the images of Xi toasting with the Queen at the state banquet in Buckingham Palace went viral on the Internet in China. Some careful netizens noticed that the president toasts with the Queen with his glass lower than the Queen's. Why? Is there any trick in it?
在习近平主席对英国进行国事访问期间,国内网络上随处可见习主席在白金汉宫的国宴上与女王敬酒的图片。有细心的网友发现了习主席向女王敬酒时把酒杯放低的举动。那么,这一动作有什么深意呢?
Actually, this small act is a typical sign of the Chinese toasting etiquette – one's glass should be lower than the elder with whom he's toasting to show his politeness and respect.
实际上,这微小的碰杯动作正是中国祝酒礼仪的体现 – 把酒杯放低象征着礼貌和对长者的尊重。
Drinking together is an essential part of socializing and camaraderie. "A thousand cups of wine are not too many when drinking with a bosom friend," according to an old Chinese saying. As part of Chinese culture, toasting has its rules that may be different from those in the Western culture.
"酒"是人们社交生活中的不可或缺的重要组成部分。正所谓"酒逢知己千杯少"。作为中国文化的一部分,中国的祝酒和西方的祝酒规则有所不同。以下是中国祝酒规则:
1. One should never refuse to participate in a toast, as that could be interpreted as being impolite. All people sitting at the same table must stand up, upon the initiative of one of the guests, and toast in succession;
不可拒绝祝酒,否则会被视为失礼。同桌的所有人必须起立,在其中一位客人的提议下一一祝酒。
2. Elderly people and superiors should be served first. One should not raise his/her glass higher than those of the respected elders;
应先给长者或上级敬酒。干杯时,敬酒人的酒杯应该低于长者的酒杯。
3. If "干杯" is called, the drinkers must toss their glass, and then show the other guests that their glasses are empty.
说了"干杯"之后,应当将杯子里的酒一饮而尽,并向客人展示酒杯以示酒已喝完。