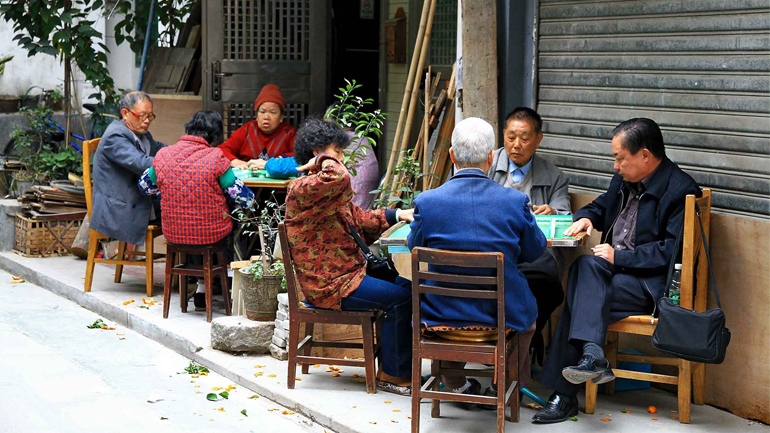 Throughout China the one-child policy is dying out — but nowhere quite so fast as in Rudong, where it all began.
在全中国,计划生育政策正在逐渐消亡——但任何地方都没有江苏省如东县快,那里是一切开始的地方。
Rudong, on the eastern coast to the north of Shanghai, was one of the first counties to outlaw every baby after the firstborn, about a decade before the one-child policy took effect in most of China in 1979. Now it's the first to face the consequences: a silver tsunami of old people.
江苏如东县位于上海以北的东部沿海地区,曾是第一批禁止在第一胎后再生育的县之一,比中国大部分地区实行计划生育政策早了十年。如今,它也成为了第一批面临该政策后果——银发潮——的县。
All of China is ageing but Rudong is doing so faster: all those babies who were never born are not around now to look after all those parents who never bore them, so the population is heavily skewed to the elderly. And that has big implications for everything from old-age homes to local government financing to the mental health of the county's pensioners.
全中国都在老龄化,但如东县的速度更快,人口严重老龄化。而这对一切都具有重大影响,从养老院到地方政府财政再到该县退休人员的心理健康。
Nearly 30 per cent of the county is over 60 — double the national average. And that means Rudong is filled with the ghosts of a China yet to come, when "grandparents" will be everywhere.
该县近30%的人口年龄在60岁以上——是全国平均水平的两倍。而这意味着如东县是中国未来的缩影,到那时,到处都是"爷爷奶奶"。
Just inside the gate of Rudong's Caobu Town old people's home is a gaggle of elderly men, many of whom sport the Ho Chi Minh beards and proletarian flat caps of a much earlier era.
就在如东县曹埠镇的养老院里,有一群老年人,他们中的许多人留着胡志明式的胡子,戴着老式的帽子。
They are about to be joined by a large influx of new residents: for this state retirement home is nearly tripling in size, to 200 beds, and renovating rooms to include everything from air conditioning to flat-screen televisions. Ma Yunfei, who runs the place, puts this down to the success of Rudong's one-child policy.
将有一大批新房客将加入他们的队伍:这个国营养老院的规模扩大了近两倍,增至200张床,房间进行了装修,增添了从空调到平板电视等一切设备。经营这个养老院的马云飞(音)将这些归因于如东县计划生育政策的成功。
I guess you could say Rudong is a victim of its own success — but Ji Dexiang, 70, doesn't see it that way. He just sees what he and his neighbours in the county have achieved. "China's population was large and everyone needed food, clothing and education. We could have a better life if the population was reduced," says the former factory worker.
有人可能会说,如东县是其"成功"的受害者,但70岁的季德祥(音)不这样认为。他只看到他及邻居们所取得的成功。这位曾经的工人说:"中国的人口规模很大,每个人都需要粮食、衣服和教育。如果人口减少了,我们就可以享受更好的生活。"
Mr Ji's only child died, so now he is a ward of the state. "Because I listened to what the government said and didn't have a second child, the government is now my child and will look after me," he says.
季德祥的独生子死了,因此他如今成为了受国家照顾的人。他说:"因为我听了政府的话,没要第二个孩子,所以如今政府是我的孩子,将照顾我。"他说。
Wang Feng, a Chinese demographer says Rudong prefigures an ageing crisis that will hit China harder than it need have done because the shift to an overhang of elderly will happen so fast.
中国的人口学家王丰说,如东县的现状预示着中国的老龄化危机,这场危机对中国的影响比原本应该造成的影响更严重,因为转向老龄化社会的速度如此之快。
But that is not the only unintended consequence of the population policy, writes Mei Fong in her excellent new book, One Child: the Past and Future of China's Most Radical Experiment. "The idea of approaching childbearing with a mindset that is three parts calculation has become ingrained in the Chinese psyche," she writes.
《华尔街日报》记者方凤美在其新书《独生子女:中国最激进的试验的过去与未来》中写道,这并非中国人口政策的唯一计划外后果。她写道:"从多方面考虑生育问题的思想已深入中国人的骨髓。"
Mr Ji, for example, gave up that second child so that the state would not have to buy an extra pencil. He may not have grandchildren but he will soon have a flat-screen TV and a renovated bathroom. Forget the nanny state, this is the granny state. The question is how long Beijing can afford such filial duty.
比如,季德祥放弃了第二个孩子,如此一来国家将不用多买一支铅笔。他也许没有孙子孙女,但他不久将有一台平板电视和一间装修过的浴室。忘掉保姆式国家,这是个老奶奶国家。问题是,这样的赡养义务,北京可以承担多久。