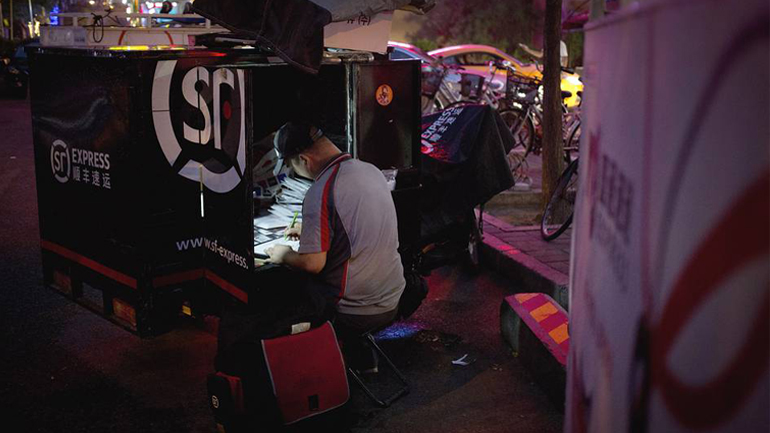 Authorities are tightening security checks on courier services across China following a devastating warehouse explosion and series of deadly parcel-bomb blasts.
继毁灭性仓库大爆炸和致命性包裹连环爆炸案发生后,中国加强了对全国捷运快递服务的安检。
To step up scrutiny on the world's largest express-delivery market, the government is requiring X-ray checks on all mail, while courier services must inspect all packages before sealing them, China's Ministry of Public Security said Thursday. Users of delivery and logistics services are also required to register with their real names, according to an account on the ministry's website of an interagency meeting.
中国公安部22日说,为加强对这个全球最大的快递市场的检查,政府要求对所有邮包进行X光扫描检查,与此同时所有快递公司都必须在封口前对所有包裹进行检查。据公安部网站上有关一个跨部门会议的报道称,快递与物流业务的用户也须实名登记。
The ministry didn't give details on how the new measures would be implemented, or how they compare with existing postal security procedures. Some of these measures were previously put in place for parcels and express deliveries to Beijing in August and September, when China marked the 70th anniversary of the end of World War II with a grand military parade.
公安部没有详述这些新措施将如何落实,以及与现有邮递安全程序有何区别。其中部分措施已经在8月和9月寄往北京的邮件、快件上实行,在这期间中国举行了中国人民抗日战争暨世界反法西斯战争胜利70周年盛大的阅兵式。
The meeting involved 15 government agencies taking part in a five-month campaign to improve security of delivery services and safe handling of hazardous materials. As part of that effort authorities will increase supervision over explosives and dangerous goods by enhancing checks on their production, sales, transportation, storage and usage, the report said.
参加这次会议的有15个政府机构,这些机构从即日起至2016年3月底将在全国集中开展危爆物品、寄递物流清理整顿和矛盾纠纷排查化解专项行动。报道称,作为该专项行动的一部分,在危爆物品方面,将深入清查整治,强化企业主体责任和部门监管责任,全面落实生产、销售、运输、存储、使用等各环节安全管理措施。
The security sweep marks the latest crackdown on courier services in recent years, and it follows two deadly incidents that captured public attention.
这次安全大排查行动是快递物流部门近年来受到的规模最大的一次整顿,之前发生的两起致命事故引发公众的关注。
Couriers toting large trailers full of delivery boxes are a common sight outside office and apartment buildings across China, where the rise of e-commerce has spurred a rapid expansion of delivery and logistics services. About two dozen major express delivery companies operate across the country, while thousands of regional operations have sprung up.
中国全国各地的办公楼和公寓楼外都可看见快递员的身影,他们身后是满载快递箱、包裹和邮件的拖车,电子商务的兴起刺激了中国快递业的迅速扩张。全国大约有24家大型快递公司,与此同时又涌现出数千家地方性的业务机构。
In a June report, Deloitte estimated China's express-delivery market to be the world's largest, tallying some 13.96 billion deliveries and generating some 204.5 billion yuan ($32 billion) in revenue last year.
在6月的一份报告中,德勤公司认为中国的快递市场为全球规模最大的市场,去年总投件数量约为139.6亿件,带来收入为人民币2045亿元。
It isn't clear how the new rules may affect the industry, though Chinese authorities have cracked down on courier services in previous years, such as restricting the goods they are allowed to deliver to ensure safety. In 2012, authorities seized empty artillery shells that a delivery company was attempting to ship on a civil aircraft, according to the Hefei Airport police and official media.
现在尚不清楚新规定会对该行业产生什么样的影响,尽管中国当局过去几年也曾对快递业进行过整治,如为确保安全对允许它们投送的商品进行限制。据合肥机场警方和官方媒体报道说,2012年,当局查获了数十枚一家快递公司试图通过民航飞机托运的没有炸药的炮弹。