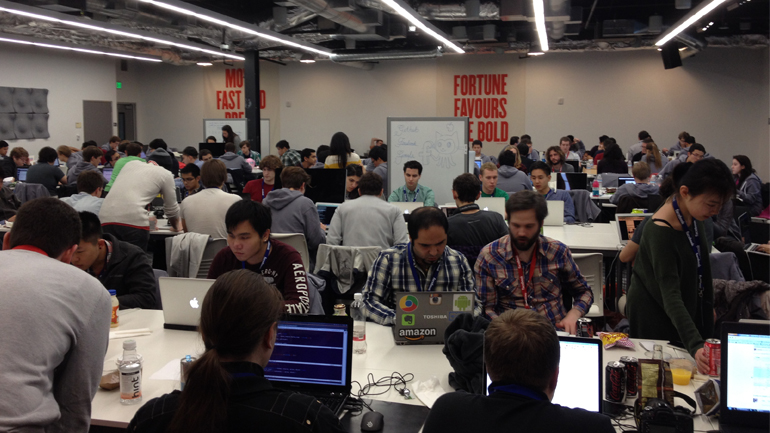 Office workers in Beijing, Shanghai and Hong Kong are working in increasingly cramped conditions, with each worker having about a third of the space enjoyed by their counterparts in Europe and the U.S., according to a recent study.
根据最近的一项研究,北京、上海和香港职场的办公环境越来越拥挤,每个职员拥有的办公空间仅相当于欧美职员的约三分之一。
In these Chinese cities, each worker has around 50 to 60 square feet per desk, compared with 100 square feet a decade earlier, says U.S.-based property consulting firm CBRE's report "Space Utilization: The Next Frontier." In Europe and the U.S., workplace densities are at around 150 to 200 square feet per desk, it says. Density norms in Australia and New Zealand are at 90 to 150 square feet.
根据世邦魏理仕地产咨询服务公司的报告《空间利用:下一个前沿》,在中国的这些城市,每个工位仅有约50至60平方英尺(1平方英尺约合0.09平方米——本网注)的办公空间,而10年前这个数字是100平方英尺。报告称,在欧洲和美国,办公空间密度约为每个工位150至200平方英尺,在澳大利亚和新西兰,这个数字在90至150平方英尺。
CBRE's report covered 36 cities in 14 countries including the U.S., U.K., Japan, Singapore and India. The study excluded smaller Chinese cities where many office towers are empty or underutilized because of a glut of buildings.
这份报告涵盖了美国、英国、日本、新加坡和印度等14个国家的36个城市,但不包括中国一些较小的城市。在这些城市,由于供应过剩,许多办公大楼都是空置或利用率很低的。
Companies in the Chinese cities surveyed utilize an average of 73% of the space, higher than the 60% global average, the report said.
报告称,在其调查的中国城市中,办公空间的平均利用率为73%,高于60%的全球平均水平。
The lack of alternative options such as collaboration areas and meeting rooms also compel them to remain at their desks, the report added.
报告表示,缺少协作区域和会议室等替代选择也是迫使职员留在工位上的原因。
It added that staff left work earlier on Friday across all locations surveyed, except in the Chinese cities, where staff actually spent 2% more time on average in the office compared to Monday to Thursday.
报告称,在其调查的所有城市(中国城市除外),办公室职员在周五都会提前下班。而在中国,他们在周五的办公时间要比周一至周四多2%。
"This is likely due to cultural working practices such as presenteeism," the report said, referring to the practice of working longer than required hours at one's workplace due to expectations that being seen in the office is essential for career progression.
这份报告还称:"这可能与出勤主义等工作文化有关。"出勤主义是指,将出勤视为获得升职的重要因素而超时工作的做法。
"Tight desk space leads to lack of privacy, increased levels of noise and potential for distraction from neighbors, the negative impacts of which can lead to decreased productivity." said the report.
报告称:"工位密集导致缺乏隐私,并增加了噪音水平以及受旁边同事干扰的可能性,这些负面影响可能导致生产率下降。"
Tell that to China's trendy startups. The concept of shared office space is gaining traction in major Chinese cities with a substantial number of startups and small businesses. More real estate companies are jostling to provide hip office space for entrepreneurs who want to work cheek-by-jowl with each other.
把这些说给中国那些时髦的新兴企业听。在中国的一些主要城市,分享工作空间的概念正受到大量新兴企业和小企业的关注。越来越多的房地产公司正争相为那些希望与同事们并肩工作的企业家提供时尚的办公空间。