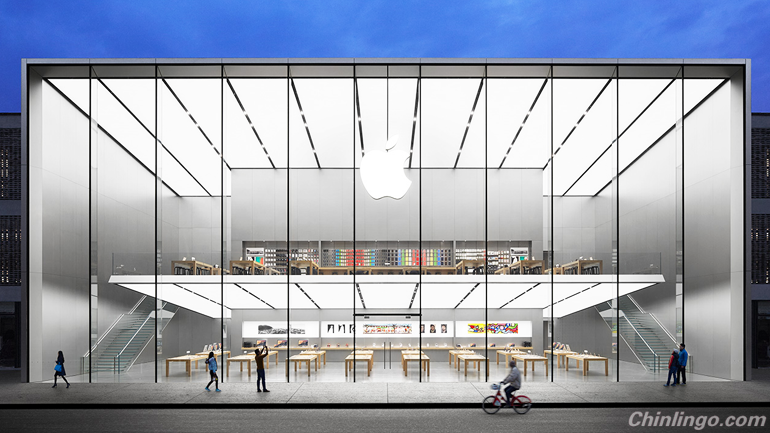 Apple Inc. Chief Executive Officer Tim Cook said the company will open its 24th store in China today, expanding an important retail footprint in its largest market outside of the U.S.
苹果公司执行长库克表示,公司将于今天在中国开设第24家专卖店,以此进一步扩大其在这个海外第一大市场的足迹。
China has become an increasingly critical component of Apple's global business and helped it sell a record 13 million iPhones during the debut weekend of its latest handsets last month. Apple stores there are crucial for introducing Chinese consumers to the brand and educating users there, Cook said at a Wall Street Journal conference in Laguna Beach, California, on Monday evening.
中国在苹果全球业务版图中的地位日益重要,最新版iPhone上月上市时的周末销量能创出1,300万部的纪录高位,中国市场功不可没。库克周一晚间在《华尔街日报》主办的活动上称,苹果中国专卖店对向中国消费者推荐苹果品牌和指导用户至关重要。
"Our customer base specifically is extremely young, and they're thirsty for classes and seminars," Cook said, without naming the city for the new store. "These stores are taking on just a huge role as the face of the company."
"我们的用户群非常年轻,渴望参加课程与研讨会,"库克说。"这些专卖店作为公司的脸面,发挥着巨大作用。"他没有说明新店位于哪座城市。
Apple reports quarterly earnings next week. Greater China accounted for 27 percent of its revenue in the June quarter, more than all of Europe, and remains a swing factor for the company's iPhone-reliant results.
苹果将于下周发布季度财报。大中华区市场占苹果6月末当季营收总额的27%,超出欧洲总和,同时也是该公司iPhone销售情况的一个不确定因素。
By the middle of next year, the company expects to operate 40 stores in China. Cook credited former Burberry Group Plc Chief Executive Officer Angela Ahrendts for her work overseeing the company's Chinese retail network.
到明年年中,苹果中国专卖店数量将达40家。库克对前博柏利集团执行长Angela Ahrendts在苹果中国零售市场的工作称赞有加。