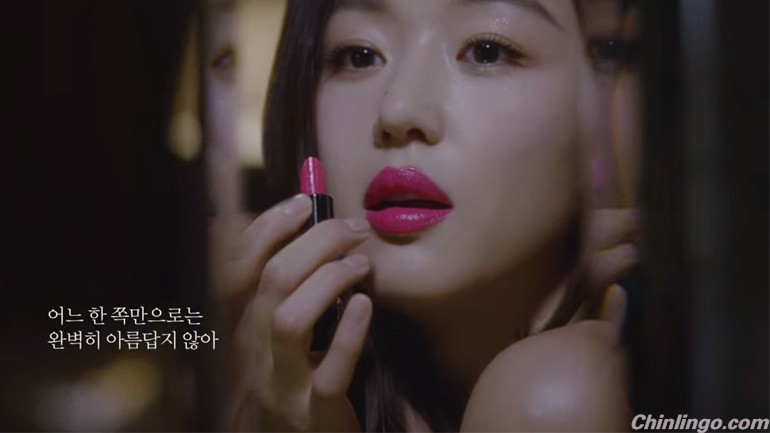 At the South Korean beauty store Innisfree in the We Life shopping mall in Beijing's Chaoyang district, a group of college girls with blushed cheeks and tinted pink lips try on different cosmetics in front of a mirror.
在北京朝阳区未来商场的韩国化妆品牌悦诗风吟的门店里,一群面颊绯红,嘴唇红润的女大学生正在镜子前试用各种彩妆品。
The group is a part of an increasing number of beauty-conscious Chinese women who are developing an appetite for South Korean cosmetics because of their innovative products, cute packaging and competitive price ranges.
这一群体是中国越来越多具有爱美意识女性的一部分,她们因韩国化妆品的创新产品,可爱包装和便宜价格而对其青睐有加。
"I like them because they are well priced, beautifully packaged and are of good quality," Peng Weizhu, a public relations officer in her early 20s and working in Beijing, said. "Besides, they are suitable for Asian people's skin, especially the color and texture of their foundations."
"我喜欢它们是因为它们价格实惠,包装精美,品质上乘,"彭魏,一位在北京工作的20出头的公关人员说,"此外,它们适合亚洲人的皮肤,尤其是粉底的颜色和质地。"
Already, there are seven large South Korean cosmetics manufacturers doing business in China, with 25 of their beauty brands available in online and offline stores. This newfound interest for skincare is generating bumper earnings for South Korea's beauty industry.
目前,有七家大型韩国化妆品生产商在中国经营业务,总共25个美容品牌享有线上和线下专卖店。这种新兴的护肤品的兴趣正在为韩国的美容行业创造丰厚的利润。
Cosmetics producer LG Household & Healthcare, owner of the Face Shop brand, is anticipating strong growth here this year.
化妆品生产商,菲诗小铺品牌的所有者LG家用保健公司,今年在中国有着较强的销售额增长预期。
"Our company expects annual sales from China to increase by 50 percent in 2015 from 121.1 billion South Korean won ($141.46 million) last year," Park Hee-jung a press representative at LG H&H, said.
LG新闻代表朴熙君表示:"我们公司希望2015年在中国的年度销售从去年的一千二百多亿韩元(一亿四千多美元)增长百分之五十。"
Other companies are just as bullish. Amore Pacific Group, South Korea's leading personal care firm, "expects China to contribute 28 percent of the company's global sales by 2020 from the current 10 percent", according to Ji Huilin, the company's public relations officer.
其他公司也同样看好。爱茉莉太平洋集团,韩国领先的个人护理公司的公共关系主任季惠临则表示,"预计到2020年,中国销售额在公司全球销售额中所占比例将从目前的10%增长到28%。"
In the first quarter of this year, Amore Pacific generated revenues of 3.4 billion yuan ($535.4 million) from China, Mintel Group Ltd, a market research firm in the United Kingdom, reported.
根据一家英国市场调研公司敏特公司报道,今年的第一季度,爱茉莉太平洋集团在中国收益三十四亿元(五亿三千五百多万美元)。
China has become the largest destination for South Korean cosmetics. South Korea exported $370.8 million worth of cosmetics in the first seven months of this year, an increase of 250.6 percent compared to the same period in 2014, according to the Korean International Trade Association.
中国已成为韩国化妆品的最大目的地。根据韩国国际贸易协会,今年前七个月,韩国向中国出口价值三亿七千多万美元的化妆品,较2014年同比增长250.6%。
Arthur Chang, chairman of Chinese skincare e-commerce retailer and distributor U-Cosmetics, said that demand is so strong that his company sells one South Korean beauty product every 18 seconds. This rapid surge has encouraged South Korean companies to establish production bases in China to ensure supply and shorten delivery times.
据中国护肤品电子商务经销商u-cosmetics的主席张亚瑟分析,中国市场韩国化妆品的需求非常强烈,他的公司每18秒就销售一件韩国美容产品。这一快速的激增促使韩国企业在中国建立生产基地,以确保供应和缩短交货时间。
"Korean cosmetic brands will increasingly localize along the value chain to further improve their positioning in China," Vera Li, a Shanghai-based analyst at market research firm Deloitte Touche Tohmatsu Ltd, said. "Many of the companies are already beginning to shift manufacturing to China to lower costs and enhance logistic efficiency."
"韩国化妆品品牌将沿价值链越来越本地化,并进一步完善其在中国的定位," 李维拉,一个上海市场调研公司德勤公司的分析师说,"许多公司已经开始将生产转移到中国,以降低成本并提高物流效率。"
To reflect this, Amore Pacific set up in Shanghai last year its largest overseas manufacturing base and logistics center in China with a capacity to produce 100 million products every year.
相应的,去年,爱茉莉太平洋集团在上海设立其在中国最大的海外生产基地和物流中心,该基地每年能生产1亿件产品。
Fueling this booming sector in the country is the new generation of trendy customers. South Korean manufacturers have been quick to target consumers in the 20s to 30s age group, especially college students.
助长中国这一蓬勃发展的行业的是新一代的新潮客户。韩国厂商已经迅速将消费群体定位到2、30岁的年龄段,尤其是大学生。
This is a segment of the population that is extremely passionate about South Korean pop culture. These beauty brands have quickly expanded their presence here on the back of the Korean Wave, a cultural phenomenon related to the popularity of the country's soap operas, movies and K-pop.
这是一群非常热爱韩国流行文化的人。凭借韩国偶像剧、电影和流行乐的普及而带来的韩流文化影响,这些美妆品牌迅速扩大他们的存在感。
The marketing strategy of these brands relies on celebrity endorsement and product placements in popular TV dramas, especially since young Chinese women are increasingly using South Korean stars as beauty role models.
这些品牌的营销策略依赖于明星代言和电视剧中植入的广告,主要因为年轻的中国女性越来越多地使用韩国明星作为美容偶像。
"There was an enormous supply shortage of coral red color lipsticks in China when the South Korean series My Love from the Star, starring Jun Ji-hyun, stirred up a craze for wearing coral red lipstick in the show," Li, of Deloitte, said.
李薇拉说;"当全智贤主演的电视剧《来自星星的你》掀起了珊瑚红唇膏的热潮后,中国的珊瑚红唇膏缺货十分严重。"
South Korean cosmetics manufacturers are also heavily investing in sales channels to keep up with demand. The trend is now for these brands to set up their own speciality stores in shopping malls to attract consumers.
韩国化妆品生产商也在销售渠道上大量投资,以跟上需求。现在的趋势是,这些品牌在商场上建立自己的专卖店,以吸引消费者。
"The single-brand store format is meeting the demand of the new generation, who are looking for niche, professional, personalized products that fit their lifestyle," Chen Wenwen, senior beauty analyst at Mintel China, said.
"单品牌专卖店的格式满足了新一代的需求,这些人寻找与他们生活方式的相符的,合适的,专业化,个性化的产品。"陈雯雯,敏特中国高级美容分析师做了如此分析。