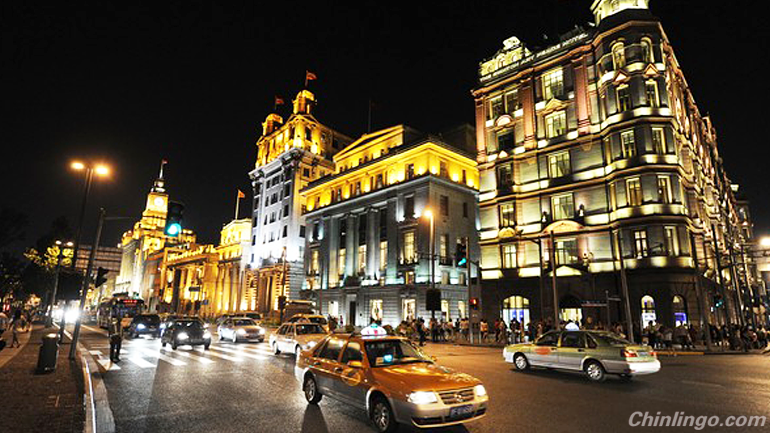 China views the west with a barely disguised chip on its shoulder. And not without reason.
中国对西方的怨愤之情几乎溢于言表,而这不无道理。
One of those reasons stands behind a locked gate on a trendy lane in Rockbund, Shanghai's art deco district. The British Supreme Court for China and Japan is an unassuming two-storey colonial building from which British judges handed down some of the worst indignities of what China calls its "century of humiliation", from the mid-19th century until the establishment of the People's Republic of China in 1949.
上海外滩街巷中一道闭锁的大门背后便隐藏着中国怨愤的理由之一。这座低调的殖民地风格的两层小楼曾是英国在华及在日最高法院所在地,英国法官在此作出的不少决定是中国"一个世纪的耻辱"(从19世纪中叶到新中国成立的1949年)中最深的几道印记。
While the Middle Kingdom was never a full-blown foreign colony, "foreign devil" forces did rule chunks of vital port cities such as Shanghai. Old resentments die hard, especially in a culture with 5,000 years of history .
虽然中国从未完全沦为外国殖民地,但"西方殖民主义势力"当时控制着上海等多个重要港口。在这个有着5000多年历史的国度,人们的积怨难解。
So the legacy of western colonialism lives on in the memories of mainlanders and in the British court, symbol of a century of extraterritorial foreign justice in China.
许多内地民众仍对西方殖民主义记忆犹新,同样难以磨灭的是关于这个英国法庭的回忆——这是治外法权在中国的标志。
Douglas Clark, a Hong Kong barrister, has written what he calls a "living history" of that court, and its American counterpart, complete with period cartoons, sepia photos and salacious judicial details.
香港出庭律师道格拉斯·克拉克(中文名马锦德)撰写了这个法庭以及美国同类机构的"活历史",附有当时的漫画、褪色的老照片和劲爆的法庭细节。
From love spats to interracial warfare, Clark's three-volume tome, Gunboat Justice: British and American Courts in China and Japan (1842-1943), chronicles one of the saddest chapters in Sino-western relations: the bit where foreigners set up courts that sometimes let their citizens get away, literally, with murder.
从情人间的争吵到种族争端,克拉克的三卷大部头《炮艇下的司法:英国和美国在中国和日本的法庭(1842年-1943年)》记录了中国和西方关系史上最悲惨的篇章之一:外国人建立的法庭允许其国民即使杀人也能逍遥法外。
Under treaties China signed in the 19th century, most foreign nationals were exempt from Chinese laws. These extraterritorial courts stepped in whenever they committed crimes against each other, or locals. He chronicles the case of a Malay seaman who murdered his Chinese wife, an opium-addicted prostitute who pawned all his clothes. And that of the Indian foreman at a British shipyard, who killed a Chinese colleague after the latter "broke wind" and committed an unspecified "revolting act" over their meal.
根据中国19世纪与外国签署的条约,外国公民不受中国司法的管辖。一旦外国公民针对当地人犯罪,这些域外法庭便会介入。克拉克在书中记录了一名马来海员的杀妻案,他的妻子是个吸食鸦片成瘾的妓女,典当了海员的所有衣物。还有一名在英国船坞的印度领班因中国同事在吃饭时"放屁"并做出某种莫名的"叛逆举动"而将其杀害。
These contemporary court reports seem to have been precursors of Judge Judy, reprinted in local papers for entertainment value. "The century of humiliation is not just propaganda. We foreigners gloss over it, but foreigners lived completely immune from Chinese law," Clark says as he takes me on a walking tour of extraterritorial justice in Shanghai. "Every single day (it) reminded Chinese people they were not sovereign in their own land."
这些法庭报告因其娱乐性而在地方报纸上刊登出来。"一个世纪的耻辱并非宣传夸大。虽然我们外国人极力掩饰,但是外国人当时完全不受中国法律管辖,"克拉克带我在上海进行以"治外法权"为主题的散步时说,"这些时刻提醒着中国人不是自己国土的主人。"
The tour includes the British court, followed by one of the city's most picturesque colonial landmarks, the customs house on the Huangpu River. It is here that Clark reminds me that two of the leading revenue-raising officials in China during the extraterritorial period were British: Sir Robert Hart was inspector general of Chinese customs for nearly 50 years, from 1863 onwards; and Sir Richard Dane monitored the Chinese collection of salt tax and its remittance to foreign creditors in the early 20th century.
这次散步经过的地点包括英国在华及在日最高法院和上海最壮观的殖民地标之一、黄浦江边的海关大楼。行至海关大楼时,克拉克说,这段治外法权时期在中国创收最多的官员中有两名英国人:罗伯特·赫德,他从1863年起出任中国海关总税务司达近50年;还有20世纪初在中国负责盐税稽征等事务的查德·丁恩。
Chinese who wanted justice against foreigners during that period had to argue in a court that used not only foreign law but also a foreign language and foreign customs. The testimony of Chinese witnesses was sometimes discounted on the grounds they weren't Christians, and defendants were often let off lightly for injuring or even killing local people — on the grounds that they were worth less than foreign ones.
在这段时期,中国人要向外国人寻求公正只能通过只使用外国法律、外语和遵从外国习俗的法庭。有时中国证人的证词不会被采信,因为他们不是基督徒;而被告人伤害甚至杀死当地居民的行为往往也被从轻处理,原因是中国人的性命不如外国人的性命有价值。
This is the kind of thing, says Clark, that "forms the cornerstone of how many Chinese, and particularly the Communist party, see the world". He notes that "foreigners — to this day — are seen as trying to split and weaken China".
克拉克说,正是类似的事情"形成了许多中国人、尤其是中国共产党看待世界的基石"。他表示:"直到今天,外国人也被视为试图分裂和削弱中国的人。"
It might be worth recalling this history next time we are minded to lecture Beijing about legal reform, or for that matter about the chip on its shoulder. The west may have forgotten all about what happened in those courtrooms. But China has 5,000 years of collective memory, remember?
也许下次要批判北京对西方的怨愤之情时,不妨回顾一下这段历史。西方也许已经忘记了发生在这些法庭上的一切,但要记住,中国是个有着5000多年历史的国度。