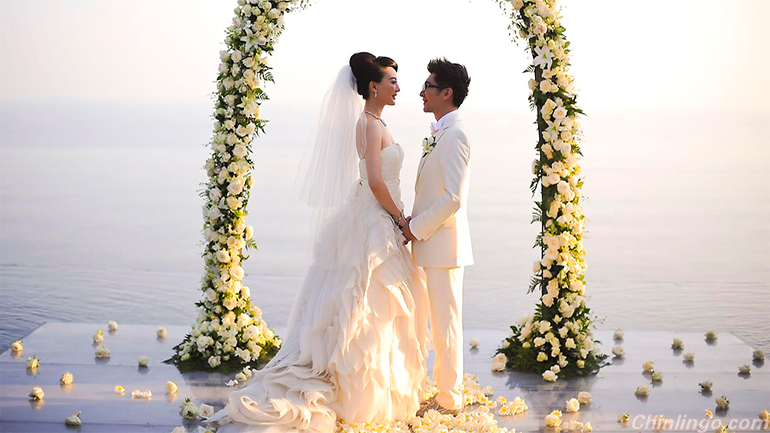 A new era for China's wedding industry come as many younger individuals in the rising middle and wealthy classes opt for fusion weddings. The most popular option is to mix traditional Chinese elements with Western trends, complete with fat budgets, choreographed photo sessions and lavish banquet dinners.
随着不断壮大的中产及富裕阶层中有很多年轻人选择办融合多种元素的婚礼,中国婚庆行业迎来了一个新时期。最受欢迎的选择有:将中国传统元素与西方流行元素合而为一、花大钱、精心策划的拍照时间以及奢华婚宴。
"Every bride in China wants to walk down an aisle in a white dress," said Raul Vasquez, president of Weddings Beautiful China, a wedding-planning business based in Beijing. "Brides are inspired by what they see in the West."
总部设在北京的婚庆策划公司"中国美丽婚礼"的总裁劳尔·瓦斯克斯说:"在中国,每位新娘都想穿着白色婚纱举行婚礼。新娘们看到的西方婚礼场景启迪了她们。"
"Getting married is a big deal, so it's OK to spend a little money."
结婚可是件大事儿,花点儿钱并不为过。
According to analysis from China Wedding Industry Development Report, couples now spend an average of 76,141 yuan ($12,000) per wedding in China. Putting that into perspective, the national average annual wage for urban employees was 56,339 yuan ($8,900) in 2014, according to China's National Bureau of Statistics.
据《中国婚庆行业发展报告》分析称,如今在中国,情侣办婚礼的平均开销为76141元人民币。而据中国国家统计局的数字显示,2014年该国城镇就业人员的年均工资为56339元人民币。
Experts estimate the wedding industry brings in annual revenues of $80bn, up from $57bn in 2011, a staggering 40% increase over four years.
专家们估计,中国婚庆行业的年营业收入从2011年的570亿美元升至当前的800亿美元,四年增幅达到惊人的40%。
Research firm IBIS World estimates that half of couples who marry in China now use some kind of wedding service.
据从事调研业务的宜必思世界公司估计,如今在中国结婚的情侣有一半会选择某种婚庆服务。
What's more, China has put its own mark on some Western traditions, such as the photo shoot. Unlike Western weddings, where brides and grooms take pictures on the day of the wedding, it's popular for couples in China to pay for day-long photo sessions — sometimes in different countries — prior to the ceremony.
此外,中国也给一些西方婚庆传统——如拍照——打上了自己的标记。在西方,新郎新娘会在婚礼当天拍照。与西方的这一传统不同,中国的情侣流行在举办婚礼前拍结婚照,有时还会去不同的国家拍结婚照。
Weddings Beautiful China, which started in 2011, now has 350 wedding planners in its network across 39 cities in China, and Vasquez said the average wedding budget for their clients is 200,000 yuan ($31,600). Their clients are typically in their twenties, wealthy couples who are white collar workers and often based in major cities such as Beijing and Shanghai.
"中国美丽婚礼"创办于2011年,如今在中国39座城市拥有350家婚庆策划点。瓦斯克斯说,他的客户的平均婚礼预算为20万元人民币。客户一般都是二十多岁、常住北京和上海等大城市的白领富裕阶层。
Its Chinese partner, boutique wedding planning company Weddings by Ling, which started in 2009, has planned lavish affairs for Chinese celebrities including actress Chen Shu's 200-guest affair at the Hong Kong Jockey Club in Beijing plus a 20-person wedding in Bali.
该公司的中方合作伙伴"柏灵婚礼策划"创立于2009年,曾为很多中国名人操办过奢华婚礼,如女演员陈数在北京香港马会会所举行的有200名宾朋参加的婚礼分享会和在巴厘岛举行的有20人参加的婚礼。
The average budget for Ling's weddings total 350,000 to 400,000 yuan (about $55,000 to $63,000).
"柏灵婚礼策划"操办一场婚礼的平均费用为35万至40万元人民币。
"I realised many brides were not content with the style and service many of the wedding planning agencies in Chinese cities were providing to them, said Ling Ying, who studied wedding planning in the US. "This is one of the most important days for a woman in her life, so they should have access to quality wedding planners that can plan a wedding they will remember for a lifetime."
在美国学习婚庆策划的英玲(音)说:"据我了解,很多新娘都不满意中国各城市的婚庆机构为她们提供的婚庆服务。这可是一个女人一生中最重要的日子。她们本应得到高品质的婚庆策划,让婚礼可以铭记一生。"
While Western wedding traditions are working their way into Chinese ceremonies, there are still traditions that remain decidedly Chinese.
虽说中国婚礼当前纳入了很多西方婚庆传统,但也保留了很多明显具有中国色彩的习俗。
Instead of a gift list, Chinese couples prefer hongbao and venue availability doesn't dictate wedding dates. Rather, Chinese couples will still choose an auspicious date — often by enlisting the help of a fortune-teller.
中国的情侣更喜欢收红包——而不是礼单。可用场地并不会对婚期起决定作用。但中国的情侣还是会选择一个吉日——通常通过占卜决定婚期。
Other up-and-coming trends in Chinese weddings include small, destination ceremonies, with Bali and Thailand being most popular, and cruise-ship weddings. Last year, Weddings Beautiful partnered with Royal Caribbean to design a Greco-Roman wedding chapel aboard luxury liner Mariner of the Seas, for couples to tie the knot while cruising.
日渐重要的中国婚庆趋势还包括:在旅游目的地——巴厘岛和泰国最受欢迎——举行小型婚礼以及在大型邮轮上举行婚礼。去年,"美丽婚礼"携手皇家加勒比邮轮公司,在"海洋水手"号豪华客轮上设计了一个希腊罗马式的婚礼教堂,情侣们在乘船巡游途中喜结连理。