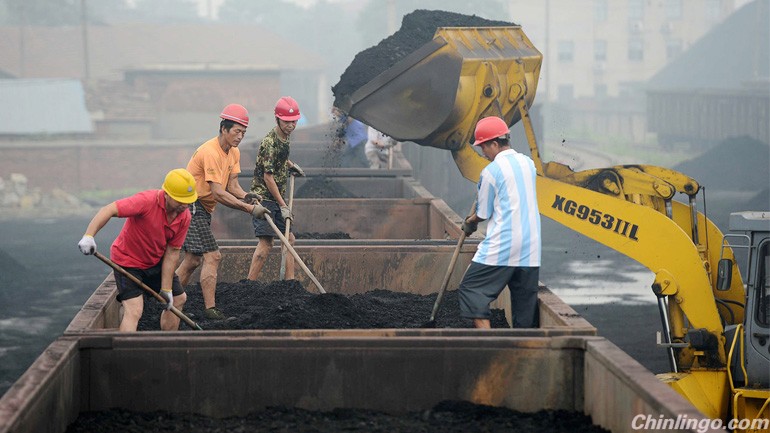 FOR decades China's coal mines served as tragic showcases of greed, corruption and contempt for life: thousands died in accidents every year and many more after prolonged agony from dust-clogged lungs.
中国的煤矿向来是贪婪、腐败和蔑视生命的悲惨写照:每年有数千人死于矿难事故,还有更多的人因肺部吸入大量煤尘而长期遭受折磨。
Then a striking turn around began. Chinese coal mines became far safer even as they more than doubled output to fuel the country's economic boom—they produced 3.9 billion tonnes in 2014, about half the world total. Last year 931 miners were killed in coal-mine accidents. It was the 12th year in a row in which the death toll reportedly fell.
但状况已开始好转。如今中国的煤矿远比以前更安全,即便产量已经翻番——2014年为39亿吨,约为全世界总产量的一半。去年,中国共有931人死于矿难事故。从报道的死亡人数来看,这已是连续第12年下降。
By one measure of mining safety—deaths per million tonnes of coal produced—China's record had improved twenty-fold since 2002, to 0.24 (see chart). That is still about ten times worse than in the developed world. Officials say safety conditions remain "grim". But the coal industry is also labour-intensive. China has 5.8m miners; America, the world's second-largest producer, has only 80,000. Measured by deaths per 100,000 coalminers, China's annual rate of 16 compares favorably with a total of 20 deaths in America in 2013.
按照衡量矿业安全的每产百万吨煤死亡人数,2002年以来中国的煤矿安全记录已改善20倍,降至0.24。这仍是发达国家的约10倍,中国官员也表示安全形势依然"严峻"。但煤矿是劳动密集型产业,中国有580万矿工,而世界第二大产煤国美国仅有8万矿工。按每10万名矿工的死亡人数衡量,2013年中国的该数字仅为16,低于当年有20名矿工遇难的美国。
There has already been clear improvement, The government has cracked down for a variety of reasons. One is embarrassment. Soaring deaths a decade ago tarnished the party's image even as it boasted of its efforts to create a "harmonious society". With the spread of the internet and social media it became much more difficult for censors to cover up accidents. Tim Wright of Sheffield University notes that mentions of "coal-mine safety" spiked upwards from 2001.
中国在防止煤矿事故方面已取得显著成就,这其中有多种原因。首先是出于"尴尬"。10年前居高不下的死亡数字曾有损政府形象。随着互联网和社交媒体的普及,掩盖事故正变得越来越难。谢菲尔德大学的蒂姆·莱特注意到,从2001年起,中国官方媒体提及"煤矿安全"的次数明显增加。
Safety also improved because the government closed lots of small mines, which happened to be the deadliest ones. It wanted to concentrate the industry in the hands of larger, more efficient and supposedly less dirty state-owned firms. Remaining township mines are now safer. At the government's urging, state-owned coal firms have made big investments in safety after years of neglect.
煤矿安全状况的改善也与中国政府关闭大量小煤窑有关,而后者恰恰最容易发生矿难事故。政府希望将该产业集中于规模更大、更高效且更具公德心的国企手中。如今,即便是留存下来的乡镇煤矿亦比以前更安全。另外,在政府敦促下,国有煤矿也正斥巨资改善安全状况。
Harsher penalties for the operators of accident-prone mines, and their local-government supervisors, may have helped too. Alas, punishing officials on a per-death basis may have the perverse effect of encouraging cover-ups. But a fierce campaign against corruption may have curbed such practices.
或许,对容易发生事故的煤矿的经营者以及当地政府负责人进行更严厉的处罚,也发挥了作用。虽然这有可能怂恿某些官员试图掩盖事故,但中国领导人发起的反腐败行动或令这种做法大为收敛。
As China's economy now begins to slow, coal prices are falling. This may make it easier to prise dangerous mines from the hands of private and local-government operators. To help reduce excess capacity, the government this year banned the opening of new mines in some parts of the country. In helping to reduce the number of deaths, economic headwinds may prove a blessing.
如今,随着中国经济开始放缓,煤价逐渐下跌。这也许使中央政府从私人和地方政府手中"收缴"危险的煤矿变得更容易。另外,为削减产能,中央政府今年在一些地方禁止新开煤矿。看来,就帮助减少矿难死亡人数而言,经济放缓或将成为一种"福音"。