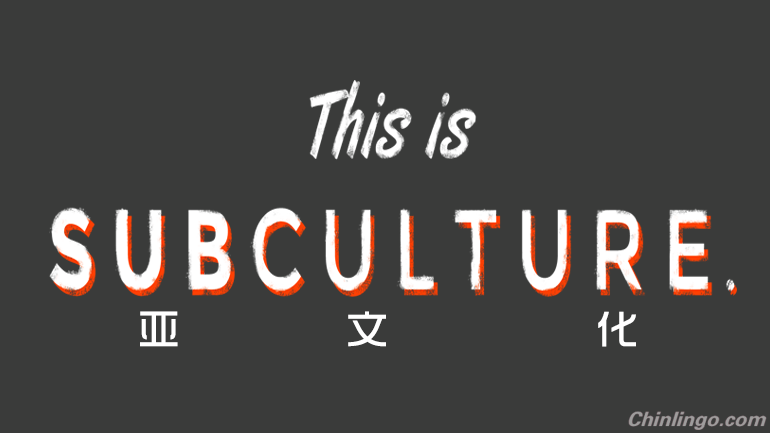 Chinese language is one of the basis for the Chinese civilization. It is the foot-stone and a messenger carrying meaning to the Chinese nation. Due to the popularity of the Internet, cyber catchphrases have been emerging one after another, and the Chinese culture has been adding various expressions and characters, some good and some bad. So people have called for the protection of the Chinese language, and this phenomenon has caused much attention in China.
汉语传承中华文明,是华夏民族存在的基石和载体。互联网的普及,层出不穷的网络流行语,五花八门的表达和书写方式,使汉语文化遭到了巨大的影响,保护汉语当引起社会高度重视!
What is cyber subculture?
什么是"网络亚文化"
Cyber subculture refers to the popular cyber culture, a kind of marginal culture characterized by its unique aesthetics and value. It easily penetrates the mainstream culture and influences communication. It is a special cultural value system, thinking mode and life style. It's formed, followed and spread by the Internet users. The followings are the influences of cyber subculture on the Chinese language.
指体现独特审美观和价值观的网络流行文化,具有极强的渗透力和影响力,在网络虚拟空间中存在的边缘文化,是网名在网络中逐渐形成、信奉和推行的一种特有文化价值体系、思维模式和生活方式。
Chinese characters are being changed and a lot of new characters are more prominent in the media
汉字被异化,错别字盛行
Many characters used on the Internet are using writing or pronunciation different from the original meaning. As they are frequently used in daily communication, the users don't mind whether they are written correctly or not over time. Here are two typical examples.
很多网络新造字在严格意义上讲就是错别字,因为在日常沟通中经常被使用,久而久之就已经忽略其是否正确了。以下便是典型的例子。
duang – made up of "成" and "龙". As the commercial of Jackie Chan (成龙) was spoofed, the character got popular on line over night. The character was made by putting "成" above "龙".
duang——成龙,由于成龙广告被恶搞,一夜间红遍网络;网友将"成龙"二字上下结合组成该字。
qiong – overlapping of three "买" (buy). It means that you will spend all of your money and become poor(穷, qiónɡ, if you keep buying, buying and buying.
qiong——三个"买"字的叠加,意思是不停地买、买、买,然后就会把钱花光,最后就会变穷。
2. The cyber slang is formed in various weird ways
构成方式多样,表达千奇百怪
If you don't have any basic knowledge of cyber slang, you will completely misunderstand what they mean and somehow get lost in communication.
倘若对网络语言不了解,就完全不知所云,在一定程度上造成了沟通障碍。
●Acronym, abbreviation and homophone
缩写谐音
MM- an acronym of Pinyin for Chinese characters, "美眉(měi méi)", which refers to a young and beautiful girl.
MM: 汉字拼音头字母缩写:常被指代漂亮美眉(美女),也指妹妹。
伊妹儿(yī mèi ér)- a homophone of "email". It sounds fancy to the Chinese speaker.
伊妹儿: 英语单词谐音:电子邮件。有种让人想入非非的感觉,有么?
7456- a homophone of "气死我了(qì sǐ wǒ le)", which means someone is driven mad.
7456: 数字谐音,气死我了。通常指被某人或某事气急了。
● New meaning for an existing word
旧词新意
斑竹- forum moderator; it has been popular since it was wrongly typed.
斑竹——论坛版主,输入错误后流行起来。
楼上- "upstairs" literally; it refers to the preceding post.
楼上——前一个帖子或上一个帖子。
3. The youth become the largest prey of cyber subculture
社会青年一代受网络亚文化影响最大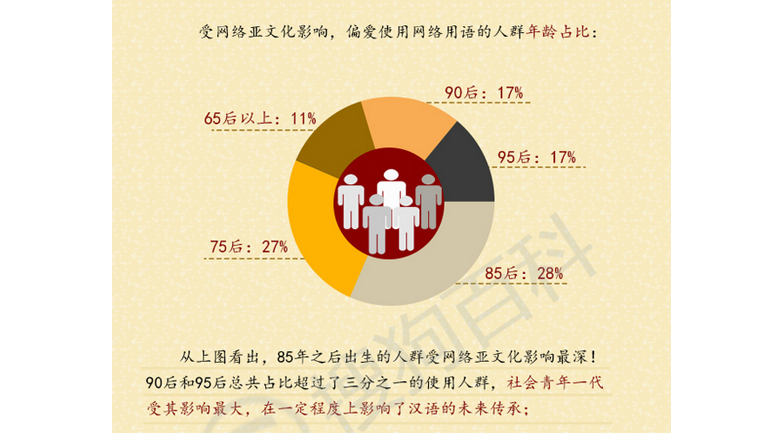 It can be seen from the above chart that those born after 1985 suffer the deepest influences of cyber subculture! Those born after 1990 and 1995 account for over 1/3 of the total cyber slang users. The younger generation become the largest prey of cyber subculture, which somehow affects inheritance of the Chinese language in the future.
从上图可以看出,85后人群受网络亚文化影响最深!90后和95后总共占比超过了三分之一的使用人群,社会青年一代影响最大,在一定程度上影响了汉语的未来传承。