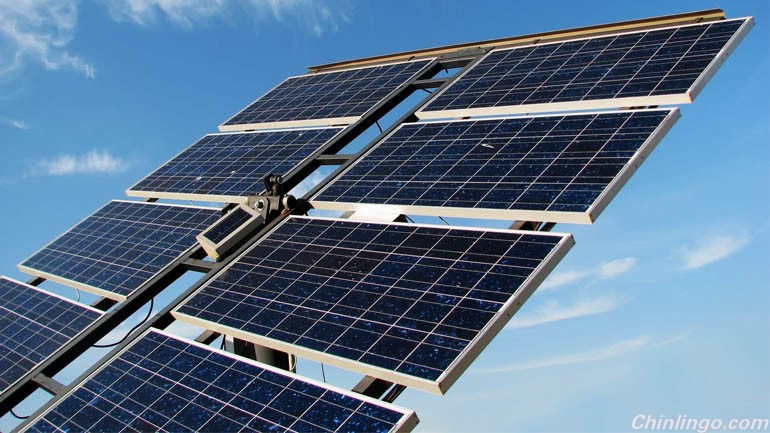 China is worried about climate change, and is now the biggest global investor in green technology.
中国正在担忧气候变化,并且现在是绿色技术的全球最大投资者。
Over the past two decades China's blitz of industrialization has pulled millions of people out of poverty — and pumped millions of tons of carbon into the atmosphere. From 2008 to 2013 alone, annual energy consumption in China rose more than 50 percent.
过去20年间,中国闪电般的工业化速度已经让大量人口脱离贫困——同时也把数以百万吨的碳排放到了大气中。仅仅在2008年至2013年间,中国的能源年消耗量就增长了超过50%。
Some 70 percent of that electricity was generated from the worst possible source: coal. China burns as much coal as the rest of the world combined, and it now emits twice as much total carbon as the U.S. (although Americans still lead the world in per capita emissions). You can see the results in the thick haze that blankets Beijing and just about every other city.
而在中国,大约70%的电都是从污染最严重的能源,也就是煤炭中获得的。中国的煤炭消耗量相当于世界其他地区的总和,其目前的碳排放总量相当于美国的两倍(尽管就人均排放量而言,美国仍高居全球榜首)。从笼罩北京和几乎其他所有城市上空的厚厚雾霾中,就能看到这样做的后果。
In fact, just a handful of China's 500 largest cities meet World Health Organization standards for air quality.
事实上,中国最大的500个城市中只有一小部分达到了世界卫生组织的空气质量标准。
Air pollution kills more than half a million Chinese people every year. Runners in the Beijing International Marathon last year had to wear face masks against the smothering yellow haze, and smog alerts routinely force cities to ban driving and temporarily shut down factories.
空气污染每年导致约50万中国人过早死亡。去年北京国际马拉松赛的参加者必须戴上口罩来抵御令人窒息的雾霾,而不定期的雾霾预警则迫使城市实施机动车限行和暂时关闭工厂。
Communist Party officials and business leaders aren't happy about the pollution, either. "Watching people wearing anti-toxin masks in the capital is pretty embarrassing," said Yun Gongmin, head of China Huadian, one of the largest state-owned energy companies. "Nobody wants to live in a polluting city for fear of getting diseases."
中共官员和商界领导人也对污染不满。中国最大的国有能源企业之一华电集团公司原总经理云公民说:"在首都北京看到人们带着'防毒面具'令人汗颜。没人愿意生活在一个污染的城市里,大家都害怕得病。"
China's authorities are making a major push to curb emissions, both to ease the smog and alleviate the consequences of climate change. In Washington last month, Chinese President Xi Jinping announced that a national cap-and-trade program, the world's biggest, would begin in 2017. Chinese companies that emit more greenhouse gases than the allowed cap will be fined, while those that emit less can sell their credits.
中国政府正在推出控制碳排放的重大举措,以缓解雾霾和减少气候变化的影响。上个月在华盛顿,中国国家主席习近平宣布将在2017年建立全国碳排放交易市场。碳排放量超额的中国企业将被罚款,而排放量低于限额的企业则可以出售自己的配额。
China is also pouring money into renewable energy, investing $90 billion last year alone, more than any other country. It has ramped up its solar power at a staggering rate, building sprawling solar farms in the Gobi Desert.
中国也在大量投资发展可再生能源,仅在去年就投资900亿美元,超过世界其他任何国家。中国正在以一种惊人的速度发展太阳能,在戈壁沙漠大量兴建太阳能农场。
China is already the world's largest producer of wind power, with thousands of turbines installed in the windy west and plans to more than double the number of turbines over the next five years. It's also the world's largest hydropower producer, home to half the world's 80,000 dams and building many more every year.
中国已是全球最大的风能生产国,在多风的西部安装了数以千计的涡轮机,并计划在未来五年将涡轮机的数量增加一倍多。中国还是全球最大的水电生产国,修建了占全球总数80000一半的大坝,并且每年还在修建更多。
At a 2014 summit with President Obama, Xi pledged that China's emissions would peak by 2030 and then drop. Less than a year later, China is already ahead of that goal, with emissions now predicted to peak in 2025.
在2014年与奥巴马举行的一次峰会上,习近平承诺中国的碳排放量将在2030年左右达到峰值。不到一年时间,中国已走在了这一目标的前面,有预测称中国的碳排放量将在2025年左右达到峰值。
In the first few months of 2015, China's coal use fell almost 8 percent compared with last year's, a reduction equal to all the carbon dioxide emitted by the U.K.
在2015年的前几个月,中国的煤炭消耗量较去年同期减少了8%,减少的排放量与英国同期排放的二氧化碳总量相等。
Part of that drop came because of China's economic slowdown, but the country's new commitment to renewables means that even when the economy picks up, the extra power will come from greener sources.
排放减少的部分原因在于中国经济增速放缓,但中国对于可再生能源的新承诺意味着即使经济提速,增加的需求也将来自于更为绿色的能源。
China has moved so fast to expand the use of green energy that much of its new capacity is just that — capacity. Getting the energy produced hooked up to the power grid so it can be consumed will be a huge challenge. Many of the wind and solar farms, for example, are far from big cities, and authorities haven't yet worked out a way to store and transport all the energy they produce.
中国拓展绿色能源使用的步伐十分迅速,大部分新增能源目前还仅仅停留在初期阶段,而将这些能源连接到电网并令其可以被消费将是巨大的挑战。例如,许多风力农场和太阳能农场距离大城市非常遥远,政府尚未找到储存和运输其生产的所有能源的方法。