Xu Min (name changed), 19, is a second-year accounting student from Huanggang Normal University in the landlocked Hubei province of central China. Although she wanted to use her summer break to complete an internship relevant to her major, her school had different plans for her.
19岁的徐敏(化名)是湖北省一家师范学院财会专业的大二学生。她想用暑假做一份与本专业相关的实习,不过她的学校却另有安排。
According to an investigation released this week by DanWatch, a Danish human rights research group, Xu Min is among thousands of Chinese students sent by their schools to the assembly lines of some of the world's biggest electronics manufacturers in China to make servers that will most likely end up at European universities.
丹麦一家人权研究机构的网站本周发布的调查报告显示,有数以千计的中国学生被学校派往全球最大的几家电子制造商在中国的装配线,生产最终可能销往欧洲各大学的服务器,徐敏便是其中之一。
The investigation took DanWatch to the assembly lines of Wistron Corporation in Zhongshan, which manufactures servers for HP, Dell and Lenovo, where it found Chinese students working against their will – they won't graduate otherwise – often between 10 to 12 hours a day for up to five months.
为进行这项调查,这家研究机构来到惠普、戴尔和联想电脑服务器的生产商台湾纬创集团设在广东的装配线,并发现有中国学生被迫在这里工作,否则将不能毕业。他们每天通常工作10到12小时,时间长达5个月。
The authors of the report, Servants of Servers, investigated the supply chain of servers bought by European universities, which they say spent £340m on mostly HP, Dell and Lenovo/IBM servers in 2014.
报告《服务器的仆人》的作者对欧洲各大学所购买的服务器的供应链进行了调查。这些大学去年花费数亿英镑购买服务器,其中大部分是惠普、戴尔和联想/IBM的产品。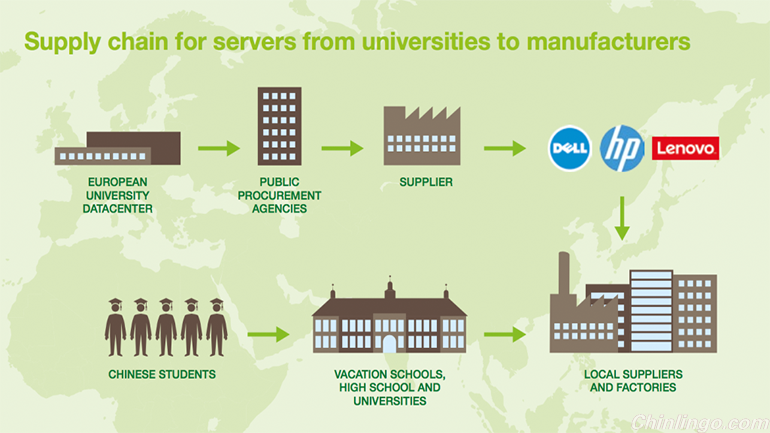 "Many students are forced to complete irrelevant internships, working overtime almost daily, and working night shifts. These conditions violate the Chinese labour contract, as well as the standards on internships set by the Chinese ministry of education. Furthermore the forced internships violate the International Labour Organisation's (ILO) convention on forced labour," the report reads.
报告写道:"很多学生被迫从事与专业不相关的实习工作,几乎每天都要加班,还要上夜班。这些情况违反了中国的劳动法规以及教育部门对实习的规定。此外,这种强迫实习行为违反了国际劳工组织有关强迫劳动的公约。"
While the students perform the same tasks as regular factory workers and are paid the same monthly wages – 1,530 yuan (£159) as required by law – they receive no social benefits or insurance, allowing the supplier to save millions of pounds because the factories enter into agreements with the schools and not the interns, the report alleges.
虽然这些学生与普通工厂工人干同样的活,领取同样的工资,法律规定的1530元,但他们没有社保,厂商因此节省了很多钱,因为工厂是与学校而不是实习生签订协议的。
HP and Dell replied to DanWatch and sent unannounced independent auditors to the factory almost immediately. Both HP and Dell have temporarily suspended the use of interns on their production lines and committed to "investigate the practices at Wistron to be sure" forced labour is not being practiced there.
惠普和戴尔公司回复了这家网站,并立即派独立审计人员突访了这家工厂。惠普和戴尔已暂停在生产线招用实习生,并承诺进行调查以确保该工厂不存在强迫劳动现象。
In contrast, China-headquartered Lenovo, sent out a generic response, stating that it "is strongly committed to treating its employees with respect and fairness, and protecting their health and safety".
相比之下,联想公司的回应比较宽泛,称其"坚决承诺给予员工尊重与公平,并保护他们的健康和安全"。