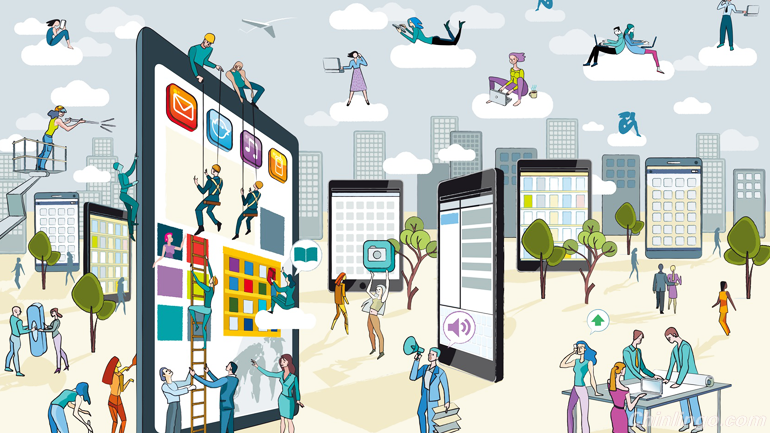 More than five centuries ago Christopher Columbus scrawled in his copy of Marco Polo's "Travels" that the Middle Kingdom would bring mercacciones innumeras (an immeasurable amount of commerce). However, China has continued to disappoint foreign businessmen ever since, not least because many ordinary Chinese people have been too poor to buy anything.
500多年前,哥伦布在《马可·波罗游记》的书页上潦草地写下这样一句话:"中央王国"可以带来数不清的商机。但中国此后一直让外国商人失望,主要是因为普通中国人过于贫穷,什么也买不起。
That is changing as the country's middle class is growing explosively. In 2010 mainstream consumers—those with enough money to buy cars, fridges and phones but not Rolls-Royces—made up less than a tenth of urban households. In a new forecast, McKinsey predicts that by 2020 they will make up well over half. BCG reckons that urban private consumption will rise from $3.2 trillion today to $5.6 trillion in 2020.
现在,随着中国中产阶级队伍迅速壮大,已经今非昔比。2010年,中国的主流消费者——有足够钱买汽车、冰箱和电话但买不起劳斯莱斯的人——在城市家庭总数中所占比例不到1/10。而在新的预测里,麦肯锡咨询公司预计,到2020年,主流消费者将超过城市人口的一半。波士顿咨询公司认为城市个人消费将在2020年从今年的3.2万亿美元上升到5.6万亿美元。
Apple expects China soon to become a bigger market for its products than America. Six of its ten busiest stores across the globe are in China. At the height of the recent turmoil in the Chinese stockmarkets Apple's boss, Tim Cook, reassured investors that "I continue to believe China represents an unprecedented opportunity over the long term." Apple's shares bounced back.
苹果公司预计中国将很快成为比美国更大的苹果产品消费市场。苹果公司全球最繁荣的10大门店中有6个在中国。即使在近期中国股市最混乱的时候,苹果公司首席执行官蒂姆·库克仍向投资者保证:"我依然相信,长期来看,中国代表着前所未有的机会。"苹果公司的股价后来回升。
Where should intrepid marketers go to capitalise on these riches? The wealthy east coast is now widely believed to be saturated, which suggests that firms should head inland. The Economist Intelligence Unit recently pinpointed the top emerging cities, based on forecasts for things like long-term growth in population and disposable income. It found that a few inland cities like Chongqing and Chengdu are indeed attractive, but many excellent prospects remain in the east. Obscure but booming cities within reasonable distance of the coast, like Suqian and Xuzhou, are likely to do well, and lucrative niches remain even in well-established magnets such as Beijing, Shanghai, Guangzhou and Shenzhen.
无畏的买卖人该到哪里去将这些财富转化为资本?现在很多人认为富有的东部沿海地区已经饱和,这意味着公司应该往内陆发展。《经济学人》根据对长期人口和可支配收入增长等数据的预测,确定了最重要的新兴城市。认为少数几个内陆城市,如重庆和成都,确实具有吸引力,但很多具有良好前景的城市仍然在东部沿海地区。一些距离海岸不太远、欣欣向荣的无名城市,比如宿迁和徐州,很有可能发展不错,而能带来丰厚收益的高端市场还是在已经声名远扬的大城市,如北京、上海、广州和深圳。
As the middle class expands, so it evolves.
随着中产阶级的壮大,中产阶级也在进化。
A big winner has been China's e-commerce, a market that is now larger than America's. Forrester, another consulting firm, expects gross merchandise value in this sector to exceed $1 trillion by 2019. Outside the big cities bricks-and-mortar stores are thinner on the ground, so online shopping is becoming increasingly important. Even where shops are readily accessible, consumers often go "showrooming", looking at goods in physical outlets but buying them more cheaply online. This is happening the world over, but in China the trend has been accentuated by the ubiquity of smartphones, the reliability of online-payment systems and the spread of same-day delivery services.
中国的电子商务是个大赢家,现在中国的电子商务市场比美国的更大。福里斯特咨询公司认为中国电商的商品交易总额到2019年将超过1万亿美元。在大城市以外的地方,落地的实体店相对较少,所以在线购物就变得更加重要。即使在有商店的地方,消费者也经常是"先看后买",也就是到实体店看一看商品,然后在网上以更便宜的价格购买。这种现象在全世界都有,但是在中国,因为智能手机的普及、在线支付系统的可靠性、还有同日送达的快递服务,这种现象更加明显。
All this e-commerce is producing some remarkable business-model innovations. Thanks to the convergence of mobile commerce and social media, observes Miles Young, chairman of Ogilvy & Mather, an advertising firm, China is the world's epicentre of "social commerce".
电子商务的发展带来了一些非凡的商业模式创新。据广告公司奥美国际的主席迈尔斯·扬观察,由于移动商务和社交媒体的融合,中国现在已经成为世界"社交商务"的中心。
Chinese consumers are fast becoming the world's most discriminating and knowledgeable. They are also quite brand licentious. The choice of top global brands there is much wider than in America, Europe or Japan. This has resulted in fierce competition, pushing firms to come up with ever more inventive offerings. Even Apple's Mr Cook says his company takes Chinese tastes into account when it designs new products for the world.
中国消费者正在快速成为世界上最有眼光、最有见识的消费者。他们还在品牌方面很任性。在中国可供选择的国际大品牌比在美国、欧洲或日本都要多。这带来了激烈的竞争,促使各大公司想出更有创意的产品。即使是苹果公司的库克先生,也表示他的公司在为全世界设计新产品的时候要顾及中国人的喜好。