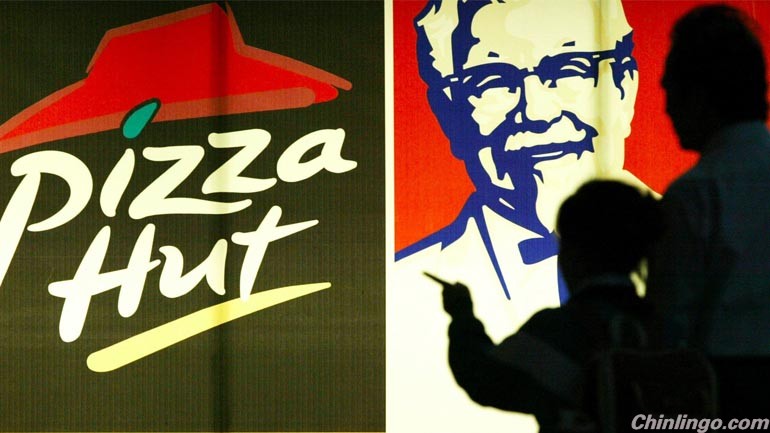 Yum Brands Inc's disappointing results from restaurants in China including KFC and Pizza Hut add pressure on Chief Executive Greg Creed to make swift changes to the business that is its main driver of sales and profit, analysts said on Wednesday.
分析师7日表示,百胜集团(Yum Brands)包括肯德基(KFC)和必胜客(Pizza Hut)在内的中国业务业绩令人失望,让公司CEO Greg Creed倍感压力,必须对作为公司营收和获利主要动力的这块业务作出迅速调整。
Yum shares sank as much as 19.3 percent on Wednesday, a day after the company shocked investors by cutting its forecasts due to weakness in China. While China's economy is cooling, Yum management also blamed internal missteps at its upscale Pizza Hut Casual Dining chain.
百胜集团股价当天一度重挫19.3%,此前一天该公司由于中国业务疲弱而调降财测,震惊投资人。中国经济正在降温是业绩不佳的原因之一,公司管理层还将之归因于在必胜客欢乐餐厅营销方面的内部失误。
The results come as hedge fund Corvex Management is urging Yum to spin off its 6,900-restaurant China business and prompted new calls for Creed to adopt a fresh strategy. Corvex did not respond to requests for comment.
与此同时,对冲基金Corvex Management一直在敦促百胜分拆在中国的6900家餐厅业务,并再度呼吁Creed采行新策略。Corvex没有回应置评请求。
"The stock is saying people are giving up on Yum. It will not change until management changes its strategy," said Hedgeye Risk Management analyst Howard Penney. At least six brokerages cut their stock price targets on Yum. Notably, Stifel went to $100 from $110 and Nomura to $82 from $106.
"股价表现说明,投资者在放弃百胜集团。在管理层调整业务策略之前,公司不会发生改变,"Hedgeye Risk Management分析师Howard Penney表示。至少有六家券商调降百胜集团的股价目标,其中Stifel从110美元调降为100美元,野村从106美元降至82美元。
Shares in Yum closed at $67.71, slightly above their session low of $67.20.
百胜集团股价周三收报67.71美元,略高于盘中低点67.20。
Penney and other analysts say the China stumble gives proponents of a China spin-off more ammunition. Some also are calling on Yum to slow new restaurant development in China and to start selling existing units there to franchisees. "Spin off China, sell stores, do something," Penney said.
Penney等分析师称,中国业务大幅下滑让支持拆分中国业务的人有更多理由。一些人还呼吁百胜放缓在中国开新店的速度,并开始把当地的现有门店出售给加盟商。
Creed took the helm of Yum on Jan. 1 after leading a successful revamp of the company's Taco Bell chain. He was charged with turning around the China business, where sales have slumped since news in July 2014 that one of its suppliers used meat that was past its expiration date.
Creed今年1月1日接掌百胜,此前带领公司旗下的塔可钟(Taco Bell)餐饮连锁店成功翻盘。现在他被委以扭转中国业务状况的重任。2014年7月使用过期肉的消息传出后,百胜旗下餐馆在中国的销售大幅下降。
He declined to comment on any strategic changes during a conference call with analysts and investors on Wednesday.
Creed周三与分析师和投资者进行了电话会议,会上他拒绝对战略调整置评。
Creed said newly appointed management for the China business would bring fresh ideas and double down on profitable value meals to lure diners shocked by recent financial turmoil in the country.
Creed表示,新任命的中国业务管理团队将带来新的理念,加倍押注以超值套餐吸引顾客。近期中国的金融市场震荡给人们带来冲击。
China's Pizza Hut Casual Dining chain was hit particularly hard during its latest quarter as local businesses cut back on parties and events. Competition from online ordering companies that are operating at a loss also contributed to weak sales.
中国的必胜客欢乐餐厅最近一个季度所受打击尤其严重,因当地企业减少聚会和活动。在线订餐企业赔本运营,也是销售疲软的原因。
That business accounts for one-third of profits from the China division, which is dominated by the KFC brand.
中国区业务三分之一的获利来自必胜客,肯德基则为主打品牌。
Yum China contributed 57 percent of the company's overall revenue and 54 percent of its $603 million operating profit in the latest quarter. Yum executives stood by plans to add about 700 new restaurants in China this year.
最近一个季度百胜中国对公司整体营收的贡献占57%,在6.03亿美元的营业利润中占54%。百胜高管计划今年在中国新增约700家餐厅。