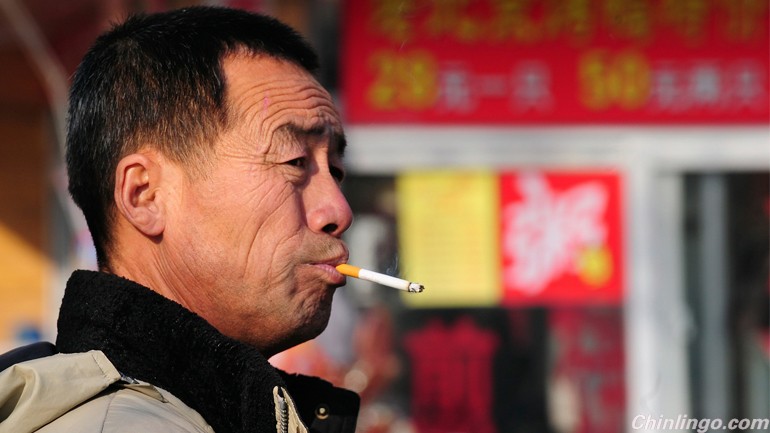 One in three of all the young men in China will eventually be killed by tobacco, unless a substantial proportion stop smoking, according to new research published in The Lancet.
医学期刊《柳叶刀》刊登研究报告,指中国每三名年轻男性中,有一人会因吸烟死亡,不过如果烟民戒烟的话,死亡数字将会下降。
The study was conducted by scientists from Oxford University, the Chinese Academy of Medical Sciences and the Chinese Center for Disease Control.
It says two-thirds of men in China now start to smoke before 20. Around half of those men will die from the habit if they do not give up smoking.
牛津大学、中国医学科学院及中国疾病预防控制中心参与了该项研究。研究显示,中国三分之二的年轻男性有吸烟习惯,大部分在20岁前开始抽烟。除非他们戒烟,否则一半烟民会因吸烟死亡。
The scientists conducted two nationwide studies, 15 years apart, covering hundreds of thousands of people. In 2010, around one million people in China died from tobacco usage. But researchers say that if current trends continue, that will double to two million people – mostly men – dying every year by 2030, making it a "growing epidemic of premature death". Researchers said the key to avoid this huge wave of deaths is cessation.
该研究包含两部分,横跨15年,研究对象包括数以十万计的中国人。根据研究结果,2010年,因吸烟致命的人数高达100万,而大部分死者都是男性。假如情况持续,因吸烟死亡的人数在2030年会上升一倍。不过,研究人员表示,假如烟民戒烟,可以扭转这个状况。
While smoking rates have fallen in developed countries – to less than one in five in the US.
发达国家的男性吸烟率已大大减低。在美国,五个人当中仅有少于一人在吸烟。
they have risen in China, as cigarettes have become more available and consumers richer.
由于香烟变得容易购买生活更加富裕,中国男性烟民在过去数十年持续增加。
Globally, tobacco kills up to half of its users, according to the World Health Organization. Authorities have shown concern over the rise, with Beijing even introducing apublic smoking ban. But efforts have been hampered by the habit's popularity, and its usefulness as a source of tax revenue。Besides, smoking has become a culture in China.
世界卫生组织称,在世界各地,烟草导致一半烟民死亡。不过,烟草是中国政府税收重要来源之一。中国政府之前企图控制降低吸烟人数,但之后都作出妥协。另外,吸烟已成为一种文化。