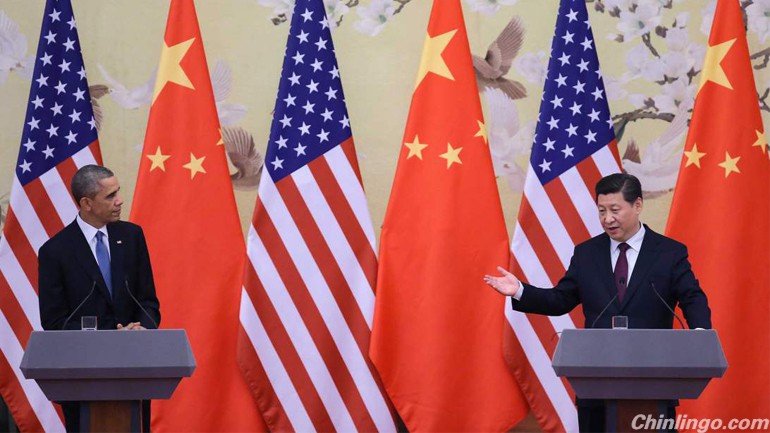 Since President Xi Jinping took power in China 18 months ago, the world has sometimes fretted about the ways in which the Asian country seems determined to use its newfound political and economic heft.
自中国国家主席习近平18个月前上台以来,这个亚洲国家在行事时看起来决意要运用其新获得的政治经济影响力,国际社会对此不时感到担忧。
Beijing can seem to take an uncompromising and zero-sum view of the world. In the western Pacific, China has unsettled its neighbours by making territorial claims. Relations with the US have been overshadowed by concerns over Chinese cyber espionage.
可以看出,北京方面奉行的是一种毫不妥协的、零和的世界观。在西太平洋,中国提出的领土主张让其邻国的感到不安。中美关系也因对中国网络间谍活动的担忧而蒙上阴影。
But in one area of critical importance to the world — the need to combat climate change — China has taken a much more co-operative stance.
但在对世界而言至关重要的一个领域(即有必要采取措施来应对气候变化),中国却采取了合作得多的态度。
The past year has seen several examples of Beijing's brand of climate detente. The first came in 2014 when China set itself the target of stemming any rise in carbon emissions beyond 2030. Last week, on a visit to the US, President Xi went further, committing $3.1bn in finance to help low-income countries least able to help themselves. He also committed China to launch a national carbon market by 2017.
过去一年有若干例子表明,中国政府在缓和气候变化僵局方面付出了自己的努力。头一个例子是在2014年,中国为本国设定了2030年碳排放见顶的目标。上周访美期间,习近平更进一步,承诺出资31亿美元帮助那些自身无力应对气候变化的低收入国家。他还承诺,中国将在2017年底之前启动全国性碳市场。
True, these are modest steps in the business of actually reducing greenhouse gases. Beijing has yet to accept any internationally binding legal commitments on emissions. The fund could cynically be described as little more than guilt money. Nonetheless, these are still very welcome steps.
没错,在切实削减温室气体排放的努力中,这些都算不上什么宏大的举措。中国政府尚未接受任何具有国际法律约束力的减排承诺。中国的出资可能也会被怀疑论者描述为不过是因为感到内疚而掏钱。尽管如此,这些举措仍应受到热烈欢迎。
China is demonstrating leadership at a time when the climate agenda has lacked champions willing to take political risks. Beijing's initiative adds momentum to the discussions ahead of the international climate conference in Paris at the end of the year. Its engagement should help to avoid a re-run of the fiasco that overtook the last climate meeting in Copenhagen in 2009.
在气候议程缺少愿承担政治风险的拥护者之际,中国正展现出领导力。中国政府的倡议为今年底巴黎国际气候大会召开前的讨论注入了新的动力。中国的参与应该有助于避免2009年哥本哈根气候会议的惨败收场重新上演。
China's climate initiatives are a concrete expression of an unavoidable truth; that in any future deal Beijing will have to play its part. Until now China has been able to shelter behind the concordat struck in the 1990s. Then, along with other developing countries, it was absolved from the need to put right a problem it was deemed not to have caused.
中国的气候倡议是一个无法回避的事实的具体表现:在未来的任何协议中,北京方面将不得不发挥自己的作用。到目前为止,中国一直能够利用上世纪90年代达成的协定作为保护伞。那项协定达成后,中国同其他发展中国家一道,被免除了去纠正一个被认为并非由其造成的问题的责任。
A quarter of a century on, Beijing can no longer credibly claim to be a blameless bystander. It is by some measures the world's largest economy. While western emissions have been on a downward trajectory, its own have shot up. Indeed, China is now by some distance the world's biggest polluter.
四分之一个世纪后,北京方面再也无法令人信服地宣称自己是一名无辜的旁观者。按一些标准衡量,中国已是世界最大经济体。当西方的碳排放已呈现下降趋势时,中国的排放出现了暴增。实际上,中国如今已成为遥遥领先的世界头号污染大国。
With the developing world responsible for ever more emissions, no realistic solution can depend upon western nations installing more solar and wind alone. It requires responses across the developing as well as the developed worlds, including a shift within fossil fuels away from coal towards gas.
随着发展中国家造成越来越多的排放,任何现实的解决方案都无法仅仅依靠西方国家增加太阳能和风电装机容量实现。它需要所有发展中国家及发达国家共同应对,包括在使用化石燃料时更多地使用天然气、更少地使用煤炭。
There are signs that other large emerging markets may respond to China's example. Dilma Rousseff, Brazil's president, said on Sunday that her country would reduce emissions by 37 per cent by 2025 from 2005 levels, and aim for a 43 per cent cut by 2030.
有迹象表明,其他大型新兴市场或会响应中国作出的表率。巴西总统迪尔玛·罗塞夫(Dilma Rousseff)上周日表示,巴西将在2025年之前减排37%、并着眼于在2030年之前减排43%(都是相对2005年的水平而言)。
Of course China's willingness to take action on the climate is not altogether altruistic. It is bound up strongly in self interest. Left to run unchecked, the degradation of China's environment is a serious danger to the wellbeing of the country's citizens. Ultimately this could pose a threat to the ruling elite.
当然,中国采取行动应对气候变化的意愿并非完全出于无私。它与中国自身利益密切相关。如果不进行治理的话,中国的环境恶化将成为本国民众福祉的严重威胁。而这最终可能会威胁到统治精英阶层。
Global climate politics since the stalemate in Copenhagen has been remorselessly gloomy. China's willingness to play a part is a rare bright spot in an otherwise dim picture. It comes not a moment too soon, given expectations that the year 2015 may be the hottest on record. A solution to global warming may remain a distant prospect. But at last the emerging world led by China is starting to pull its weight.
自哥本哈根会议造成僵局以来,全球气候政治一直处于无尽的阴暗之中。中国愿意发挥作用这件事,为原本灰暗的图景增添了一抹罕见的亮色。鉴于2015年有望成为有记录以来最热的一年,中国的倡议可谓很及时。解决全球变暖问题可能仍是一个遥远的愿景。但毕竟,以中国为首的新兴国家开始努力做它们份内的事了。