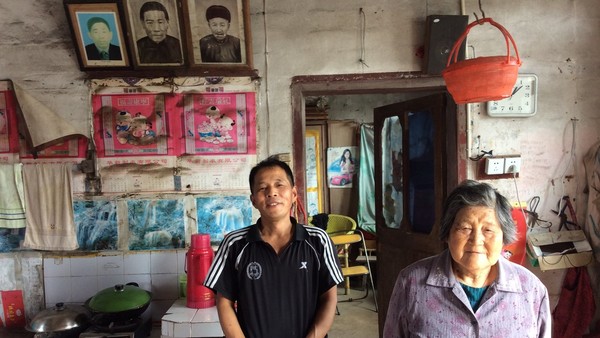 Wu Jianfei and his mother in their ancestral home in the village of Qinghu in China's Jiangsu province
Wu Jiayao and Wu Jianfei are at opposite ends of China's migrant miracle. One was there at the very beginning, and the other came on the scene only as the miracle began to fade. The lives of this father and daughter are like bookends to the economic transformation of China. What a difference a generation makes.

吴佳瑶和吴建飞处于中国移民奇迹的两极。一个出现在最初阶段,另一个则只是出现在奇迹开始消退之际。这对父女的生活就像是中国经济变迁的序幕和尾声。一代人之间的差别可真大。
Jiayao, 28, has a car, a flat, two degrees, a white-collar job and a money-market fund — not to mention a husband, a baby and the coveted right to live as a permanent resident of the ultra-modern city of Shanghai.
吴佳瑶今年28岁,有一辆车、一套公寓、两张学位证书,一份白领工作以及一份货币市场基金,更不用说还有一个丈夫、一个宝宝以及令人艳羡的超现代大都市上海的永久居住权。
Wu Jiayao with her husband and baby in her home in Shanghai
Jianfei, 50, has a simple one-storey home surrounded by peanut fields and drying corn cobs. He lives in an ancestral compound, alongside his octogenarian mother, in the village of Qinghu, in eastern China's Jiangsu province. It used to take a whole day to travel from Qinghu to Shanghai by boat; now it takes a couple of hours using a vast suspension bridge and multi-lane tunnel. What a difference three decades make.
吴建飞今年50岁,只有一间被花生地和干玉米棒包围着的平房。他现在与自己80多岁的老母亲住在江苏省青湖镇的一个老宅里(见上图)。在过去,从青湖坐船到上海需要一整天时间;现在有了巨大的吊桥和多车道隧道只需两个小时。30年见证了多大的变化啊。
In their own way, they are both foot soldiers in the migrant army that built the economic phenomenon that is China. This is the cohort that helped lay the foundation for a two-superpower world anchored at one end in Washington and the other in Beijing . But life in the trenches just isn't what it used to be.

他们分别以自己的方式,成为建设中国经济奇迹的农民工大军的步兵。正是他们这些人帮助为当今世界两个超级大国的格局打下了基础——这个世界的一头是华盛顿,另一头是北京。但是第一线的生活已今非昔比了。
Jianfei spent a lifetime away from his wife and his mother, and from Jiayao, who was raised in the village while her father worked as a painter far away. Sometimes, like other migrant construction workers, he lived in the flats he was decorating, inhaling the fumes of the paint he applied during the day. They are flats like the one his daughter now lives in — except, he says, hers is even nicer. For much of her childhood he came home only once a year, even when he lived in Shanghai, now just a short car drive way.

吴建飞一辈子都没有多少时间陪伴其妻子和母亲以及佳瑶。佳瑶在青湖长大,而他的父亲却在遥远的地方当油漆匠。与其他从事建筑业的农民工一样,他有时会睡在自己做装修的公寓单位,吸着自己白天涂的油漆的气味。他说,这些公寓就像他女儿现在的家,只是她的住房更高档一些。在佳瑶小时候的大部分时间里,吴建飞一年才回家一趟,即便他住在上海——现在两地只有很短的车程。
Two decades later, he had enough money to pay for only half of his modest Rmb100,000 home. It is spotless, shining and decorated with colourful ceramic tiles but is furnished with only simple wooden benches and a couple of bamboo-covered lounge chairs in the sitting room.
20年后,他攒了5万元人民币,然后又借了5万,才买了一套房子。新家干净整洁,光线充足而且还铺着彩色瓷砖,但客厅里的家具只有简单的木凳和一对竹藤躺椅。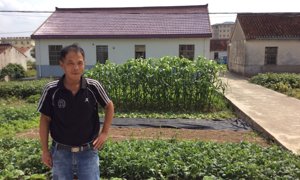 Wu Jianefei and the village home that he built with a lifetime of earnings as a migrant worker
Though Jiayao went to university on a scholarship, the cost of raising her left Jianfei having to borrow half the money for his new house. The only signs of prosperity are the motorcycle parked in the sitting room, and a modest washing machine tucked next to the lavatory hand basin.

尽管佳瑶靠奖学金上了大学,但抚养她长大仍让吴建飞捉襟见肘,他买新房的一半资金不得不靠借债。表明他生活还不错的仅有迹象是客厅里停放的摩托车,以及卫生间洗手池旁边的一台中档洗衣机。
Jianfei's was the first generation of young men from his village sent out to labour as migrant workers, building the Chinese dream. As part of the village's construction team — a vestige of the days when the Communist party gave everyone a job and told them when and where to do it — he was sent to work in Shanghai, collecting a meagre annual payout of Rmb200.
吴建飞是他的村子里第一代外出打工、建设中国梦的年轻人中的一员。作为村里建筑队——国家对个人大包大揽时期遗留下的产物——的成员,他被派到上海干活,当时年收入只有区区200元人民币。
Four years later, he moved to Xinjiang province to help build worker accommodation at the vast Karamay oilfields in the far north of the country. It took a week to get home, on a special migrant worker train, but at least the pay was 10 times what was available in Shanghai. Jianfei spent 11 years in Xinjiang.
4年后,他到了新疆,在中国西北巨大的克拉玛依油田帮助建造工人宿舍。从那里乘坐农民工专列火车需要一周时间才能回家,但最起码报酬是上海的10倍。吴建飞在新疆呆了11年。
And, thanks to that sacrifice, the daughter whom he seldom saw graduated from high school, received an undergraduate and a masters degree in Shanghai, became a teacher in one of the city's most prestigious high schools and then a human resources professional in an ecommerce company.
得益于这种牺牲,他那很少见面的女儿从高中毕业,在上海完成了本科和研究生学业,成为该市最知名高中之一的教师,随后又跳槽至一家电子商务公司从事人力资源工作。
While her father still refuses to use an ATM machine, and keeps his cash stashed in the house, she saves in a money-market account and uses Alipay, the Chinese online payments service, to do her shopping, making most of her purchases online. She likes to dabble in investments, sometimes on behalf of her parents.
尽管她的父亲仍拒绝使用自动取款机,将现金藏在家里,但佳瑶却会购买货币基金,使用中国在线支付服务支付宝(AliPay)来购物,大量使用网购。她喜欢尝试投资,有时还帮父母投资。
Now the flood of migrants to the cities has eased, and many of those who previously only squatted there — living in prefabricated hostels on construction sites or in fume-filled empty flats or in squalid warrens of rented rooms — are buying flats, getting married and settling down in cities forever.
如今涌向城市的农民工大潮有所减退,许多早先只是暂住城市的农民工——住在工地上的预制板房或者散发着浓厚油漆味的空房间,或者租住肮脏拥挤的屋子——买了房,结了婚,在城市里定居下来。
What a difference a generation makes: the generation that separates Jiayao and her father. China, and its migrant miracle, will never be the same again.
佳瑶和她父亲之间的这一代人见证了多么巨大的变化。中国及其移民奇迹将再也不会和过去一样了。