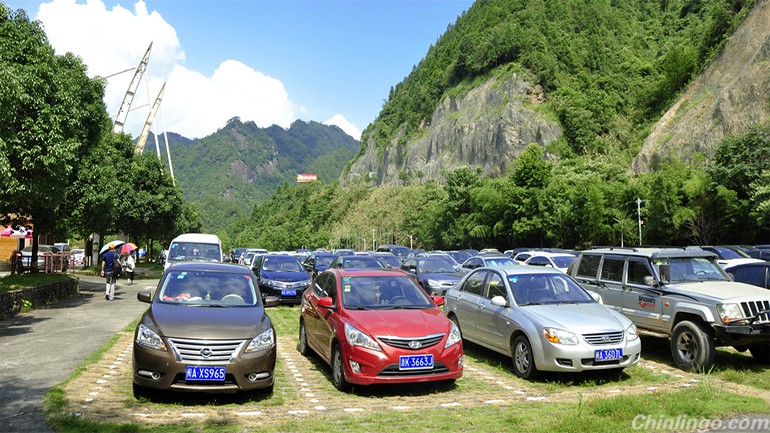 8.One gallon of regular unleaded gasoline here costs no more than 2 dollars (3.35 Yuan per liter). Let's say my vehicle runs a maximum of 2,000 miles (3,200 km) each month and consumes one gallon of gas every 20 miles. That is to say, 100 gallons will be needed and fuel cost will be no more than 200 dollars each month, 2,400 dollars each year.
现在我们这里普通无铅汽油的价格在每加仑2美元以下,相当人民币每升3.35元左右,以每个月开2000英里(3200公里)这个最大值计算,我的车每加仑可以开到20英里,也就是说共需要100加仑汽油,每个月的加油费不超过200美元,一年2400美元。
From the details mentioned above, we can see that the expenses of keeping my SRX will be about 3,896 dollars per year, 325 dollars per month, accounting for 7.8% of the average monthly income, and naturally occupying a lower percentage of my monthly income. In my article Real Shot: Americans Lining up for Free Food, you may feel puzzled when seeing the photos of many Americans with decent cars coming for free food. It may be understandable if you know the fees of having a car. The average monthly income of 6,000 Yuan in China is the equivalent of one fifth of that in Virginia, but the fees of keeping a car in both regions are the same.
把上面的所有费用加在一起,我的SRX包括保险、维修保养、税、车辆登记、加油等在内全年的消费在3896美元左右,月均325美元,在人均收入4140美元中占7.8%,当然在我的收入中占的百分比就更低了。记得在《实拍:排队领取免费食品的美国人》一文里,我拍摄的前来领免费救济食品的人中很多都是开着挺不错的车子来的,由养车的费用来看恐怕就好理解了。和每月平均工资6000元人民币而养车却至少需要2000元相比,国内在绝对收入是弗吉尼亚人均约五分之一的情况下,用车养车的绝对消费却是一样的,问题出在了哪里,或许不需要我赘言了。
Some would counter that, with low insurance fee and no parking fee, Virginia is not so representative. For example, the insurance expenses in the capital, Washington, are much higher and parking fee is also charged there. However, I will counter that by pointing out the fact that high living expenses are always accompanied with high incomes in America. Let's take Washington for example. The parking fee is 20 to 30 dollars for one day and the insurance expense two to three times as much as that in Virginia. But the average income in north Virginia near Washington is also much higher than the income of the whole state. For example, the average income in 2013 is 63,125 dollars, 658 dollars higher than that in Connecticut in 2014 (the state with the highest average income in the USA in 2014). In this case, a job that earns USD 100,000 in Washington can only provide you with 50,000 to 60,000 here, but the living standards are the same in both places. The digits alone indicate nothing. Only the ratio of income and expenses in the same place can show the whole picture of the USA.
有的人会说,你那里保险低,又没有停车费,因此没有代表性,譬如华盛顿首府地区的保险费就要高很多,停车也有费用等。但要值得注意的是,在美国生活费用较高的地区的收入也水涨船高,以华盛顿为例,停车一天要二、三十美元,保险费可能是我这里的两到三倍,但华盛顿周围北弗吉尼亚的人均收入也要比整州的人均收入高出很多,例如2013年人均63125美元,比2014年人均收入最高的康涅尼格州62467美元还要高。所以从这个角度上讲,在华盛顿年收入10万的工作,在我们这里可能只会付你5到6万,而两者的生活水平几乎相当,所以脱离地区的绝对数字有时并没有什么实际意义,只要用同一地区的收入和消费做对比,应该就能基本上反映全美的情况。
In recent years, China's economy has sustained a rapid growth and people's living standard has also been remarkably improved. However, the ratio of income and expenses of cars indicates that the latter cannot match the title as the world's second largest economy. Only a country with rich people can be veritably strong.
这些年,中国的经济水平有了快速的发展,人民生活也有了很大的提高,但后者的提高程度是否与世界第二大经济体匹配,或许这个从这个收入消费比的计算结果可以给你一些启示,国强还要民富才是硬道理啊。