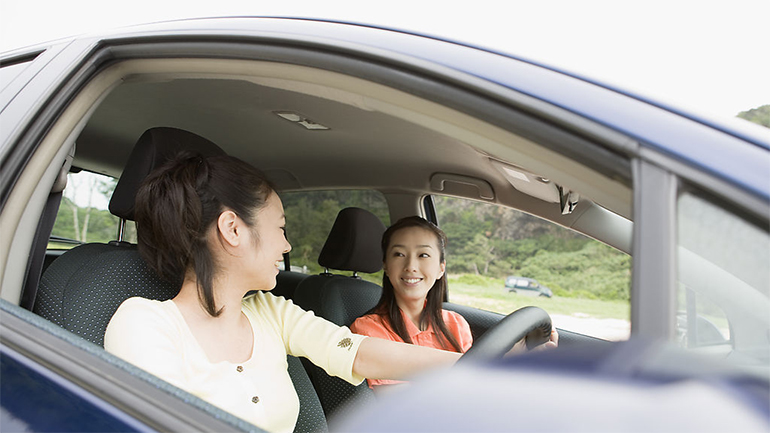 I have read an article noting that the average monthly wage in China has reached to as high as 6,000 Yuan, however, people still cannot afford to own a car of 100,000 Yuan, because of the average monthly costs of insurance, fuel, parking and maintenance. It exceeds 2,000 Yuan, accounting for one third of the monthly wage.
看到有篇文章提到现在国内的平均工资已高达6000元了,但是就这么高的平均工资还是根本买不起10万元的车子的,因为保险、油费、停车费、保养和维修等加在一起的话一个月平均用车养车费用就要接近2000元,实打实占了三分之一。
I was startled after reading this article, not by the high average monthly wage, but by the expenses of owning a car. I asked some of my friends online, and the story was corroborated by the netizens from Beijing, Shanghai, Shenzhen, Chongqing, Xi'an and Dalian. Some said that the annual cost for keeping a car amounted to 20,000 to 30,000 Yuan, with road toll 2,300 Yuan, insurance 6,000 Yuan, fuel cost 600-900 Yuan, including parking fees and highway fees. The fees for washing, maintenance and fines had not even been included yet. Some declared that the total expenses of the car could reach over 30,000 Yuan. Some even mocked the idea of keeping a car with a monthly wage of 6,000 Yuan, joking that the money isn't even enough to make a living. Then what is the situation like in the U.S.? Is the average monthly income there enough to have and keep a car?
看完这篇文章我这个美国老百姓表示吓倒了,不是因为国内的平均月薪已达如此之高(尽管文章后面有很多网友表示自己严重拖了祖国的大腿了),而是养车的昂贵程度。于是满怀疑问的我赶紧到朋友圈里去找人求证,来自北京、上海、深圳、重庆、西安、大连等地的网友们都向我证实了这个数字的真实,有人说路桥费每年2300元,保险6000多元,油每个月至少要600到900元,再加上停车费、高速公路费什么的一年2万到3万元下不来的,就这还没有算进去洗车费、维保费和遇到罚款等。还有人告诉我算上保险、加油、停车、过路费、维修什么的一年绝对要超过3万元。而更绝的回答是,6000元还养什么车啊,连人都养不起。那么在美国用车养车的费用是多少呢?平均收入的人到底养不养得起车呢?
First of all, let's take a look at the average income in Virginia (note: not average annual income). According to official statistics, in 2014, the average income in Virginia was 49,710 dollars, ranking the 11th in the USA, which means that the average monthly income is about 4,140 dollars.
首先来看看弗吉尼亚的人均收入情况(注意不是平均年薪),根据官方的统计数字,2014年弗吉尼亚的人均收入是49710美元,在全美列第11位,也就是说人均月收入在4140美元左右。
But how about the cost of owning a car? The income and expenditure in my place is relatively high. I have showed the expenses of purchasing and keeping a car before, let's take a look
那么养车要多少钱呢?我所在的地区在收入和消费均属弗吉尼亚平均略偏上水平的,我曾先后晒过我的买车、养车等费用,这次我完整地收集归纳在一起如下:
1. The insurance fee of one SRX and one SLK totals 680 dollars, 420 dollars of which is for SRX. The insurance will cover almost all the losses under any circumstances, except for the one caused completely by myself, for which I should pay 500 dollars.
一辆卡迪拉克越野(SRX)和一辆奔驰跑车(SLK)加在一起一年的保险费是680美元,其中卡迪拉克越野的保险是大头,接近420美元。这个保险基本上包任何情况的损失,只有在自己全责时出500美元。
2. Annual registration fee is 40 dollars for each car.
一年一辆车的车辆登记费40美元。
3. Car inspection fee is 16 dollars each year.
每年的车检费用16美元。
4. Like most of the states in America, there is no parking fee, only the road toll or highway fee will be charged .
和美国大多数地区一样,我们这里没有停车费、过路费和高速公路费什么的。
5. The cost of washing a car is 5 to 10 dollars each time.
洗车每次5-10美元。
6. Personal property for one SRX reaches 360 dollars each year.
每年卡迪拉克的个人资产税(personal property)360美元。
7. My new SRX has a 4-year warranty and I extended it to 8 years by paying an extra 3,684 dollars when I bought the vehicle. Therefore, within the first 8 years, all maintenance and repairs will be free and all I have to pay is perhaps the expenses for the replacement of tires and brakes, which will be no more than 1,600. In this case, the annual expense for maintenance is 660 dollars.
我的卡迪拉克越野车是新车,前四年在保用期(warranty)内,买车的时候我又花了3684美元加倍了该车的保用期,因此前八年的全部维护和修理是免费的,自己要出的钱最大可能就是八年中换两次轮胎和闸皮之类磨损性的消费吧,1600美元肯定打住了。这样算下来的话,八年的总消费平均到每年是660美元的样子。