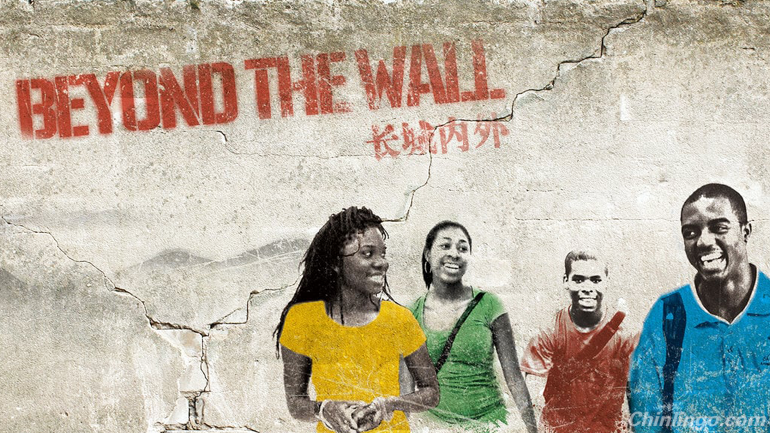 A documentary that follows four D.C. public school students to China is premiering on television Friday.
一部追踪拍摄四名华盛顿公立学校学生前往中国的经历的纪录片周五在电视上首映。
The film, seven years in the making, shows how a group of students were offered the chance to go on a free trip to study Chinese language in Beijing over the summer. It follows them over the course of the trip and beyond to see how the experience shaped their perspectives and their lives.
耗时7年时间拍摄的这部纪录片展示的是一群获得夏天免费前往北京学习中文的机会的学生。纪录片对他们的行程进行了追踪拍摄,以观察这一经历是如何改变他们的态度和生活的。
"I did not know much about China, and I had never been on airplane," said Juanique McNeill, who attended Anacostia High School in 2008 when she was invited to apply for the scholarship. "It was really different from anything anyone I had ever known had done."
2008年进入阿纳卡斯蒂亚高中上学的朱厄妮克·麦克尼尔获邀申请这项奖学金时说:"我对中国不太了解,而且我从来没有做过飞机。这和我经历中遇到的任何人和事都不太一样。"
Sally Schwartz, director of Globalize DC, an advocacy group, and an associate producer for the documentary, said there is a gap in the kinds of students who take advantage of study abroad opportunities that help students gain valuable language skills and cultural awareness.
"华盛顿全球化"组织的负责人、这部纪录片的副制片人萨莉·施瓦茨说,能够利用到国外学习的机会获得宝贵的语言技巧和文化意识的学生不多。
"These opportunities should not just be for privileged or gifted students," she said. "This film puts a different face on the experience of learning Chinese and going to China."
她说:"这些机会不应当只提供给有特权的或者有天赋的学生。这部纪录片给学习中文和去中国这种经历带来了不同的面貌。"
The State Department and other organizations offer funding and programs to help high school age students study abroad, though it's not always easy to convince students in the District to apply, Schwartz said. The trips to China featured in the film were funded and organized by a nonprofit called Americans Promoting Study Abroad.
施瓦茨说,国务院和其他机构提供资金和项目帮助高中生到国外学习,不过说服华盛顿的学生申请出国学习并不容易。纪录片中拍摄的中国行是由一个名为"促进美国人留学海外"的非盈利机构出资和组织的。
The District is looking to expand study abroad opportunities for students in coming years. In March, city officials announced that the public school system plans to offer middle-school students who are studying foreign languages the opportunity to travel internationally. The D.C. Public Education Fund is raising money to pay for the trips.
华盛顿正考虑未来增加学生到海外留学的机会。3月份,该市官员宣布公立学校系统计划为正在学习外语的中学生提供进行国际旅行的机会,华盛顿公立教育基金会正在为这些国际旅行筹集资金。
The film shows the excitement and nervousness that the students and their families felt in advance of their trip to China, the challenges of learning a different language and getting along with a big group of people, and the exhilaration that came from walking on the Great Wall of China and volunteering to teach English at a school for the children of migrant workers.
纪录片展现了前往中国之前学生及家长们兴奋而又紧张的心情,以及学习一门完全不同的语言、与一大群人相处所带来的挑战,还有走在长城上和为农民工子弟学校志愿当英语老师的激动心情。
When the students returned home, it was not easy for most of them to continue studying Chinese, because the language was not offered at their high schools. Peter Mambwe, who attended Wilson High School, was the only one in the group who had the chance to enroll at his school. Others learned through tutors or a continuing education program.
学生们回国后,大部分人继续学习中文并不容易,因为他们所在的高中不提供这种课程。威尔逊高中的彼得·曼布韦是这些学生中唯一一个有机会在这个学校注册的学生。其他人都是通过家教或者一个延续性的教育项目继续学习。
At least one student, in addition to McNeill, went on to study Chinese in college. Jeffrey Wood, a graduate from Roosevelt in Petworth, went to George Mason University where he had a double major in Global Affairs and Chinese. In an interview, Wood offered some advice for other young students contemplating study abroad.
除了麦克尼尔,还有一个学生继续在大学学习中文。来自佩特沃思的罗斯福高中的毕业生弗里·伍德前往乔治·梅森大学学习,攻读了全球事务和中文两个专业,伍德在采访中为其他考虑到海外留学的学生提供了一些建议。
"Take a chance. It was a life-changing experience for me," Wood said. "Whether you like going to that area of the country or not, you will still learn and get a different perspective."
他说:"冒一次险。对于我来说,这是一次改变人生的经历。无论你是否愿意去那个国家的那个地方,你都会学有所得,并获得一种不同的视角。"