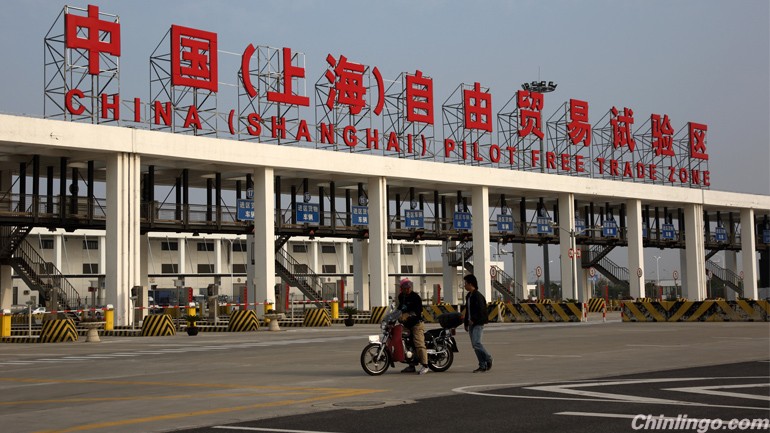 As Shanghai's once-vaunted free trade zone limps towards its second birthday, all those still paying attention ask the same question: what can you do there?
随着曾一度被寄予厚望的上海自贸区蹒跚着迎来两周年纪念日,那些仍在关注它的人都在问同一个问题:你能在那里做什么?
Ask 10 people what is allowed and you will hear five different answers. The other half will say "nothing".
随便问10个人:自贸区允许做什么?你会得到5种不同的答案,其余5个人则会回答"什么也不允许"。
Thousands of companies flocked to register in the FTZ in the weeks around its launch. Foreign lenders such as HSBC and Deutsche Bank opened branches before it was clear what policies would actually allow. Real estate prices soared, along with a dozen or so "concept stocks".
上海自贸区成立后最初的几周,数以千计的企业涌进来注册。汇丰(HSBC)、德意志银行(Deutsche Bank)等外国银行在还不清楚新政策实际上为哪些行为开了绿灯前,就在自贸区设立了分支机构。区内房价飙升,10多支相关"概念股"也大涨。
Much of the hype around the zone two years ago was down to timing. Premier Li Keqiang spoke at the opening ceremony in September 2013 just six weeks before a Communist party meeting at which leaders endorsed an ambitious and well-flagged plan for market reform.
两年前围绕自贸区的许多炒作都利用了时机的安排。中国总理李克强在2013年9月的自贸区成立仪式上发表了讲话,而就在6周后召开的中共十八届三中全会上,中共最高领导层通过了一项雄心勃勃、大张旗鼓的市场改革计划。
Financial reform advocates touted the zone as a laboratory to test deregulation of China's interest rates, currency and cross-border fund flows. But with authorities now grappling with capital outflows and a depreciating currency, they appear reluctant to push ahead with measures that would enable even greater outflows.
金融改革的倡导者将上海自贸区吹捧为试点解除利率、汇率及跨境资金流动管制的实验室。但如今,中国当局正艰难应对资本外流和人民币贬值,他们似乎不愿推进可能还会进一步加剧资本外流的措施。
Instead, the list of achievements of Shen Xiaoming, chairman of the zone's administrative committee, is more mundane.
于是,上海自贸区管理委员会主任沈晓明的政绩清单就比较乏善可陈了。
"What can we do that other people can't do? I can summarise in five parts," he says at the Pudong district government headquarters. He goes on to say the zone is focused on administrative reform and cutting red tape, especially for customs, logistics, shipping and professional services such as education and law.
"有什么是我们能做而别人不能做的?我可以总结为五部分,"他在上海浦东新区政府说。他接着说,上海自贸区主要聚焦于行政改革以及减少审批环节,尤其是针对海关、物流、船运以及教育、法律等方面的专业服务。
As Mr Shen and other officials look on, Bingbing Feng, China general manager at US Pharmacopeial Convention, a non-profit group that sets quality and safety standards for medicines and food, praised the zone's efforts.
与沈晓明及其他官员的看法一样,为药品、食品制定质量和安全标准的非盈利机构——美国药典委员会(USP)中华区总经理冯兵兵对自贸区的措施表示了赞赏。
"We've benefited a lot from their customs clearing policies. In the past, it took us three to four weeks to import research materials to our facility. With the free trade zone's new policies in place, it takes several days," he said.
"他们的报关政策让我们受益很多。过去,我们把研究材料进口进来需要3到4周时间。而有了自贸区的新政策,只需几天时间,"他说。
The Shanghai government has arranged at least three events this month to promote the zone to foreign journalists. But the reforms are unlikely to be enough to persuade foreign investors who complain of slow progress on market liberalisation.
上海市政府本月安排了至少三场活动向外国记者推介自贸区。但自贸区的改革不大可能足以说服那些抱怨市场自由化进展缓慢的外国投资者。
The zone can claim a few achievements. A party leadership group said last week that the country would expand use of the "negative list" approach to regulating foreign direct investment first tested in the zone.
上海自贸区还是取得了一些成绩。中共一个领导小组上周表示,中国将把首先在上海自贸区试点的"负面清单"方法推广用于管理外国直接投资(FDI)。
The list specifies industries that are prohibited to foreigners — 122 in the 2015 version, down from 190 in 2013 — with all others assumed to be fully open, with no approvals required. That contrasts with the rest of China, which is governed by a foreign investment catalogue dividing the economy into "encouraged", "restricted" or "prohibited" sectors. Even encouraged sectors require approvals that can take months.
该清单中列出了禁止外国人涉足的行业(从2013年的190个减少至2015年的122个),而其他所有行业都被假定是完全开放的,不需要进行审批。这与中国其他地区形成对比,中国其他地区采用的是一份将经济各产业划分为"鼓励"、"限制"或"禁止"外商投资的外商投资产业目录。就连"鼓励"外商投资的行业,审批都需要数月时间。
Yet some of the opportunities hold scant appeal for foreign investors. Mr Shen noted that 37 service industries and 17 manufacturing industries were permitted in the zone but not elsewhere in China. He did not provide a complete list, but acknowledged that no foreign company had yet taken advantage of newfound freedom to enter the green-tea processing industry.
然而,其中一些新的机遇对外国投资者来说缺乏吸引力。沈晓明指出,有37个服务行业和17个制造业行业是只有自贸区允许外商投资,而中国其他地区不允许的。他没有提供一份完整清单,但他承认,还没有外国公司利用新获得的投资自由进入绿茶加工行业。