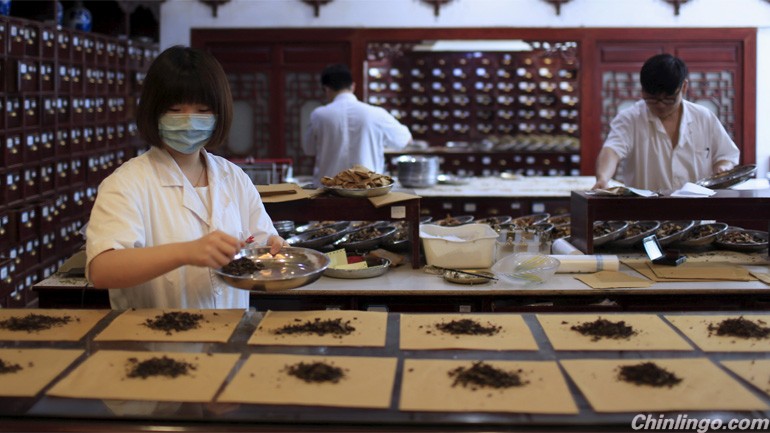 China's much-hyped market for vitamins and supplements is facing a steep challenge from traditional remedies from ginseng to deer antler, even as the sector's rise fuels billion-dollar deals and share price surges.
中国被热炒的维生素保健品市场目前面临来自从人参到鹿茸等中药补品的激烈竞争。中国的维生素保健热曾引发了许多大规模的公司交易,也带动相关类股大涨。
The vitamins market is set to expand five percent a year to $20 billion in 2019, half its pace of growth since 2009. It's being outstripped by a traditional medicine business that could be worth $40 billion by then – and is growing twice as fast.
中国维生素保健品市场正在被中医药行业超越,前者的规模预计会以年均5%的增速扩大,到2019年达到200亿美元,这是其自2009年以来增速的一半。与此同时,中医药行业正在以两倍的速度增长,届时市场规模将达到400亿美元。
That's prompted vitamins firms from direct seller Amway to giant U.S. drugmaker Pfizer Inc to look for inspiration from traditional medicine recipes going back thousands of years to succeed in China's increasingly pivotal healthcare market.
这种情况促使安利、辉瑞等生产维生素保健品的企业从可追溯到数千年前的传统药方寻找灵感,以求能在中国越来越重要的保健品市场取得成功。
"We've tried to learn the heritage and marry it with modern life sciences," Jia Chen, vice president of Amway's China research and development division, told Reuters.
"我们已在努力了解这一遗产,并努力让其与现代生命科学相结合,"安利(中国)植物研发中心副总裁陈佳对路透称。
The firm offers products for memory and liver health drawing on traditional ingredients such as ginseng and liquorice. It recently invested around $13 million in a traditional Chinese medicine research lab in the eastern Chinese city of Wuxi.
安利推出了含有人参、甘草等中药成分、有助于增加记忆力及护肝的保健品。该公司近期投资大约1300万美元,在江苏省无锡市成立了安利(中国)植物研发中心。
"Half of the population still believe in traditional ways and still go to traditional doctors or hospitals. This is a way of life and is passed from generation to generation," she said.
"仍有一半人相信中医,他们仍会去看中医。这是一种生活方式,是一代一代传下来的,"陈佳说。
Pfizer broke ground in June on a $95 million facility in eastern China to expand production of its Centrum and Caltrate brands. It's now offering golden-hued gift boxes of vitamins, playing into the trend of giving expensive traditional Chinese medicines as presents.
6月,辉瑞在苏州投资9500万美元的新工厂破土动工,以扩大钙尔奇及善存品牌产品的生产。面对用名贵中药送礼的趋势,该公司目前还推出了善存佳维片金色礼盒装。
Traditional remedies are used in China to treat everything from low energy to cancer, making for a business that's broader than Western-style vitamins and health supplements. The industry's ancient roots, along with rising disposable incomes, greater health awareness and supportive government policies, have helped stoke the market further.
在中国,中医治疗从亚健康到癌症的百病,这使得中医药成为比西式维生素等保健品覆盖更为广泛的一个行业。该行业在中国根深蒂固,加上民众的可支配收入增长,保健意识增强,同时在政府政策的支持下,这些推动中医药市场进一步增长。
Leaders of the market for these remedies, like Beijing Tongrentang Co Ltd., have products with snakeskin, dried toad, centipede, scorpion and dandelion to treat swelling, and others with oyster, ginseng and black-bone chicken for menstrual pains.
同仁堂中国传统中医药领域的领军企业有各种各样的补药产品。譬如,一些具备消肿及有其它功用的产品中含有蛇皮、干蟾、蜈蚣、蝎子等成分,而缓解痛经的药品中则含有牡蛎、人参、乌鸡等成分。
"At the moment the real money-spinners are deer antler and ginseng," said Yu Qiangmin, 51, a chemist in a traditional medicine store in Shanghai.
"目前,参茸最赚钱,贵嘛。"上海一家中药店51岁的药剂师余强敏说。
Some vitamins suppliers say demand from safety-conscious consumers for high-quality imports is robust enough to fuel market growth.
一些维生素保健品供应商称,注重安全的消费者对高品质进口品的需求强劲,足以推动此类产品市场增长。
"Chinese consumers are prepared to pay a premium for our products because they know that those products are quality-checked before they're sent out to China," Christine Holgate, Chief Executive Officer of Australia's Blackmores Ltd., told Reuters in an interview.
"中国消费者愿意花高价购买我们的产品,因为他们知道这些产品在出口至中国前经过了质量检查,"澳大利亚Blackmores 执行长Christine Holgate说。
Vitamin makers are also looking to lure younger, urban Chinese consumers who are less convinced by traditional methods and willing to mix the old with the new.
维生素保健品制造商也在寻求吸引中国城镇年轻消费者。这些消费者人群对中医药不是十分信任,愿意接受中西医结合的方式。
Wen Zuolin, 21, a food safety student in Shanghai, has swapped indigo woad root for vitamin tablets which she says are more convenient, taste better – and she knows what's in them. She admits she goes back to traditional cures from time to time.
学习食品安全的21岁上海学生温左琳停止服用板蓝根,转而吃上了维生素片。她说维生素片服用起来更方便,口感也好,而且她了解维生素片的成分,但她承认自己偶尔也选择中医。
"Older generations trust traditional Chinese medicines more. Some of us youngsters still trust it too, but the majority prefer Western-style medicines because they have a quicker effect," she said.
"我觉得他们年纪偏大一点的会比较相信中药,年轻一点的,有些是会相信中药,但是其中大部分都比较相信西药,因为西药见效快,"她说。