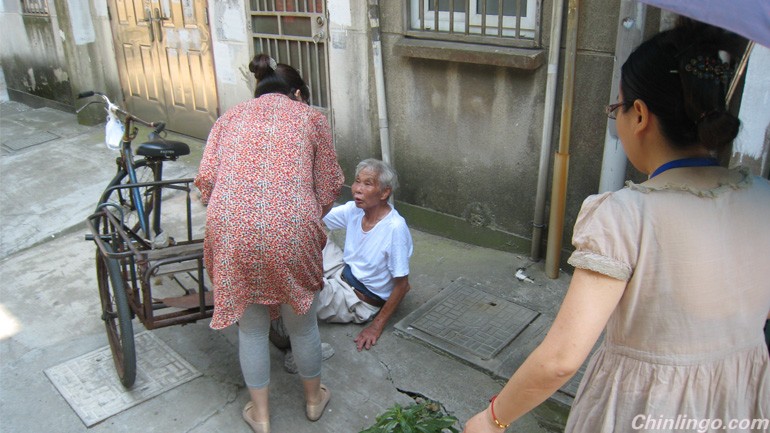 A student at Huainan Normal University is seeking witnesses who saw her helping an elderly resident who had fallen, after the woman's family accused her of being the cause of the old lady's fall.
一名淮南师范学院的学生遇上老人摔倒,扶起之后反被其家属控告,这名学生正在寻找目击证人。
Here are some comments:
以下是各方评论:
In a civil lawsuit, a plaintiff who files a lawsuit against someone for being the cause of an accident needs to provide evidence to back up their accusation.
在民事诉讼中,原告若要提起诉讼,应提供造成事故原因的证据来支撑其控告。
Of course the judge can make a decision based on indirect evidence, but in the student's case there is no evidence to suggest she was responsible.
法官同样可以基于间接证据来做出判决,但在本案中没有证据显示该学生负有责任。
However, the reality is in previous cases the courts simply asked the two parties to divide the responsibility if there was no evidence to show who should be held responsible. As a result, many will think twice before going to the help of senior citizens.
然而,在现实生活中,如果没有证据证明谁该负责任,法庭会直接让原被告双方共同承担责任。因此,在帮助老人之前,要再三思考。
In some previous cases, senior citizens have accused good Samaritans of being the cause of their accidents but were finally proved to have told a lie, yet they got away without being punished. The judges failed to perform their duty because these elderly accusers violated the law.
之前的一些案例中,老年人控告好心的施救者造成自己的事故,最终被证明在撒谎,但他们也没有遭受惩罚。对于老年人违背相关法律,法官也没有因此履行自己的职责。
The family of the senior said that if the student did not cause the accident, why did she extend a helping hand and even help pay for the emergency medical care?
老年人家属称,如果该学生没有造成老年人摔倒,为什么要伸出援手,并帮助垫付医药费?
This is absurd logic, as the woman didn't have enough money on her to cover the cost. Worse, such logic has been used in similar cases to extort money from a good Samaritan.
这是荒谬的逻辑,因为老年人没有足够的钱来垫付医药费啊。更可恶的是,这样的逻辑还被用于向好心人讹钱。
That logic has already hurt enough good people.
这样的逻辑已经将好心人彻底伤透了。