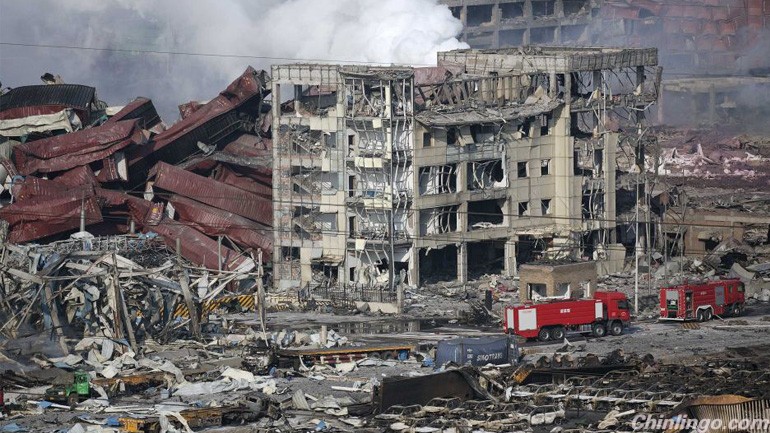 Playing Catch-Up
追赶领先者
For decades, Tianjin has sought to emerge from the shadow of Beijing, its far more powerful and privileged neighbor, and to catch up with the rival port cities that pioneered China's economic transformation. The centerpiece of these ambitions has been the Binhai New Area, a vast stretch of industrial parks and skyscrapers along the muddy shores of the Bohai Sea about 30 miles from downtown.
几十年来,天津一直力求脱离北京的阴影,克服这个比其强大得多、享有的特权也多得多的邻居的影响,并想追上开创了中国经济转型的其他几个港口城市。滨海新区是这些远大目标的核心。它位于距市中心约30英里的沿渤海泥泞海岸,是一片满是摩天大楼和工业园的广阔区域。
Binhai boasts neither the skyline of Shanghai's Pudong district nor the export strength of Shenzhen in southern China. But more than half of Fortune Global 500 companies have invested in it. Airbus makes its A320 jet here. And President Xi Jinping has elevated its status with plans to make it part of a "supercity" that integrates Beijing with the region around it.
滨海新区既没有上海浦东的天际线,也没有位于华南地区的深圳的出口实力。它引以为傲的是,超过半数的财富500强(Fortune Global 500)企业在这里投资。空中客车(Airbus)在此地制造A320飞机。国家主席习近平计划整合北京与周围地区,使之成为一个"超级城市圈",从而进一步提升了滨海新区的地位。
China's leaders began to experiment with the first special economic zones in the late 1970s to promote foreign investment and market-oriented policies. The districts promised tax breaks as well as freedom from over-regulation, and they grew so quickly that the rest of the country has since sought to emulate their approach. Binhai won special status in 1994.
在70年代末,为了促进外国投资及以市场为导向的政策,中国领导人开始在第一批经济特区做试验。这些地区承诺税收减免,不受过度监管的制约。它们的经济增长极为迅速,中国其他地区因此也试图仿效。滨海在1994年赢得了这一特殊地位。
Through the decades of rapid growth, however, the Communist Party has struggled to strike a balance between cutting red tape and enforcing rules to protect the environment, workers and public health. With little public scrutiny of their work, party officials are only occasionally punished for neglecting the latter, usually only after an accident. But they can count on being rewarded for pushing the limits for economic growth, with promotions — and opportunities for graft.
然而,经过了几十年的快速增长,共产党一直苦于在打击官僚作风和执行保护环境、劳动者及公众健康的规定之间达成平衡。由于他们的工作没有什么公众监督,党内干部只会偶尔因为忽略了后者而受到惩罚,而且通常是在出现了事故之后。但是,他们会因为推动经济增长的极限而获得奖励,包括升官——还有贪污的机会。
Even before the explosions, the Port of Tianjin, at the center of the Binhai district, had a reputation for lax oversight compared with its competitors. One state media report after the blasts likened it to "an independent kingdom." To Rui Hai's founders, Dong Shexuan and Yu Xuewei, it was the perfect place to set up shop in November 2012.
即使在爆炸之前,在滨海新区中心的天津港,与竞争对手相比也有着监管不严的名声。爆炸发生后,一家官方媒体报道将其比作"独立王国"。对瑞海创始人董社轩和于学伟来说,在2012年11月设立公司的时候,它是一个完美的地方。
Mr. Yu, 41, had been deputy manager of the local branch of the state conglomerate Sinochem. Mr. Dong, 34, sold tires, cosmetics and wine, but his father was the police chief at the port, and that apparently helped them get the necessary fire safety, land and environmental permits.
于学伟现年41岁,曾是中化集团的本地分公司的副总经理。董社轩现年34岁,曾从事轮胎、化妆品和酒类销售生意,但其父亲担任过天津港公安局局长。这显然有助于他们获得必要的消防安全、土地和环境许可。
"My connections are in police and fire," Mr. Dong told the official Xinhua news agency after he and his partner were detained. "When we needed a fire inspection, I went to meet with officials at the Tianjin port fire squad. I gave them the files, and soon they gave me the appraisal."
"我的关系主要在公安、消防方面,"在与合作伙伴一起被拘后,董社轩告诉官方媒体新华网。"公司成立时,我去找的天津港公安消防支队负责人,说想做危化品仓储。当时我把材料都拿了过去,很快消防鉴定就办下来了。"
The news agency noted that Mr. Dong "did not specify whether there was a bribe or official misconduct."
新华的英文报道指出,董社轩"没有详细说明当中是否涉及贿赂或官员渎职。"
But Rui Hai set up warehouses about half a mile from an apartment complex and a rail station, in violation of Chinese regulations requiring that hazardous chemicals be stored farther away from residential areas and transport hubs.
但是,瑞海在距离一片公寓楼和一个火车站约半英里的地方建设仓库,违反了中国要求危险化学品存放远离住宅区和交通枢纽的监管守则。
The environmental impact assessment ordered by regulators in Tianjin in 2013 made no mention of that fact. Instead, the Tianjin Academy of Environmental Sciences reported that 100 percent of the 128 residents it surveyed welcomed the facility in their neighborhood.
在天津监管部门2013年要求进行的环境影响评价里,并没有提及这个事实。相反,天津市环境保护科学研究院出具的环评报告称,128名受访居民全部对社区周围建设这一设施持欢迎态度。
Former clients said they began using Rui Hai as early as February 2014. But it was not until May 4, 2014, that the Tianjin Transportation and Port Administration issued a temporary permit allowing the company to store and ship hazardous chemicals.
瑞海的一些前客户指出,早在2014年2月就开始光顾它的生意。但直到2014年5月4日,天津市交通运输和港口管理局才发放了临时牌照,允许瑞海储存和运送危险化学品。
The license was effective retroactively, beginning April 16, and good for six months. At the bottom, it was marked, "This document is not to be made public." On Thursday, prosecutors said they were investigating the officials responsible for issuing the license, including the director of the transportation administration.
该牌照的生效日期回溯到了4月16日,有效期为六个月。牌照下方标明,"此件不公开。"周四,检察部门宣布,当局在调查负责发证的官员,包括交通运输和港口管理局的局长。
When that license expired, Rui Hai continued handling chemicals without one. "We didn't cease operations because we didn't think it was a problem," Mr. Yu told Xinhua. "Many other companies have continued working without a license."
牌照过期后,瑞海在无牌的情况下继续处理危险化学品。于学伟告诉新华:"一方面觉得正式资质很快就会批下来,另一方面觉得很多其他公司都没办延期,就没当回事儿。"
Rui Hai may have been granted only a temporary license in 2014 because it had not yet obtained a safety certification, a process that the port administration outsources to private companies.
瑞海可能仅在2014年获批一个临时牌照,因为它尚未获得安全认证。安全认证的程序由港口管理局外包给私营公司进行。
Ma Jun, a prominent Chinese environmental activist, said these safety consultants routinely skew their findings to satisfy corporate clients. "It's hard to stay in this business without compromises." he said.
中国著名环保活动人士马军表示,这些安全咨询公司往往会扭曲他们的所见来满足企业客户的要求。"如果他们不妥协,就没有办法在这一行立足,"他说。
The first company approached by Rui Hai declined to take the job, citing the facility's proximity to the residential complex, Mr. Dong said in the Xinhua interview. But Rui Hai shopped around, and found another firm, one that corporate records show is affiliated with the Ministry of Public Security. That relationship has led some Chinese journalists to describe it as a "red-hat intermediary," or a firm set up by officials to extract payments from businesses.
董社轩在接受新华采访时称,瑞海接触的第一家公司拒绝与其合作,因为仓库离住宅区太近了。但瑞海继续寻找,后来找到的一家公司的企业信息显示为隶属于公安部。这样的关系引致一些中国记者把这家公司形容为"红顶中介",也就是由官员创立的透过经商来赚钱的公司。
In a report issued in February 2015, the company overstated the distance between Rui Hai and the apartment buildings, the rail station and highways by hundreds of yards and asserted that it was in compliance with national standards.
在2015年2月发布的一份报告中,瑞海把仓库的位置与住宅区、火车站和高速公路的距离夸大了数百米,断言它符合国家标准。
It added that Rui Hai had "established a rather sound safety management system." Four months later, Rui Hai received a new permit to handle hazardous chemicals, good for three years.
文中还称,公司已"建立了较为完善的安全生产管理制度。"四个月后,瑞海收到了一个有效期为三年的新牌照,得到处理危险化学品的许可。