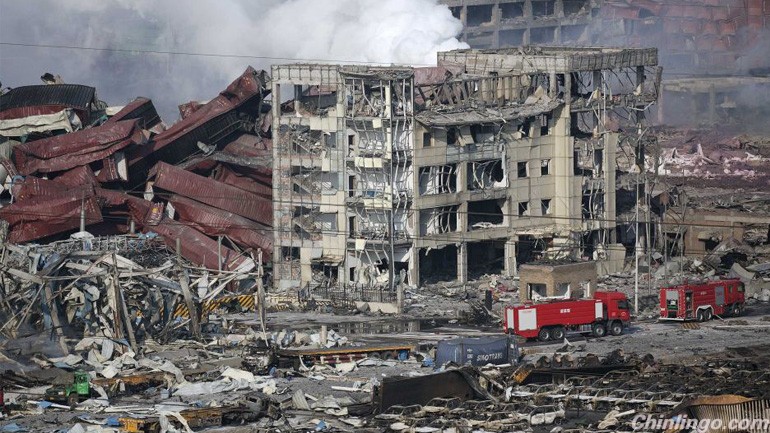 TIANJIN, China — One partner was the son of a local police chief, the other an executive at a state-run chemicals firm. After meeting at a dinner party, they started a company here to handle the export of the most dangerous chemicals made in China, promising "outstanding service" and "good results."
中国天津——这对合伙人之一是当地警察局长的儿子,另一位曾担任一家国营化工企业的高管。他们在一次宴会上见面后,在天津开了一家公司,从事中国制造的最危险的化学品的出口业务,公司的口号是"优服务、高效益"。
Within two years, Rui Hai International Logistics had built a reputation as the go-to place for businesses looking to ship hazardous materials to customers abroad, a niche market that had been dominated by sluggish state enterprises.
公司成立了不到两年,瑞海国际物流就已颇有名声,希望向海外客户运送危险物品的企业纷纷找上门来。这个小众市场曾一直被懒散的国有企业主导着。
Rui Hai offered lower prices, a no-hassle approach to paperwork and quick government approvals. Business was brisk. It seemed like another success story for the Binhai New Area, a thriving economic development zone established here by the ruling Communist Party around one of China's busiest seaports.
瑞海国际提供的服务价格低廉,不需办繁复的手续,还能很快得到政府部门的批准。业务很火。公司似乎是滨海新区的又一个成功故事,滨海新区是执政的共产党在中国最繁忙的港口城市之一的郊外设立的一个蓬勃发展的经济开发区。
Now more than two weeks after explosions at its warehouses leveled a swath of that district, killing 158 people, injuring more than 700 and leaving millions here fearful of toxic fallout, Rui Hai has become a symbol of something else for many Chinese: the high cost of rapid industrialization in a closed political system rife with corruption.
而如今,瑞海国际在许多中国人眼里已成为某些其它东西的象征,成为在一个充满腐败的封闭政治体系中快速工业化的巨额代价。两周多前,公司库房发生了大爆炸,将滨海新区的大片夷为平地,导致158人死亡、700多人受伤,还导致有毒物质流失,给住在这里的数百万人留下了可怕的后患。
In interviews with more than a dozen of Rui Hai's former clients and associates — and unusually critical reports in China's state-controlled news media — a picture has emerged of a company that exploited weak governance in one of the party's showcase economic districts and used political connections to shield its operations from scrutiny.
通过对瑞海国际的十几个前客户、以及一些与公司打过交道的人的采访,加上来自中国官方控制的新闻媒体的不同寻常的批评性报道,一个画面呈现在人们眼前,这是一家钻了共产党经济示范区里监管不力的空子、利用政治关系让其业务不受审查的公司。
Rui Hai began handling hazardous chemicals before it obtained a permit to do so, and it secured licenses and approvals from at least five local agencies that conducted questionable reviews of its operations. Local authorities outsourced one safety review required for a storage permit to a private contractor that Rui Hai selected and paid.
瑞海国际在拿到了许可证之前就开始经营危险化学品,公司从至少五个地方部门获得了许可证和批准,这些部门对公司业务的审查都有问题。地方当局把发放库房许可证所需的安全审查承包给了一家瑞海自己挑选的私人机构,并由瑞海支付了有关费用。
As much as 3,000 tons of hazardous chemicals were stored at Rui Hai on the night of the explosions, including 700 tons of sodium cyanide, deadly in a dose of less than a tablespoon, and 1,300 tons of fertilizer nitrates, more than 500 times the amount used in the 1995 Oklahoma City bombing.
大爆炸发生的那个夜里,瑞海库房中存放着多达3000吨的危险化学品,其中包括700多吨、致命剂量小于一汤匙的氰化钠,以及1300吨硝酸盐化肥,是1995年美国俄克拉荷马城爆炸案中使用的炸药量的500倍还多。
Rui Hai's shipping yard covered more than 11 acres, but clients said it routinely packed huge volumes of different volatile chemicals together in haphazard fashion instead of storing them separately, at safe distances and in smaller quantities as recommended in the industry.
瑞海的占地面积超过4.6万平方米,但客户说,公司经常把大量易燃易爆的化学品随意地堆放在一起,而不是按照行业推荐的方法,把这类化学品分为更小的单元、远距离单独存放。
"Nobody wanted to stand in their way," said one chemicals exporter in Tianjin, who asked not to be named to protect his business from reprisal, when asked why regulators took no action.
"没有人愿意挡他们的道,"当天津的一名化学品出口商被问及为什么监管部门没有采取任何行动时,他这样回答。为了保护自己今后做生意时不被报复,他要求不具名。
The catastrophe in Tianjin has stunned a nation inured to living with one of the worst industrial safety records in the world. By the government's own count, more than 68,000 people were killed in such accidents last year — nearly 200 every day, most of them poor, powerless and far from China's boom towns.
天津的灾难震惊了这个已经习惯于与世界上最糟糕的工业安全记录一起生活的国家。按照政府自己的统计,去年在这类事故中死亡的人数超过6.8万,平均每天死掉近200人,他们中的大多数是远离中国繁荣城市的无权无势的穷人。
But the Aug. 12 blasts at Rui Hai were different, because they occurred so close to middle-class neighborhoods in one of China's most prosperous cities, a modern metropolis of 15 million just a half-hour ride from Beijing on gleaming high-speed trains. And they unfolded nearly in real time online, with dramatic video footage shared widely across social media before censors could stop it. Criticism of the party's management of the economy had already been on the rise, with growth at its slowest pace in a quarter-century and the stock market reeling since early summer. Now the explosions have prompted broader questions about whether party officials who operate with few checks on their authority can pursue development without endangering public health and safety.
但是,8月12日瑞海的大爆炸不同,因为爆炸发生在与中国最繁华城市之一的中产阶级社区如此接近的地方,从北京乘坐耀眼的高速列车只需半个小时就能到达这座有1500万人口的现代化大都市。而且爆炸几乎是在网上实时地展现在人们眼前,令人印象深刻的录像在审查者来得及阻止之前,已在社交媒体上被广泛分享。随着经济增长放缓到25年来的最低速度,以及夏初开始的股市暴跌,对共产党管理经济的批评声已经一直在上涨。如今,大爆炸触发了更大范围的质疑:权威几乎不受监督的共产党官员们,是否能够在不威胁公众健康和安全的条件下追求发展。
"From the blasts to the botched government response, everything about this disaster is outrageous, which is why people are so furious," said Zhang Ming, a political scientist at Renmin University in Beijing. "It was a man-made disaster that could have been prevented, and it has exposed a range of systemic problems, from the lack of regulation for handling hazardous chemicals to the collusion of business and corrupt officials."
"从爆炸的发生,到政府的拙劣响应,与这场灾难有关的所有事情都令人难以容忍,这就是为什么人们如此愤怒的原因,"北京人民大学的政治学者张鸣说。"这是一个本来可以避免的人为灾难,它暴露出一系列的系统性问题,从缺乏对危险化学品经营的监管,到商人和腐败官员的勾结。"
Trust in the government could erode further if evidence emerges that local officials overlooked and concealed the dangers posed by Rui Hai and other facilities in the Binhai New Area.
如果有证据浮出,表明地方官员忽视和掩盖了滨海新区中的瑞海和其他设施所带来的危险的话,对政府的信任感可能会进一步削弱。
As recently as 2013, Chinese academics warned of "many unacceptable environmental risks" in the district, citing the growing chance of accidents from the storage of dangerous materials so close to residential neighborhoods and singling out the area where the Rui Hai facility was located. That warning, and others like it dating to at least 2008, were ignored.
早在最近的2013年,中国学者就曾警告说,滨海新区有"许多不可接受的环境风险",指出让危险物库房与居民区如此接近增加了发生事故的风险,并特别提到瑞海库房的所在区域。这一警告,以及其他可追溯到至少2008年的类似警告都被忽视了。
"In terms of official neglect and mismanagement, what happened in Binhai is just the tip of the iceberg of what's happening across China," said Wu Yixiu, a campaigner for Greenpeace. "Local governments are putting economic growth first and keeping residents in the dark about the dangers of these facilities."
"就政府漠视和管理不善而言,滨海新区发生的事情,只是中国各地发生的事情的冰山一角,"绿色和平(Greenpeace)中国项目经理武毅秀说。"地方政府把经济增长放在第一位,对居民隐瞒了这些设施所带来的危险。"
China's top leaders have promised a transparent investigation into the disaster, and nearly two dozen local officials and Rui Hai employees have been detained or placed under investigation. But the government has thus far been silent on crucial questions, including what exactly caused the blasts. Nor has it addressed reports that firefighters in the district were unprepared to deal with a chemical fire and may have triggered bigger explosions or released toxins by spraying water on the blaze.
中国高层领导人承诺进行透明的灾情调查,二十来名地方官员和瑞海员工已被控制或接受调查。但在关键问题上,政府迄今保持沉默,包括究竟是什么导致了爆炸。有报道称,港区消防员没有准备好应对化学火灾,并可能因为往大火喷水引发了更大的爆炸或释放了毒素。对于这些说法,政府也没有做出回应。
"We had no idea it was a warehouse for dangerous goods," said Quan Li, 25, a firefighter who was buried under debris when the fire department's building collapsed in the blasts. Speaking by phone from a hospital bed, he said the department had drafted a risk-management plan this year that identified the most dangerous sites in the port.
25岁的消防员全力说,"我们根本不知道那是一个危险品仓库。"他当时身在因爆炸而倒塌的消防部门建筑物中,被埋在了废墟下。他躺在医院的病床上,通过电话接受了采访。他表示,消防部门今年拟定了一份消防应急预案,确定了港区最危险的地点。
Rui Hai, he said, was not on the map.
他说瑞海并未列为重点单位。