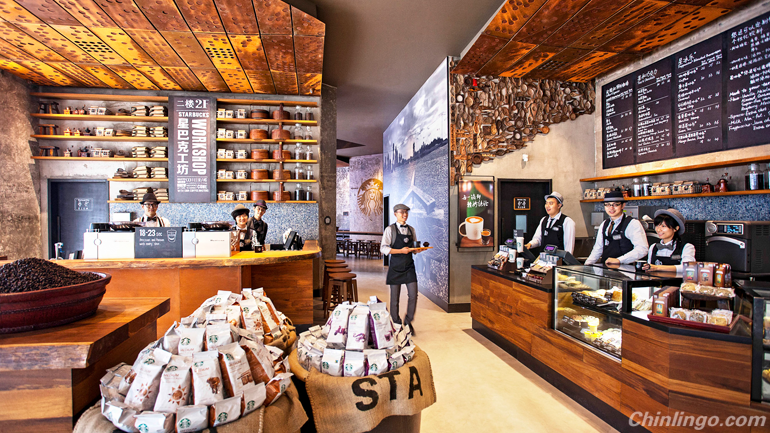 California-born Jim Lee moved to China four years ago to open a gourmet coffee and tea shop.
生于加利福尼亚的吉米·李四年前来到中国,开了一家咖啡店。
His Ocean Grounds store in Shanghai, which sells lattes for 38 yuan each, has seen booming traffic that has broadened over that time. The clientele began largely as urbane young Chinese professionals and expats, but now ranges from "younger people to old people—it's really hard to say" who our average customer is, Mr. Lee said. "This market is exploding."
这段时间以来,咖啡店里的顾客越来越多,在他的上海Ocean Grounds咖啡店,一杯拿铁的价格为38元。李说,最初顾客主要是城市里年轻的白领和海归,但是现在从"年轻人到老年人"都有,真的很难说一般的顾客都是哪些人。"市场正在急速发展。"
Demand for commodities in China might be on the wane as its economy slows, but in a nation of tea drinkers, coffee—even a pricey cup—is a rare bright spot. Demand is also burgeoning for other small luxuries like imported fresh fruit, driven by changing tastes and an expanding middle class, analysts said.
随着经济发展放缓,中国的商品需求可能在放缓,但是在一个有着喝茶传统的国家,咖啡——即使价格不菲——是一个罕见的亮点。分析人士说,受到变化的口味和中产阶级迅速增加等因素推动,对其他一些包括进口新鲜水果在内的奢侈品的需求也在迅速增长。
Coffee illustrates this shift best. China's population consumes just 4.5 billion cups of coffee a year, well below North Americans, who drink 133.9 billion cups a year, according to data from Euromonitor International. From 2014 to 2019, Chinese coffee consumption should rise 18%, said Euromonitor, while U.S. growth is expected to be 0.9% in that time.
咖啡就很好地说明了这种变化。据欧睿信息咨询公司的数据显示,中国人每年消费的咖啡仅45亿杯,远远低于北美,北美人每年消费的咖啡高达1339亿杯。据欧睿公司说,2014年至2019年,中国的咖啡消费将会上涨18%,而同期美国的增长预计将为0.9%。
Coffee represents "the Western lifestyle that is attractive to all those upper- and middle-class urban consumers," in contrast to tea, which is seen as a more traditional drink, said Raphaele Auberty, a food and drink analyst at BMI Research in London.
据BMI研究公司的食品和饮料分析师拉菲耶·奥贝蒂说,相对于茶来说,咖啡代表着"一种西方生活方式,对于城市里的上流社会和中产阶级来说很有吸引力",而茶被视为一种更传统的饮料。
That could eventually be good news for coffee prices, which have slumped because of a glut in the market as well as the fall in the Brazilian currency.
对于咖啡价格来说,这可能成为一个好消息。由于市场供应过剩以及巴西货币贬值,咖啡的价格一直疲软。
Barclays said coffee tops a list of commodities, including gold and silver, that could benefit as China shifts to a more consumption-oriented economy from one driven by exports and state investment.
据巴克莱公司说,随着中国经济转向以消费而不是出口和国家投资为主导,咖啡是包括金银在内的一系列可能从中获益的商品之一。
China's population is so large that it is the biggest customer of a number of commodities. It consumes about 30% of global rice production. With just 1% of the world's coffee drunk in China, the potential for this to increase is huge.
中国人口众多,是一些商品的最大消费者。中国消费的大米占全球大米产量的大约30%。在中国消费的咖啡仅占世界1%的情况下,咖啡消费的增长潜力将是巨大的。
Wine and chocolate are among other aspirational goods that appeal to China's increasingly urbanized population even as the economy slows. While Beijing's anticorruption drive has hurt sales of those two products in China because of a crackdown on gift giving, analysts expect rising demand as tastes change. National Australia Bank said data show that as people move from the lower class to the middle class, their consumption shifts significantly, with wine consumption, for example, increasing more than 700%.
尽管经济增长放缓,葡萄酒和巧克力也是中国城市人口越来越喜欢的产品之一。尽管北京的反腐运动抑制了这两种商品的销售,分析人士预计随着人们的口味变化,需求还是会增长。澳大利亚国民银行说,数据显示随着人们从较低阶层向中产阶级过渡,他们的消费也会发生巨大变化,例如葡萄酒的消费将增长700%以上。
Coffee companies are betting on increased Chinese demand for the drink, with some making their offerings sweeter and milkier to appeal to the Chinese palate, said Ms. Auberty of BMI Research. Large coffee chains like Starbucks Corp. and Pacific Coffee Co. have opened outlets in major cities across the country and have outlined ambitious growth targets. Starbucks has more than 1,700 stores in mainland China and hopes to exceed 3,400 in the country by 2019.
BMI研究公司的奥贝蒂说,咖啡公司正押宝中国对这种饮料的需求增长,而且有些公司还把它们的产品变得更甜而且牛奶更多一点,以迎合中国人的口味。像星巴克和太平洋咖啡等大型咖啡连锁店在全国各地的大城市都有分店,而且提出了雄心勃勃的增长目标。星巴克在中国大陆有1700家门店,公司希望到2019年将门店数量增加到3400个。
Pacific Coffee, which has about 400 stores in Hong Kong and mainland China expects strong growth for its beverages in China over the next five years.
在香港和中国大陆有大约400家门店的太平洋咖啡预计未来5年对其咖啡的需求也将强劲增长。
"The rising number of foreign-based coffeehouses in China strengthens the popularity of coffee culture in the country, while overseas returnees have brought with them their overseas experience to China," a Pacific Coffee spokeswoman said in an email, noting that the rise of the middle class is fueling the boom of the coffee market in China.
太平洋咖啡的一位发言人在一封电子邮件中说:"中国出现越来越多国外的咖啡馆也促进了这个国家咖啡文化的流行,海归也把他们在海外的经验带回了中国。"她称,中产阶级的崛起促进了中国咖啡市场的繁荣发展。