In a darkened room lit by a single lamp, a torrent of 'rain' pours from the ceiling. But as visitors walk through the water, it seems impossible for them to get wet. This is part of Rain Room, a new weather themed art installation just debuted in Shanghai, China.
昏暗的房间中,仅亮着一盏灯,而从屋顶漏下"瓢泼大雨"。然而游客们穿过"雨帘"时,似乎并没被淋湿。这是"雨屋"的一部分。它是一个以天气为主题的新型艺术装置,在中国上海初次亮相。
Rain Room responds to the presence and behaviour of its participants, offering visitors asurreal environment and unique relationship with water.
雨屋会对步入其中参与者的一举一动加以反应,让游客们如临超现实境界,并同雨水建立特殊联系。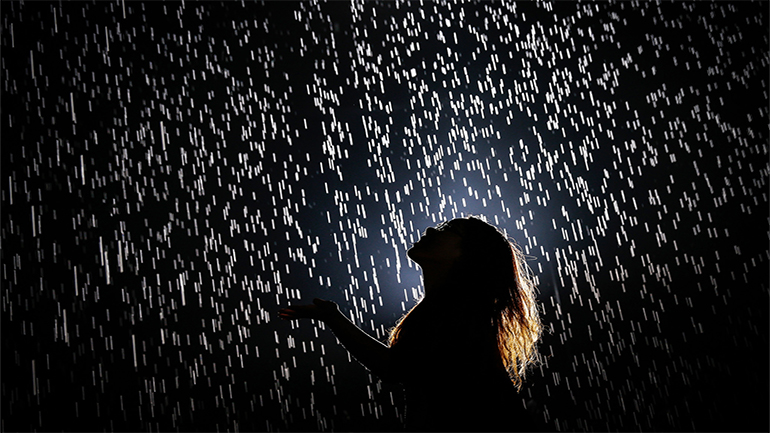 It interacts with visitors by detecting their movements and then starting and stopping the water above them accordingly. So as visitors walk through tentatively, thinking that they would get wet, they don't.
雨屋会与游客们互动——通过勘测他们的行动,相应地启动或停止他们头顶的喷水装置。因而当游客们暂时穿过雨幕,他们并没有像想象中那样被淋成落汤鸡。
The large scale work was designed by Random International, a British-German art group. It officially opened on September 1 at the YUZ Museum in Shanghai. Random International has showcased the project at the Barbican Centre in London and MoMA in New York in the past.
这样一件大型艺术品出自兰登国际(一个德籍英裔艺术团体)之手。雨屋9月1日于上海余德耀美术馆宣布开放。兰登国际之前就已经在伦敦的巴比肯艺术中心和纽约的现代艺术博物馆中展出过了。
However, the Shanghai rendition is 50 per cent larger than previous versions at 1,615 square feet. This makes it the largest exhibition of its kind in the world. It is also the first time the installation has been exhibited in Asia.
但是此次在上海展览的雨屋占地1615平方英尺,比之前那些版本大半倍。它也由此在规模上成为这类展览的世界之最。同时此次也是这一艺术装置在亚洲的首场展出。
Rain Room at YUZ Museum will run until December 31 this year before moving to Beijing in 2016 and touring around the rest of Asia. The schedule is not yet released.
余德耀美术馆的雨屋将一直开放到今年12月31日。2016年它会转至北京,而后在亚洲其他地区巡展。不过目前还没公布来年日程。