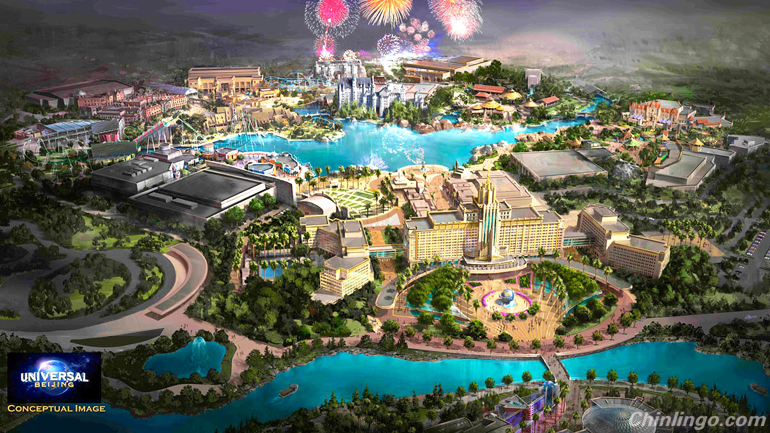 A contract has been signed between the Chinese and the US parties to build a Universal Studios theme park in Beijing's east suburban district of Tongzhou, the newly confirmed second administrative center of the city, Beijing Youth Daily reported.
据《北京青年报》报道,中美双方正式签署在北京东部郊区通州建立环球主题公园的合约,而通州近期确认为北京的第二管理中心。
According to the contract, a joint venture company will be set up to carry out the construction. The park, expected to open in 2019, covers 2.02 million square meters of floor space and is set to attract a total investment of 50 billion yuan ($7.98 billion).
合约表明,将建立一个中外合资公司进行施工。主题公园有望于2019年开放,占地面积达202万平方米,将吸引总投资500亿元人民币(79.8亿美元)。
The Universal Studios theme parks boast of offering a behind–the-scene look at movie making. Its Beijing location, the sixth of its kind in the world and the third in Asia, will become the largest one.
据悉,环球影城主题公园将向游客展示电影幕后制作。北京环球主题公园是环球世界第六个也是亚洲第三个主题公园,将是最大的环球主题公园。
The first stage of the project includes a Universal CityWalk retail-entertainment complex and the world's first Universal-themed resort hotel, both being completed in five years. Another theme park, a water park and five other resort hotels are planned to be built in the second stage.
项目一期工程包括零售娱乐综合环球商业街和世上第一家环球主题度假酒店,预计五年内完成。项目二期工程包括第二主题公园、水上乐园和另外五座度假酒店。
Traditional and modern Chinese culture elements have been incorporated in the planning to boost the city's tourist appeal to foreign visitors, according to the culture and tourism administration bureau of Tongzhou district.
据通州区的文化旅游管理局表示,传统与现代中国文化话元素已纳入计划,从而提升城市对外国游客的吸引力。
The US side also promised to put the world's best and popular entertainment projects into the Beijing Universal Studios, with the Hollywood filmmaker Steven Spielberg involved in the design of the park.
美方曾表示,将把全世界最好和最受欢迎的娱乐项目放在北京,好莱坞著名导演史蒂芬·斯皮尔伯格将参与北京环球主题公园的设计。
Subway Line 7 will be extended to reach the park and put into use before the opening to meet the demand of the tourists.
地铁7号线将延伸至主题公园,并在公园开放前投入使用以满足游客的需求。
Universal Studios now operates five theme parks – in Los Angeles, Orlando, Osaka and Singapore.
环球影城目前有五个主题公园——在洛杉矶、奥兰多、大阪和新加坡。