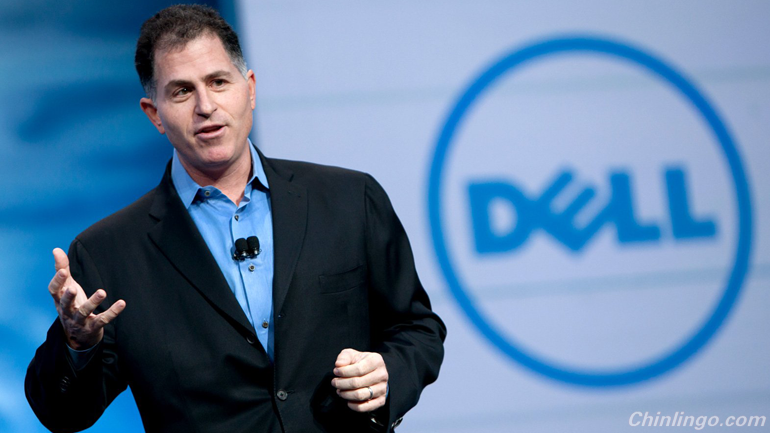 In the latest deal, computer maker Dell Inc. has begun collaborating closely with Chinese companies in sectors that Beijing deems crucial to national security, such as helping a Chinese state-owned firm develop high-performance servers, and switching more than 40% of its personal computers sold in China to a Chinese operating system. Other technology-sharing agreements are expected to be announced before or during Mr. Xi's visit, which includes a visit to Seattle as well as Washington, D.C.
近日,美国计算机制造商戴尔公司正式开启了和中国企业的密切合作,合作领域包括一些中国方面认为对国家安全至关重要的行业。比如帮助一家中国国有企业开发高性能的服务器,并且将在中国销售的40%的个人计算机改为中国研发的操作系统。此外,习近平还将在访美期间前往西雅图和华盛顿,在访问前和访问中,中美双方可能将达成一系列技术共享协议。
The deals typically conform to China's desires to turn its companies from manufacturers of others' designs to innovators and exporters—and to reduce the country's exposure to the security risk of relying on foreign technology.
这些协议满足了中国的需求,一直以来,中国都希望将企业由依靠他人设计的制造商,转变为创新和输出的一方,同时减少因为依靠外国科技而可能产生的安全问题。
"U.S. tech companies in the past year have learned that they will suffer significant repercussions if they don't transfer technology to China", said Robert Atkinson, founder and president of the Information Technology and Innovation Foundation, a tech policy think tank.
"在过去的几年里,美国科技公司已经认识到,如果他们不把技术转让给中国,他们将由此遭受巨大的损失。"科技政策智库"信息技术与创新基金会"主席罗伯特·艾金森如此表示。
Dell said it would invest $125 billion as part of a new "In China, for China" strategy. That figure includes the cost of procuring components to manufacture PCs and servers in China.
戴尔宣布将投资1250亿美元作为全新的"在中国,为中国"在华战略的一部分。这一数字包括了在中国采购组件,制造个人电脑和服务器的成本。
Dell also said on Thursday it was partnering with Chinese software and cloud company Kingsoft Corp. and state-owned technology conglomerate China Electronics Corp., whose subsidiary China Standard Software Co. makes a homegrown alternative to Microsoft's Windows operating system called NeoKylin.
戴尔方面还表示,他们将和中国的软件和云服务企业金山软件公司,以及国有科技集团中国电子展开合作。中国电子旗下的中国标准软件有限公司就曾开发出"中标麒麟"操作系统,以代替微软的Windows系统。
Kingsoft Chief Executive Zhang Hongjiang said that Dell and his company were developing a cloud-service product. Kingsoft will control the data, he said. Dell Greater China President Chenhong Huang said details such as who controls the data are still being worked out.
金山软件公司CEO张宏江透露,戴尔和金山正在共同合作开发一个云服务产品,金山将负责控制数据。而戴尔的大中华区总裁黄陈宏则表示,关于数据到底由谁来掌管,仍然有待讨论。
Han Naiping, chief executive of China Standard Software, said that Dell became the first Western brand to make personal computers running his company's NeoKylin operating system. Mr. Huang said 42% of Dell's computers sold in China now run NeoKylin. Hewlett-Packard Co. also sells NeoKylin PCs in China.
"中标软件"CEO韩乃平则表示,戴尔已经成为了西方第一个制造个人计算机,并使用"中标麒麟"操作系统的公司。黄陈宏称,目前,在中国销售的42%的戴尔电脑都在使用"中标麒麟"操作系统。
NeoKylin was developed with China's National University of Defense Technology, which is administered by the Defense Ministry, in an effort to make a Chinese alternative to Windows. Windows still dominates the China market.
"中标麒麟"操作系统是由中国国防部下属的中国国防科技大学负责开发的,开发这一系统的目的是为了中国能够拥有一个可以代替Windows的中国版操作系统,虽然目前Windows系统在中国市场上仍然占据着主导作用。
In another partnership, Tsinghua Tongfang Co. said Dell is helping it develop "high-performance computing products", including servers and memory. Tongfang is a publicly listed subsidiary of state-owned Tsinghua Holdings Ltd.. Tongfang makes consumer electronics, but also security gear for China's government including metal detectors and the chips in national ID cards.
此外,清华同方公司也表示,戴尔正在帮助他们研发"高性能的计算机产品",包括服务器和存储器。清华同方也是中国国有清华控股有限公司旗下的一个科技子公司,不仅负责制造消费类电子产品,还同时负责为中国政府研发安全装置,比如金属探测器以及身份证芯片。
In addition to partnerships with private Chinese companies, Dell said it would collaborate with the Chinese Academy of Sciences to found a lab for artificial intelligence research.
除了和中国企业的合作,戴尔还称他们将考虑和中国科学院展开合作,建立一个人工智能研究实验室。
Such deals have coincided with the increasing technical sophistication of many Chinese companies, which are no longer content to copy innovations from abroad. Huawei Technologies Co., for example, is emerging as a major developer of technology, said Handel Jones, an analyst who tracks China at International Business Strategies.
在这样越来越多的合作和交易中,许多的中国企业的技术日益成熟,他们不再满足于只复制外来的创新技术。"国际商业战略"的分析师汉德尔·琼斯称,比如中国的华为公司,目前就正在崛起为一个世界范围内主要的科技开发商。