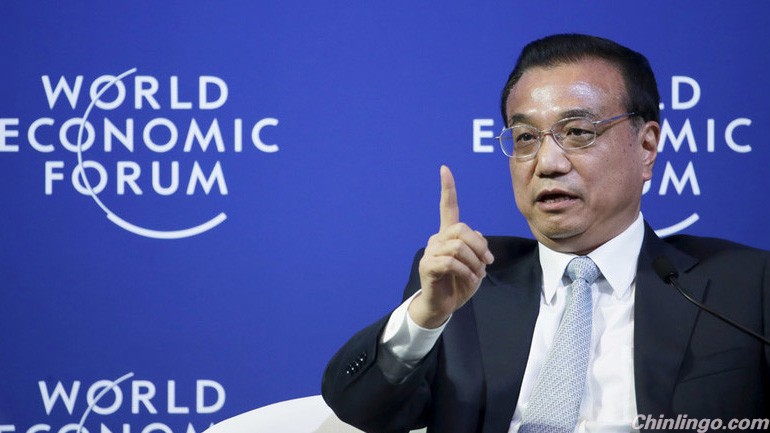 Chinese Premier Li Keqiang on Thursday sought to reassure global investors on the health of China's economy and his government's ability to manage a growth slowdown and financial market turmoil.
周四,中国总理李克强试图化解全球投资者对中国经济健康状况和中国政府是否有能力应对增长放缓及金融市场动荡的担忧。
"China is not a source of risk but a source of growth for the world," Mr Li said in a speech to the World Economic Forum in Dalian. "Despite some moderation in speed, the performance of the Chinese economy is stable and it is moving in a positive direction."
"中国不是世界经济风险之源,而是世界经济增长的动力源之一,"李克强在大连举行的世界经济论坛(WEF)上发表讲话时称,"现在中国经济的走势是缓中趋稳、稳中向好。"
Mr Li's soothing words come after a tumultuous summer for China marked by further evidence of a slowing economy, market volatility and a devaluation of the currency that unleashed a global stock market rout.李克强发表上述安抚性言论之前,中国经过了一个动荡的夏季,特点是经济出现了更多放缓迹象,市场出现了波动,货币出现了贬值——这些情况导致全球股市大幅下挫。
The government's response has been criticised by international observers who watched perplexed as the authorities sought to prop up stocks by banning large share sales, detaining journalists and punishing "rumour mongers" as well as orchestrating state-directed buying.
中国政府作出的应对受到了国际观察人士的批评。这些人士困惑地看到,中国当局试图通过禁止大规模售股、拘留记者、惩治"谣言传播者"和安排国有机构买入股票来托市。
The decision to devalue the renminbi and move to a new "market-based" exchange rate mechanism on August 11 set off a wave of global volatility, especially after Beijing appeared to reverse course soon after and began heavily intervening in currency markets to avoid a much sharper devaluation.
8月11日,中国决定让人民币贬值,并实行"基于市场的"新汇率机制。这导致全球市场出现了一波动荡,尤其是在北京方面似乎很快就改弦易辙、开始大举干预汇市以阻止人民币剧烈贬值之后。
In a meeting with global business leaders at the forum, Mr Li dismissed the suggestion that China had been the trigger for instability in global markets over the summer.
在世界经济论坛上与全球商界领袖会晤时,李克强驳斥了有关中国触发了今夏全球市场动荡的说法。
"The fluctuations in global financial markets recently are a continuation of the 2008 global financial crisis," Mr Li said.
"最近国际金融市场发生新的波动,这也是2008年国际金融危机以来的延续,"李克强说。
"Relevant Chinese authorities took steps to stabilise the market to prevent any spread of risks. Now we can say we have successfully forestalled potential systemic financial risks?.?.?.?what we did is common international practice and is in keeping with China's national conditions."
"有关方面采取措施稳定市场,是为了防止风险的蔓延。现在可以说防范住了系统性金融风险……这是国际通行的做法,也符合中国国情。"
Mr Li also suggested that the quantitative easing policies pursued by central banks in developed countries were adding to global financial volatility.
李克强还暗示,发达国家推行的量化宽松政策正在加剧全球金融动荡。
"Quantitative easing on its own can't address structural obstacles to growth and this policy alone might have negative spillover consequences," he said.
"单靠量化宽松政策难以解决制约增长的结构性障碍,而且可能带来负外部效应,"他说。
Despite the ongoing slowdown in domestic growth, Mr Li said China contributed 30 per cent of global growth in the first half of the year and he insisted China would still grow by the government's target of "around 7 per cent" this year.
尽管国内经济增长持续放缓,李克强仍表示,今年上半年,中国对世界经济增长贡献率是30%左右。他还坚称,今年中国经济增长仍将实现政府设定的"7%左右"的目标。
He did acknowledge serious global concerns over the Chinese economy, where he said "deep-seated problems built up over the years are now appearing".
他的确承认了全球对中国经济深感担忧,称"国内长期积累的深层次矛盾在逐步显现"。
But he insisted Beijing is committed to the "painful and treacherous" process of transforming its economic model from one that is over-reliant on investment and manufacturing to one that is driven more by consumption and services.
但他坚称,中国经济正处于新旧动能转换阶段,实现制造业从粗放增长到集约增长的升级发展,和从过度依赖投资拉动到消费与投资协调拉动的转换。
He said this transition was already well under way and even if China was to slow much further the government has the ability to stimulate growth to meet its annual growth targets.
他说,这次转换早已开始,即便增长将进一步放缓,中国政府也有能力刺激经济,实现年度增长目标。
"China is not heading for a hard landing," he said. "China will never resort to a currency war," he added, in a nod to global worries over the recent devaluation.
他表示,"中国经济不会出现硬着陆",并称"中国绝不主张打货币战"。后面这句话表明他注意到了全球对近来人民币贬值的担心。
Although he did not outline any new stimulus measures or policy reform initiatives, Mr Li did say he was confident in future growth because he saw a "massive wave of mass entrepreneurship and innovation across the nation".
尽管没有概述任何新刺激措施或政策改革举措,但李克强表示他对未来的增长充满信心,因为他看到了"广大人民群众的创业创新热情,这个热潮正在中国大地蓬勃兴起"。