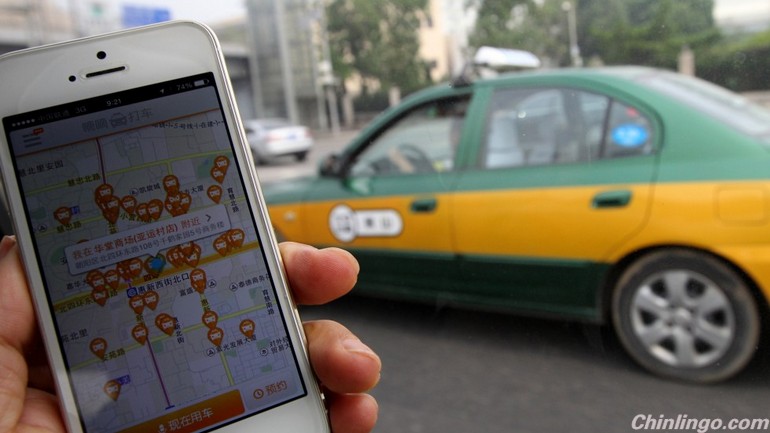 The race for dominance in the Chinese transportation market is costing Didi Kuaidi and Uber, the two largest ride-hailing companies in the country, more than $1bn a year as they lavish money on incentives for drivers and passengers.
争夺中国交通市场霸主地位的竞赛,让滴滴快的(Didi Kuaidi)和优步(Uber)一年要消耗超过10亿美元,这两家中国市场上最大的打车软件公司正拿出大笔资金来奖励司机和吸引乘客。
Didi Kuaidi, the homegrown champion that controls a majority of China's ride-sharing market, is operating at a net loss that is more than three times revenues, according to a financial report prepared for a fundraising by the accountants PwC and seen by the Financial Times.
英国《金融时报》记者看到的一份由会计公司普华永道(PwC)为滴滴快的一轮融资准备的财务报告显示,在中国拼车市场占大头的本土领军企业滴滴快的,目前的净亏损是其营收的三倍多。
According to the document, which breaks out financial data for Didi Dache and Kuaidi Dache, two companies that merged in February to create Didi Kuaidi, Didi recorded a $305m loss in the first five months of 2015 while Kuadi lost $266m. If this combined net loss of $571m continued at the same rate it would have produced an annualised loss for the combined company of $1.4bn.
报告中分别列出了滴滴打车(Didi Dache)和快的打车(Kuaidi Dache)的财务数据,这两家企业于今年2月合并为滴滴快的。今年头5个月,滴滴录得3.05亿美元亏损,快的则亏损2.66亿美元。二者合计净亏损5.71亿美元,如果这样的状况持续下去,合并后企业的全年亏损额或达到14亿美元。
Uber is also pouring money into the market, and said in June it would invest $1bn in China this year, fuelled by the $1.2bn it has raised for its Chinese unit. Much of that will go toward subsidies — discounts and incentives to attract drivers and passengers — a strategy it has used successfully as it expands to 60 countries.
优步也在向中国市场砸下大笔资金。今年6月优步表示,由于为其中国业务融到了12亿美元资金,该公司今年会在中国投资10亿美元。很大一部分资金将用于提供补贴,也就是用来吸引司机和乘客的折扣及奖励。优步在向60个国家扩张的过程中成功运用了这一策略。
"Burning cash" is important to the nascent industry as it tries to achieve economies of scale, said Didi Kuaidi president Jean Liu. "We wouldn't be here today if it wasn't for burning cash" she told a forum in Hangzhou on Monday.
滴滴快的总裁柳青(Jean Liu)表示,这个新生行业要形成规模效应,"烧钱"很重要。周一,她在杭州一个论坛上表示:"不烧钱就不会有今天的滴滴。
"You need a sufficient operational base to have enough users — if you only had 10 or 20 cars, you will never be able to book one." By using subsidies to get more cars on the road, she said, "waiting times were shortened, fares became cheaper, more users were drawn on to the platform and drivers on the platform thus wouldn't require subsidies any longer. We have already created such a virtuous circle of increased orders, customer retention."
"因为你必须有足够的运力基础才能够有乘客叫到车,如果在北京一跑只有10辆车或者20辆车,你永远是叫不到的。"她说,通过用补贴让更多的车上路,"每个乘客等待的时间就更短一些,出行价格相对更低一些,因为有更多的司机在这个平台上不需要靠补贴,就形成了一个正循环,订单量也会更多,客户留存率会更高"。
Net revenues for Didi Kuaidi's private car service were $175m in the first five months of this year, with subsidies totalling more than $300m in that period, according to the report seen by the FT. The figures suggest that the company incurs a gross loss of $2.75 on each journey.
根据上文中提到的文件,今年头5个月,滴滴快的专车服务业务实现净收入1.75亿美元,同期内补贴总额则超过3亿美元。上述数据意味着,该公司每出一趟车,会导致2.75美元的毛损。
Competition is particularly heated as both companies seek to secure their footingahead of new ride-sharing regulations in China, expected later this year, that could reshape the market.
今年中国预计会颁布新的拼车规定,或将重塑整个市场。两家公司都力求在新规出台前站稳脚跟。出于这个原因,竞争变得尤其白热化。
Slides from a Didi Kuaidi presentation to investors, also seen by the FT, reveal the rapid growth that makes the Chinese market so attractive. Didi experienced 16 per cent growth per week in private car requests between the service's launch in August 2014 and May 2015.
滴滴快的在一次投资者报告会上演示的幻灯片,揭示了中国市场因其飞快增长而拥有巨大的吸引力,英国《金融时报》记者也看到了这些幻灯片。从2014年8月滴滴打车推出专车服务到2015年5月,滴滴收到的专车服务请求数量平均每周增长16%。
Didi Kuaidi's combined net revenues are on track to be 15 times higher this year than last year, according to the investor presentation, with revenues of $30m last year and $185m in the first five months of this year.
根据这次报告会上的数据,今年滴滴快的合并净营收有望比去年增长15倍。去年滴滴和快的营收总和为3000万美元,而今年头5个月则达到1.85亿美元。