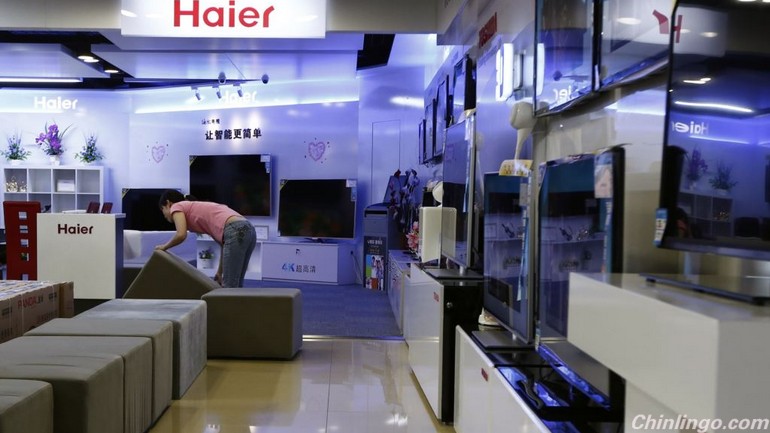 Evidence of China's economic difficulties and the ensuing stock market rout have sent shockwaves around a financially troubled world that has been banking on China to stimulate demand.
中国遭遇经济困难的证据及随后出现的股市跌势向世界发出了冲击波,而陷入金融困境的世界本来寄望于中国来刺激需求。
But while sales of luxury goods have slumped, some companies focused on ordinary consumers in China are finding ways to maintain their businesses, selling more washing machines and rice crackers as the economy slows.
然而,尽管奢侈品销售额出现下滑,但一些专注于中国普通消费者的企业找到各种方法保持业绩,在经济放缓之际卖出更多洗衣机和米饼。
Analysts say the headlines belie a vast, complex and competitive consumer market where companies have to fight for sales, whether by offering cheaper, smaller package sizes at the lower end or improving their products and customer service.
分析师们表示,新闻头条未能完全展现一个广阔、复杂和激烈竞争的消费市场。这个市场上的企业必须为销售而战,或者是在低端市场提供更便宜、更小包装的产品,或者是改进产品和客户服务。
Retail sales have been rising at an annualised 10 per cent recently, according to official data, but analysts are sceptical about the figures and believe that even in the best case they conceal divergences between companies.
根据官方数据,近期零售销售额以10%的年率增长,但分析师们对这些数据表示怀疑,认为即使往好的方向说,这些数据也掩盖了公司之间的差异。
"Consumer demand has always been there in China and in the past it was easy for companies to grab it," says Spencer Leung, a consumer industry analyst at UBS in Hong Kong. "But things have slowed and only those who can offer differentiated goods can capture demand."
"中国一直存在消费者需求,过去企业很容易抓住这些需求,"香港瑞银(UBS)消费行业分析师梁裕昌(Spencer Leung)表示,"但经济已经放缓,只有那些能够提供差异化产品的企业才能捕捉到需求。"
He says that multinationals focused on the mass market have been particularly good at maintaining performance as annual gross domestic product growth has fallen from 10 per cent in 2010 to 7 per cent in the second quarter this year. Coca-Cola, PepsiCo and Nike all reported expanding sales in China in recent updates, while Tim Cook, chief executive of Apple, arrested the slide in his company's shares on Monday after telling a US television show host that he was seeing "strong growth" in China in July and August.
他表示,随着国内生产总值(GDP)年增长率从2010年的10%跌至今年第二季度的7%,专注大众市场的跨国企业尤其擅长于保持业绩。可口可乐(Coca-Cola)、百事可乐(PepsiCo)和耐克(Nike)最近都报告在华销售额出现增长,而苹果(Apple)首席执行官蒂姆?库克(Tim Cook)在告诉一名美国电视主持人,他看到苹果在华业务在7月和8月经历"强劲增长"后,遏制了苹果股价的下跌。
Ben Cavender, an analyst at China Market Research Group in Shanghai, says that while the stock market turbulence has worried some consumers, few are directly exposed given that only 6 percent of households own equities.
上海中国市场研究集团(China Market Research Group)分析师本•卡文德(Ben Cavender)表示,尽管股市动荡让一些消费者感到忧虑,但考虑到只有6%的家庭持有股票,直接暴露于股市下跌行情的人很少。
The economy, beset by the underperforming industrial and property sectors, has sapped consumer confidence, but it has also changed the way people buy.
受表现不佳的工业和房地产业困扰的经济,使消费者信心动摇,也改变了人们购物的方式。
"People are still spending but they are more careful about how they spend, with more focus on features and functions, after-sales support and how products fit in their life," says Mr Cavender.
"人们依然在支出,但他们对怎么花钱更加谨慎,更关注特色和功能、售后支持,以及产品如何适配他们的生活,"卡文德表示。
Samsonite, the suitcase maker, saw its China sales suffer over the past couple of years but delivered an annualised 28 per cent jump in sales in the first half after it focused on more affordable products.
箱包制造商新秀丽(Samsonite)过去两年在华销售遭遇困难,但在开始专注于不那么昂贵的产品后,其上半年销售额以28%的年率攀升。
"Most consumer companies see that consumers in China are becoming smarter, they want to buy goods with better value," says Ramesh Tainwala, Samsonite's chief executive. "That trend was already starting over the last two years and will only continue."
"大多数消费品企业看到,中国消费者开始变得更精明,他们想要购买更加超值的商品,"新秀丽首席执行官拉梅什•塔因瓦拉(Ramesh Tainwala)表示,"那种趋势在过去两年已经开始,而且只会持续下去。"
Zhou Yunjie, chief executive of the Hong Kong-listed subsidiary of Haier, China's largest distributor of home appliances, says the company has mitigated the effect of the property slump in third and fourth-tier cities by becoming more nimble.
中国最大家电经销商海尔集团(Hair)香港上市子公司海尔电器(Haier Electronics)的首席执行官周云杰表示,该公司通过更加灵活的经营,缓解了三、四线城市楼市低迷带来的影响。
His division, Haier Electronics, has focused on selling high-tech washing machines to better-off consumers, promoting low-cost water heaters in rural areas and pushing into ecommerce and logistics.
海尔电器专注于向比较富有的消费者销售高科技洗衣机,在农村地区推广廉价热水器,并打入电商和物流行业。
In the first half of the year, sales of air-conditioners and refrigerators dropped but Haier Electronics reported an increase of 4-5 per cent in sales of washing machines and water heaters.
今年上半年,空调和冰箱的销售额下滑了,但海尔电器报告其洗衣机和热水器销售额上升了4%到5%。
"For white goods suppliers, sales really differ across categories," says Catherine Chan, an analyst at Citigroup in Hong Kong. "Where we see growth, it is by increases in average sales prices, not just higher volumes, as people upgrade to better models."
"对白色家电供应商来说,销售确实依品类而不同,"香港花旗集团(Citigroup)分析师Catherine Chan表示,"对于增长的品类,销售增长靠的是平均销售价格随着人们升级到更好的型号而上升,而不仅仅是更高的销量。"
Other consumer companies have seen similar divergences in their products.
其他消费品企业的不同产品间也出现了类似差异。
Want Want, which sells snacks and drinks, saw milk sales fall 3 per cent year on year in the first half, while rice crackers sales jumped 10 per cent because of promotional campaigns.
销售零食和饮料的企业旺旺(Want Want)今年上半年牛奶饮料的销售额同比下降3%,而米饼销售额则因促销活动而跃升10%。
Belle International, China's biggest shoe retailer, closed 167 of its 20,000 shops in the three months to May as sales at its shops dropped 8 per cent year on year. But its sportswear stores increased sales by 12 per cent in the same period, as it capitalised on the fitness trend in China.
中国最大鞋类零售商百丽国际(Belle International)在截至5月的三个月期间关闭了2万家门店中的167家,门店销售同比下降8%。但百丽抓住了中国的健身潮流,其运动服饰门店同期销售增长12%。
Erwin Sanft, the head of China strategy at Macquarie in Hong Kong, says that the best consumer companies have managed to maintain their profits. "When you include the growth of tourism, entertainment and ecommerce, we haven't seen that much of a slowdown in the overall consumer sector."
香港麦格理(Macquarie)中国策略师埃尔文•桑夫特(Erwin Sanft)表示,最优秀的消费品企业成功地保持了盈利水平。"如果把旅游业、娱乐业和电商业包含进去,我们没有看到整体消费行业出现太严重的放缓。"