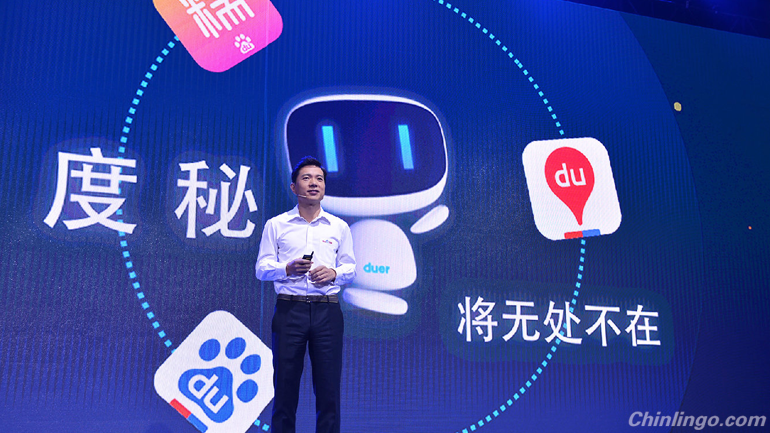 Chinese search engine giant Baidu announced the launch of a new digital assistant that will be integrated into its latest mobile search app and use artificial intelligence to tailor suggestions to a user's tastes.
Similar to Google Now or Apple's Siri, Baidu Duer processes voice requests to connect users with services such as food delivery or film ticket sales.
"In the past, only the privileged few – those in very senior positions in companies or other organisations – had personal assistants," said Baidu chairman and founder Robin Li Yanhong.
"With Duer, every ordinary person can now have a powerful personal assistant who can provide valuable life services – for free," he added at the company's 10th annual Baidu World conference in Beijing.
Duer can currently handle requests for restaurant bookings and food delivery, pet grooming services and film ticket sales.
In the future, it will expand to include ride-hailing, housekeeping, beauty, education, healthcare and travel services, the company said in a statement.
The service, which was rolled out in the latest version of the Mobile Baidu app, can be activated by saying "Hello Duer" ("你好度秘") into the smartphone.
Li said Duer will consider location and any relevant promotions when returning searches made with natural speech requests like "What are some good Hunanese eateries nearby me?"
It will also add tags to give users more information than a standard Baidu search, such as whether a restaurant is dog-friendly or non-smoking.
Duer is billed as a means for online-to-offline merchants already using Baidu's platforms, such as maps or group-buying tool Nuomi, to generate business as the assistant will direct users to their services and allow them to understand customer needs.
Duer will be integrated into Baidu Maps and Baidu Nuomi, the company said.
The Baidu virtual assistant's capabilities will later be expanded to ride hailing, education healthcare and travel in the near future, it added.
A number of tech companies have released digital personal assistants in recent years, with the most popular being Google Now.
Released with version 4.1 of the Android operating system, the US search giant's assistant has more than 1 billion monthly active users worldwide, but does not function properly in mainland China, where Google services are blocked.
Last month, Facebook began testing "M", its AI-powered personal assistant built into the Facebook Messenger app that is backed up by a support team.
While rival services such as Siri, Google Now and Microsoft's Cortana rely entirely on technology to answer questions, M is "powered by artificial intelligence that's trained and supervised by people", according to David Marcus, Facebook's vice president of Messaging products.
Baidu Duer will also be AI-powered, building on the firm's heavy investments in the field with its Beijing-based Institute of Deep Learning. The institute focuses on future technologies like autonomous vehicles and smart search.