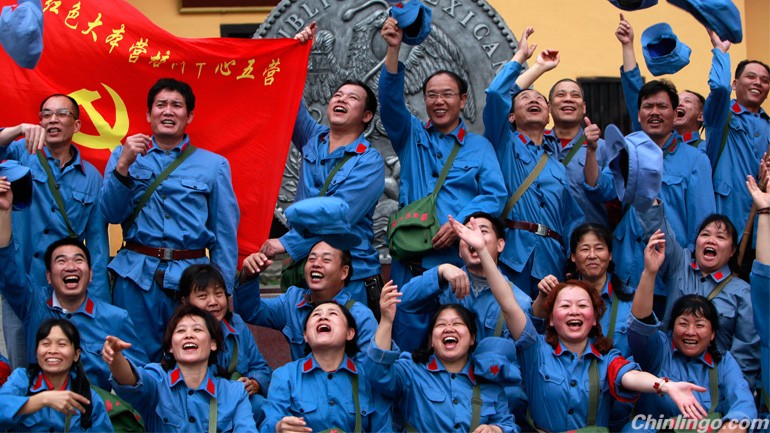 Fancy getting shot at by a mock-Red Army guerrilla, sleeping on a brick bed and eating C-rations of millet porridge? Or having a happy snap with a Mao Zedong lookalike outside the mountain cave from which he fought the Communist revolution?
你想被假扮的红军战士开枪击中,睡在土炕上,以及吃罐装的小米粥吗?或者在当年毛泽东领导革命时居住的窑洞外与假扮他的人合影?
China's newly affluent tourists do. They are increasingly choosing to visit sites that deify Mao or glorify the Chinese Communist party, a trend heartily welcomed by government officials struggling to clean up the party's image for corruption and reignite revolutionary values that have fallen by the wayside on the path to prosperity.
中国的新富游客喜欢这种体验。他们越来越多地选择游览歌颂毛泽东或赞美中国共产党的景点,政府官员由衷地欢迎这一趋势。他们正在艰难地清理党的腐败形象,重燃在致富道路上被抛在一边的革命价值观。
In the past decade China has invested Rmb9bn ($1.5bn) to develop sites of famous battles in both the war between Communists and Nationalists, and the wartime struggle with Japan in what has come to be known as red tourism. The latter is coming in handy to ratchet up public opinion against its eastern neighbour in the currentterritorial dispute over a group of islands in the East China Sea.
过去10年间,中国投资约90亿元人民币开发以国共内战和抗日战争一些著名战役为典故的景点,发展所谓"红色旅游"。在中日围绕东中国海岛屿发生领土争端之际,与抗日有关的景点对于提高民众的反日情绪格外有用。
Overall, "red tourism" visits nationally increased to 786m last year from 670m the previous year, rising at nearly twice the pace of the entire domestic tourism market.
总体而言,2013年红色旅游接待游客7.86亿人次,高于前一年的6.7亿人次,增速远高于国内旅游市场整体的增速。
Red tourism is gaining popularity in part because the packages are often cheaper than other holidays. But Liu Xiao, of the Tourism Institute of Beijing Union University, says there is another reason too.
红色旅游越来越受欢迎,部分原因是团费往往低于其他旅游线路。但北京联合大学旅游学院的刘晓(音)指出,还有另外一个原因。
"When people are no longer worried about food and safety, they begin to look for something that can satisfy their spiritual needs," he said. "Tourists visit these revolutionary sites because they want to find out what inspired the older generation to overcome so many difficulties even in the toughest times. Feeding one's spirit from heritage, I think this is the true meaning of . . . red tourism."
"当人们不再担心衣食和安全后,他们开始寻找一些能满足自己精神需求的东西。"他表示,"游客之所以访问这些革命景点,是因为他们想了解是什么鼓舞着老一代即使在最艰难的时刻也能克服那么多困难。从传统中获得精神激励,我认为这才是红色旅游的真正意义。"
The number of people visiting the sites is rising despite the fact that government officials have largely been banned from making junkets there, as part of President Xi Jinping's anti-extravagance campaign. Austerity has hit everything from sales of hairy crabs to performances of Peking opera: now even Mao worship is off limits, if Beijing is footing the bill.
访问这些景点的人数上升之际,政府官员们基本上不被允许公费去这些地方旅游,这是中国国家主席习近平打击铺张浪费努力的一部分。厉行节约影响了很多东西,从大闸蟹的销量到京剧演出的人气,如今哪怕是红色旅游也不行——如果要由政府埋单的话。
But young, independent travellers have more than made up for the decline in government officials.
但是,年轻、独立的旅行者足以弥补政府官员人数下降带来的损失。
Dai Bin, president of the China Tourism Academy, an official think-tank for the China National Tourism Administration, says two-thirds of visitors to red tourism sites are now aged under 35, compared to a majority of middle aged visitors before.
中国国家旅游局官方智库——中国旅游研究院院长戴斌表示,前往红色旅游景点的游客中,如今有三分之二年龄不到35岁,而以往中年游客占大多数。
"Red tourism is firstly a political project," Mr Dai said, adding that it can also bolster the anti-corruption drive by "reminding . . . young people and rich people of the hardship of those times".
"红色旅游首先是一个政治工程。"戴斌表示。他补充说,它可以"提醒年轻人和富人记住那个年代的艰难困苦",有助于反腐斗争。