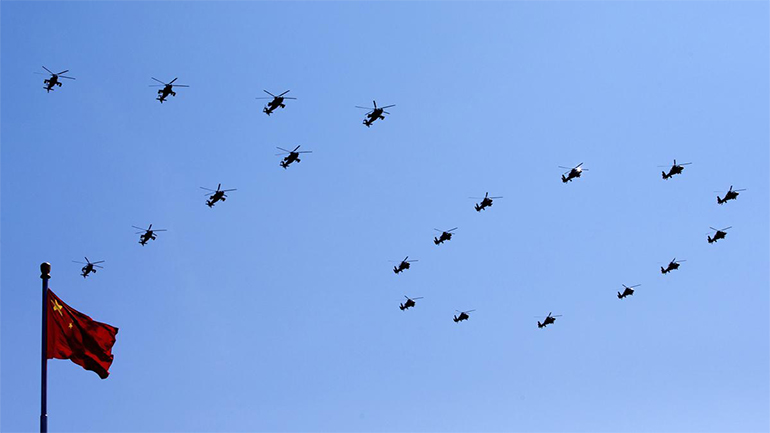 Chinese President Xi Jinping hailed his nation as a major world power and force for peace Thursday as he presided over a massive military parade that for the first time marked Japan's surrender in World War II — 70 years after it happened.
时隔70年后,中国9月3日首次为纪念二战日本投降举行盛大的阅兵式。中国国家主席习近平在阅兵式上称赞本国为世界大国与和平力量。
Speaking from atop the Gate of Heavenly Peace in Beijing — the same place Mao Zedong stood to declare the founding of the People's Republic of China in 1949 — he told assembled crowds that his country had achieved "total victory" in 1945, leading to the "great renewal of the Chinese nation."
他在天安门城楼上发表讲话说,中国在1945年取得了"完全胜利",开辟了"中华民族伟大复兴的光明前景"。1949年,毛泽东也是站在天安门城楼上宣布中华人民共和国成立的。
"This triumph re-established China as a major country in the world and won us the respect of all peace-loving people," Xi said.
习近平说:"这一伟大胜利,重新确立了中国在世界上的大国地位,使中国人民赢得了世界爱好和平人民的尊敬。"
Since becoming leader of China's ruling communist party in late 2012, Xi has worked to raise China's profile in the world.
自2012年末成为中国共产党最高领导人后,习近平一直努力提升中国的全球形象。
"This (parade) was done from a position of power and confidence," said Steve Tsang of Nottingham University's China Policy Institute.
英国诺丁汉大学中国政策研究所的曾锐生说:"举行这次(阅兵)出于实力和自信。"
In the eyes of many Chinese, the event — reminiscent of a Soviet-style military parade — was a statement of recovery after 100 years of foreign intervention and occupation ended in 1945. Xi created the public holiday this year to mark the end of World War II.
在许多中国人看来,此次阅兵对外宣告的是,中国在1945年结束了长达百年的外国干涉和占领后实现了复兴。
Families across the country gathered to watch the display, and many took to social media to express themselves.
在全国各地,许多家庭聚在一起观看阅兵,不少人在社交媒体上表达自己的心声。
"We showed the world our nation's power. China will not stand to be insulted any more. This is the greatest prosperity that people have seen, and it will be better and better," said a user called Beike on Weibo, China's Twitter equivalent.
一位微博用户说:"我们向全世界展示了国家的实力。中国再也不会遭受侮辱。这是人民见证的最伟大的繁荣,祖国将蒸蒸日上。"