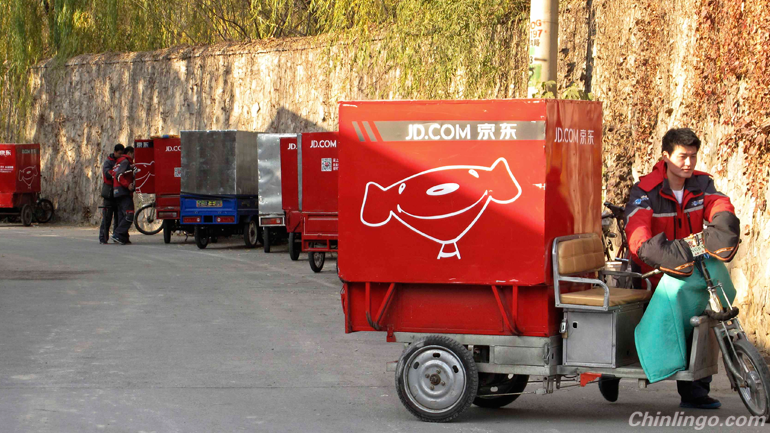 China's e-commerce titans, facing a slowdown in the growth of their core urban customers, are battling to crack a new frontier: the sprawling countryside.
在核心城市顾客增长放缓之际,中国的电子商务巨头们正竞相开拓一个新领域:广阔的农村地区。
Each morning at 7:30 a.m., Pang Weidong starts his delivery route at an Alibaba-affiliated distribution center here in China's northeastern plains. His small truck navigates pothole-ridden roads to deliver goods such as toilet paper and weightlifting sets. The 35-year-old Mr. Pang, whose daily route spans a length equivalent of Interstate 95 from New York to Boston, said delivering some 200 packages a day takes about nine hours since he has to stay under 40 miles an hour to avoid accidents or damage to the goods—and the cows, goats and geese that occasionally wander onto the roads.
每天早上7点半,庞卫东会在中国东北部平原一家阿里巴巴集团所属的配送中心开始他的送货之旅。他的小货车行驶在崎岖不平的道路上,投送卫生纸和举重器材等商品。35岁的庞卫东说,每天投送约200个包裹要花费约9小时,因为他必须将速度保持在每小时40英里以下,以避免事故或对商品造成损坏,有时还要避开跑到路上的家禽和家畜。
Mr. Pang is part of an army of drivers hired by Alibaba's logistics partners and its chief competitor, JD.com Inc., to make deliveries in rural towns across China. The two companies, which built a combined 80% share of the $440 billion retail e-commerce market in China largely on the strength of sales to urbanites, each aim to reach 100,000 country villages by the end of the decade.
庞卫东是阿里巴巴的物流合作伙伴及其主要竞争对手京东所雇用的在中国各地乡镇送货的大批司机中的一员。在中国4400亿美元的零售电商市场中,这两家公司共占据了80%的份额,它们主要依靠的是对城市居民销售的优势。它们都希望,到这个十年末,将触角延伸到10万个村庄。
Investors are concerned that the slowing economy and turbulent stock market may damp consumer spending. Alibaba's revenue grew at the slowest rate in more than three years in the three months ending in June, and JD.com executives said earlier this month they expect sales growth to moderate later this year.
投资者担心,经济增长放缓和股市动荡可能抑制消费者支出。在截至6月的三个月中,阿里巴巴的收入增长速度是三年多以来最慢的。京东高管们8月早些时候称,他们预计今年晚些时候销售额增长会放缓。
But China's villages hold promise. Roughly 600 million rural citizens are seeing their incomes rise faster than city residents, though they tend to be poorer overall.
但中国农村大有希望。尽管约6亿农村居民总体上更加贫穷,但他们的收入正以超过城市居民的速度增长。
The number of e-commerce customers in rural China is barely one-third that in the cities, but their ranks are rising rapidly. Last year, 77 million people shopped online in the countryside, a 41% increase compared with 17% growth in urban areas, according to China Internet Network Information Center, a government-research group.
中国农村的电商客户人数只有城市的三分之一,但他们的地位正迅速上升。根据政府研究机构中国互联网络信息中心的数据,去年农村地区有7700万人曾在网上购物,增长41%,而城市地区的增幅为17%。
"The scale of online shopping in rural areas is still lower than in the cities, so there's a huge space to unearth, a big market that can be fought for," said Wang Xiaoxing, e-commerce analyst at research firm Analysys International.
研究公司易观国际的电子商务分析师王晓星说,"农村地区的网购规模仍低于城市,因此那里有可供发掘的巨大空间和可供争取的巨大市场。"
Alibaba, the largest e-commerce company in China, is investing 10 billion yuan to build 1,000 county-level distribution centers and 100,000 village-level drop-off points over the next three to five years. As of June the company had 63 county-level centers and 1,803 village-level centers.
中国最大的电子商务企业阿里巴巴计划在未来三到五年内投入100亿元,建造1000个县级运营中心和10万个村级服务站。截至6月,该公司拥有63个县级分销中心和1803个村级服务站。
Beijing-based JD.com, which sells most of its goods directly like Amazon.com Inc., has a different strategy for rural deliveries. The company runs its own network of 166 regional warehouses and thousands of smaller local delivery stations. In remote areas, JD.com delivers packages to contracted "brand promoters" in villages who hand them off to customers, and sometimes works with third-party logistics carriers.
总部设在北京的京东采取了一种不同的农村配送战略。该公司拥有自己的网络,包括166个区域性仓库和数千个规模更小的地方性配送站。在偏远地区,京东正与第三方物流公司合作,并且向签约"品牌推广员"支付报酬,他们会接收包裹并将其送到顾客手中。