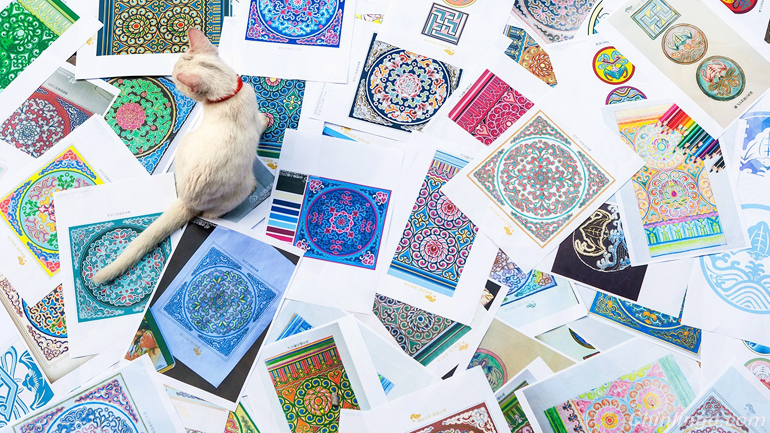 Chinese coloring-book fanatics will soon be able to decorate patterns of one of the country's most famous sites: the Forbidden City.
中国填色书狂热爱好者很快就能给中国最著名景点之一紫禁城的图案填色了。
The sprawling former imperial complex, also known as the Palace Museum, said on its official Weibo microblog this month that it will release Color the Forbidden City in October. The move was spurred by the popular U.K. Secret Garden coloring book, which has triggered an adult coloring-book craze and has led to the peddling of similar tomes on many street corners in Beijing.
曾是皇家建筑群的紫禁城——又名故宫博物院——在其官方微博账号上表示,将于10月出版《点染紫禁城》。此举是受到了流行的英国《秘密花园》填色书的启发。《秘密花园》激发了成人填色书热潮,北京许多街角都在叫卖类似的书籍。
The book will have intricate patterns of famous Forbidden City architecture, including original designs from the Qing Dynasty. Architectural experts have been invited to explain each pattern in the book so readers – er, colorers – can understand the significance of what they're painting. The Museum is planning to release three editions, which will include patterns of royal clothing and jewelry, according to state media.
《点染紫禁城》将提供紫禁城著名建筑的复杂图案,其中包括清朝的原创设计。故宫方面已邀请建筑专家在书中解释每一种图案,以便读者——填色者——理解他们填涂的东西的意义。据官方媒体报道,故宫打算推出3种版本,包含皇家服饰和珠宝。
The announcement of the book delighted coloring fans in China. "I have been waiting to buy the coloring book for over two months," wrote one coloring fan on Weibo.
故宫出版《点染紫禁城》的消息让中国填色爱好者开心不已。一名填色爱好者在微博上写道:"我等着买故宫填色书已经两个多月了。"
The Museum gauged interest in a coloring book by releasing three intricate black and white patterns in July, inviting the public to color their hearts out in a chance to win prizes. Within days, hundreds of people had uploaded their finished masterpieces, state media said, despite the museum's advice that the patterns may take about a week to finish if worked on at an easy pace.
为了评估读者对填色书的兴趣,故宫7月提供了3张错综复杂的黑白线稿,让公众涂色以赢取奖品。官方媒体称,短短几天时间,数百人上传了他们完成的作品,尽管故宫建议说,不着急的话,大约一个礼拜能完成。
One commenter who was born in 1985 displayed her finished piece of art on Weibo and said, "The last time I used a coloring book was when I was an elementary school student." Other commenters even asked the museum to invent special color pens for the edition.
1985年出生的一名网友在微博上展示了她完成的作品并写道:"上一次我用填色书还是读小学的时候。"其他网友甚至请求故宫开发专门的彩笔。
Laurence King Publishing, which originally released The Secret Garden coloring book in 2013, said that 3 million of the book's nearly 7 million worldwide sales have come from China, where it debuted in June. While the real book retails for about 90 yuan on Amazon's Chinese website, 19 yuan knock-offs can be found at a variety of street stalls.
最初于2013年推出《秘密花园》填色书的劳伦斯·金出版社表示,该书全球近700万销量中有300万来自中国。中国首次发售时间是6月份。正版《秘密花园》在亚马逊中国网站上的零售价为约90元,但在许多街边小摊上都可以找到19元的仿冒品。
Psychologists have hailed coloring as a good relaxation technique, and some have likened it to meditation. Whatever their motivation, consumers are buying the books in droves: On Amazon, a handful of adult coloring books are among the site's top 20 sellers.
心理学家称赞填色是放松的好方法,一些心理学家还把它比作冥想。无论动机是什么,消费者蜂拥购买填色书。在亚马逊上,几本填色书登上了该网站畅销书前20名的榜单。